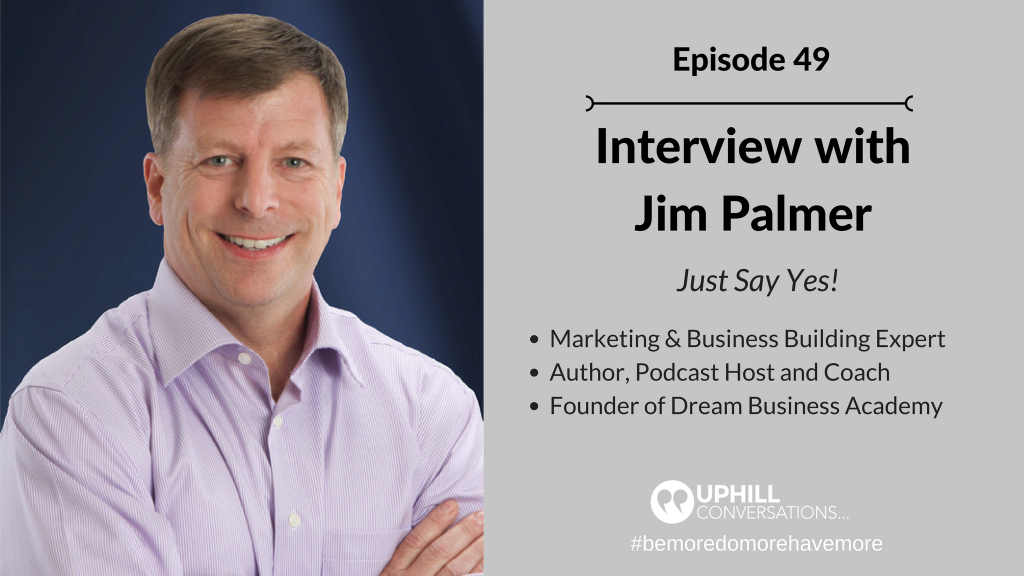 In this episode we have an Uphill Conversation with Jim Palmer on the importance of going after your dreams and just saying "Yes!"
Jim Palmer is a marketing and business building expert and in-demand coach. He is the founder of the Dream Business Academy and Dream Business Coaching and Mastermind Program.
He is the host of Dream Business Coach TV, the hit weekly Web TV show watched by thousands of entrepreneurs and small business owners, and he is also the host of Dream Business Radio, a weekly podcast based on Jim's unique brand of Smart Marketing and Business Building Strategies. Jim is best known internationally as 'The Dream Business Coach' and creator of No Hassle Newsletters, the ultimate 'done-for-you' newsletter marketing program used by hundreds of clients in nine countries. Read full bio here.
Show Notes:
There is no "right" or perfect time, there's "go time"
Entrepreneurs need to get comfortable with unknown
Importance of being stretched personally and professionally
The "What-Ifs" and what holds people back
Trade-offs and priorities of an entrepreneur
Managing criticism and opinions of others
Jim's personal story and things he's overcome
Embracing challenges, facing fears, and overcoming self-doubt
Importance of forgiveness and forgiving yourself
Connect with Jim:
Books/Resources:
INTRO AND OUTRO MUSIC (Used by permission):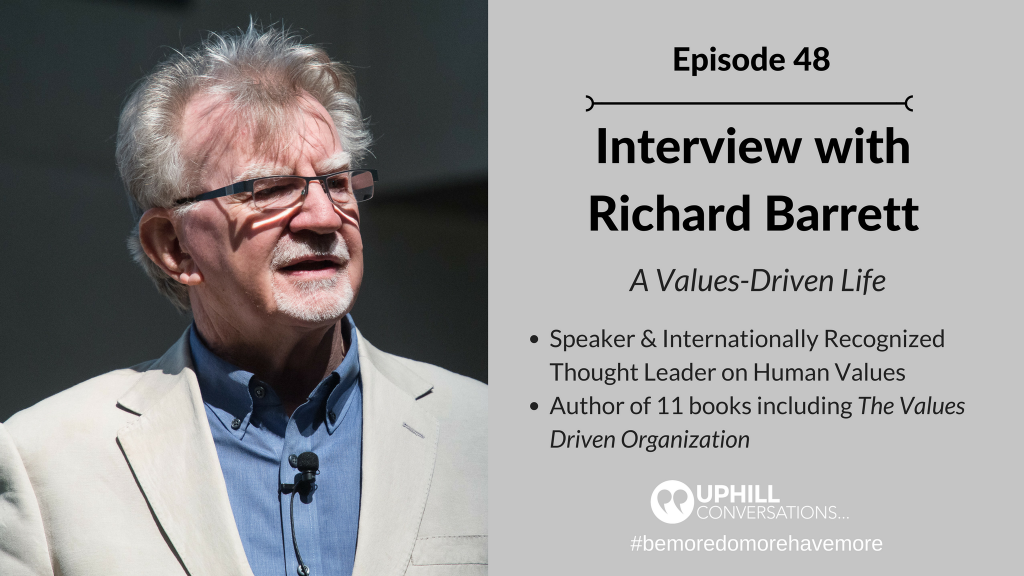 In this episode, Richard Barrett joins us and we take a deep dive into values and culture and how they relate to employee well-being and sustainable performance.
Richard Barrett is an author, speaker and internationally recognised thought leader on the evolution of human values in business and society. He is the founder and chairman of the Barrett Values Centre, a Fellow of the World Business Academy and Former Values Coordinator at the World Bank. He is the creator of the internationally recognized Cultural Transformation Tools (CTT) which have been used to support more than 6,000 organizations on their transformational journeys. To date, more than 5,000 change agents, consultants and coaches have been trained by the Barrett Values Centre to use the Cultural Transformation Tools in over 50 countries. Full bio
here
.
Show Notes: 
Your life will look like the choices you make
Cultural entropy and cultural health
Methods of surveying individuals to understand values
Organizational Culture experiences vary based on position within company
Organizational transformation begins with personal transformation of leaders
Different stages of psychological development – specifically self-actualization and individuation – and how to meet employees needs at different stages
Specific challenges men and women face in different stages
Importance of connecting and emotional intelligence
Thriving in your role vs. surviving
The cost of work-related stress in the U.S.
First thing you must do as a leader is learn to lead yourself
Importance of adding in the adaptive approach to development and coaching
Ways that teams can utilize Richard's resources to build teamwork
Richard's professional journey from transportation to transformation
Connect with Richard: 
Resources: 
Books: 
INTRO AND OUTRO MUSIC (Used by permission):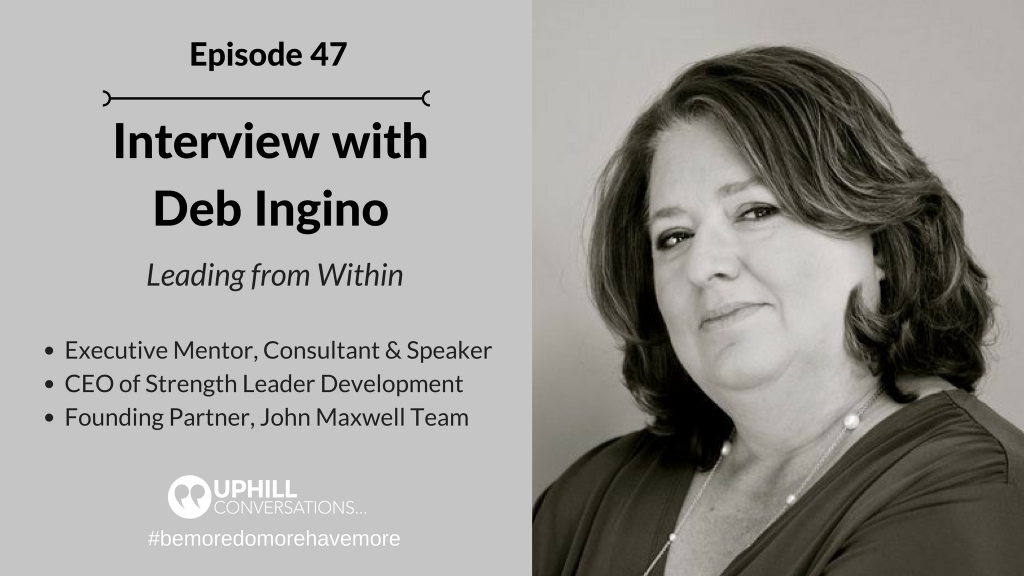 In this episode of Uphill Conversations, we have another great discussion with Deb Ingino around leadership – taking a deep dive into benefits and challenges of leading from within.
Deb Ingino is a mentor and consultant to leaders who are eager to move into a higher level of performance. She leads individuals and enterprises through a process to discover, leverage and lead with their strengths.
As The CEO of Strength Leader Development, she is a highly sought-after executive mentor, consultant, and speaker worldwide, Deb is well versed in business operations and in the importance of asking key questions most business leaders won't ask themselves. She brings deep experience in leadership development, strategy, high-performance team building, global operations, brand management, design, product development and training to her work. Her passion is for leaders and their teams to move into a higher level of performance.
Show Notes: 
Being recognized as a leader vs. influencer
Importance of recognizing and knowing yourself and your gifts
Value of understanding the needs, challenges and desires of others
Leaders look for opportunities to contribute and serve the greater good
Your potential: see it, seize it, serve using it, and simplify it
Risk failing in your journey to success
"We find our confidence in our competence"
Imposter syndrome and maintaining true self in new situations
Happiness is temporary, joy is lasting
In order to be a good leader, you need to learn to become a good follower
Having a values match at the core within an organization or team
Leadership means developing others to become leaders
Optimism on innate gifts, obstacles and leadership
Connect with Deb: 
INTRO AND OUTRO MUSIC (Used by permission):
Tim Pecoraro: tim@uphillconversations.co
Megan Finnern: megan@uphillconversations.co
Tim & Megan: connect@uphillconversations.co
Uphill Conversations, 600 East North Street, Suite 103, Greenville, SC  29601
Skype: timothyk.pecoraro
Let us know what I can do