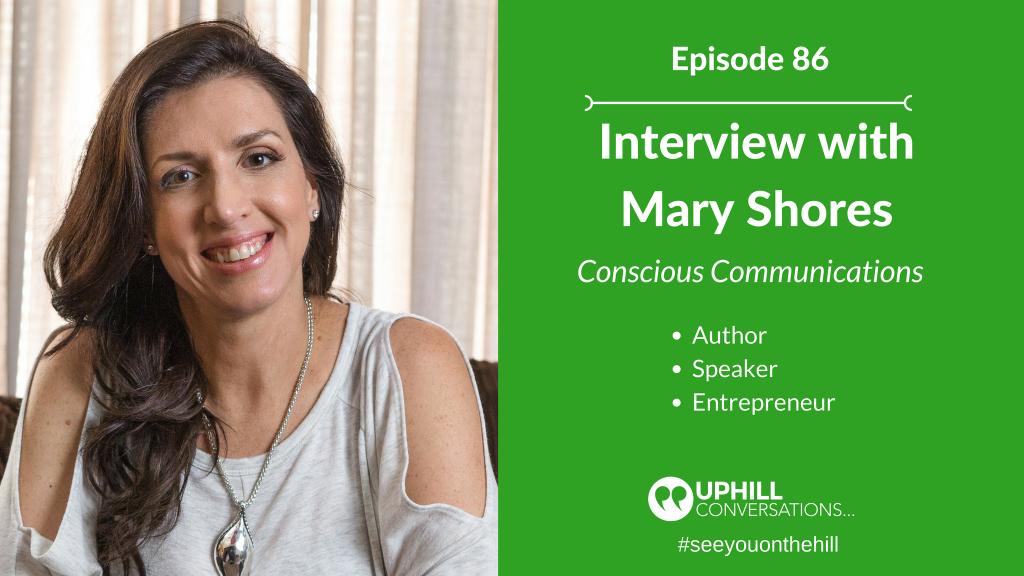 In this episode, Tim chats with Mary Shores, author, speaker and, entrepreneur. Mary shares wonderful insights she's learned over the years born from an unexpected and devastating divorce coupled with the residual sadness of losing her first child, the stress of raising an autistic son and teenager, and the management of a very demanding business. Hitting rock bottom, Mary realized that the words she was using to describe her life were keeping her planted in a state of depression, despair, and hopelessness.
OUR CONVERSATION:
Becoming a successful CEO at a very young age
Progression and growth
What Mary learned from a Tony Robbins conference
Changing the way a collection agency deals with people
The impact of words when you communicate about anything
The paradigm shift around money
What is 'Conscious Communications?'
Defining cleanse or clog
Connecting with what you want in your life
Turning possibilities into probabilities
Creating a Daily Desires Diary
Understanding that we are powerful
ABOUT MARY:
Mary Shores spends her career as an author, speaker, and entrepreneur, generating positive and pragmatic solutions for people who are freaking out. Mary blends personal experience with her extensive knowledge of neuroscience and human behavior to guide businesses and individuals to defeat the freakout and create their ideal life.
CONNECT WITH MARY:
RESOURCES:
Conscious Communications – By Mary Shores 
INTRO AND OUTRO MUSIC (Used by permission):
Continuation Vibe – Written, arranged and performed by Luke Pecoraro (© 2018 LSP Music)
Uphill Conversations is an Uphill Strategies, LLC production © 2017 Uphill Conversations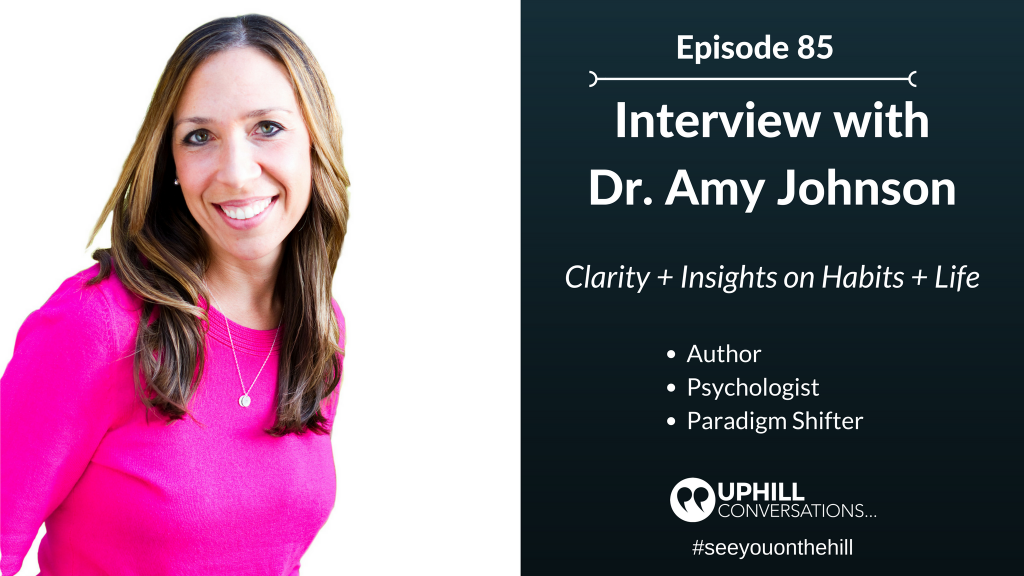 In this episode, Tim and Dr. Amy Johnson, Author, Psychologist and Paradigm Shifter, delve into the topics of, clarity, insights, habits and, life! Amy has the ability to help people see the possibilities for change + transformation. Simply put she makes it clear that "you are habit free and well already!"
OUR CONVERSATION:
Clarity + Insights
Habits + Life
Finding the evidence that connects with us deeply and personally
Struggles with bulimia
Finding the persona in us that is deeper than the psychology
Navigating the mental clutter
When things look real and true, it's the biggest brick wall we face
Relax the mind when it's lying to you
Getting quiet to see things differently
How curiosity suffers when we are under pressure
How you feel what you think
Our little mind is creating our problems
How we are using our heads to solve the problems that our minds have created
How the first answer is never the answer
Getting hooked on our own thinking
Forming positive habits that stick
People are habit free but their mind is spewing out illusions
Willpower is not sustainable for change and transformation
Willpower is an exhaustible resource
The Little Book of Big Change + knowing how we work
You cannot sustainably use your mind to beat your mind
ABOUT DR. AMY JOHNSON:
Amy Johnson, PhD is a psychologist, coach, author, and speaker who shares a groundbreaking new approach that helps people find true, lasting freedom from unwanted habits via insight rather than willpower. She is the author of Being Human (2013), and The Little Book of Big Change: The No-Willpower Approach to Breaking Any Habit (2016). In 2017 she opened The Little School of Big Change, an online school that has helped hundreds of people find freedom from anxiety and habits and live a more peaceful life.
Johnson has been a regularly featured expert on The Steve Harvey Show and Oprah.com, as well as in The Wall Street Journal and Self magazine. Learn more at www.DrAmyJohnson.com or www.TheLittleSchoolofBigChange.com.
RESOURCES:
Being Human: Essays on Thoughtmares, Bouncing Back, and Your True Nature – by Dr. Amy Johnson
The Little Book of Big Change – by Dr. Amy Johnson
CONNECT WITH ELLEN:
Website: DrAmyJohnson.com
The Little School of Big Change: LittleSchoolofBigChange.com
Facebook: DrAmyJohnson
INTRO AND OUTRO MUSIC (Used by permission):
Continuation Vibe – Written, arranged and performed by Luke Pecoraro (© 2018 LSP Music)
Uphill Conversations is an Uphill Strategies, LLC production © 2017 Uphill Conversations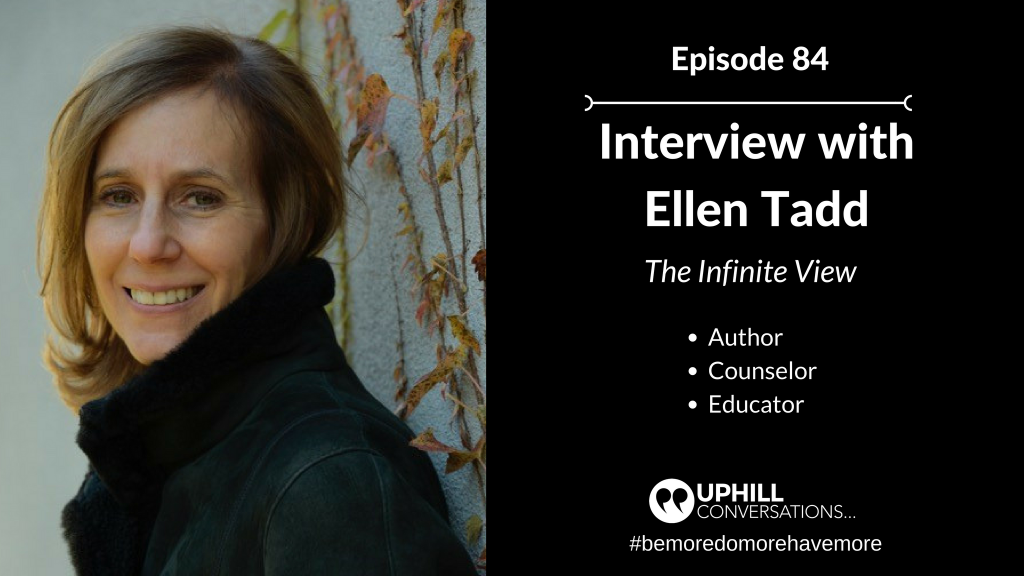 In this episode, Tim has a very enlightening conversation with Ellen Tadd exploring her new book The Infinite View, the importance of spirituality and how to experience and live with a greater understanding of our total being.
OUR CONVERSATION:
The watershed event that helped her discover herself
How she discovered the spiritual world
Clairvoyance and clairaudience
Genuine experience and misinterpreted experience
Seeing life on earth as a school
Attunement
The importance of meditation and moving beyond preconceived notions
Positivity as our greatest protection
The energetic response of thoughts and feelings
Being neutral is not strong enough
The 'Third-Eye",  the center of wisdom
How many people are living in the 'gut' and the results
Life is much clearer when you live with your eyes open
How we perceive informs how we feel
Anecdote inadequacy with humility
Stilling the brain chatter
Imagining a 'Miniature You'
Mistakes are good and necessary for learning and growing
The difference between the 'bing' and the 'thud'
The misconception of ease
ABOUT ELLEN:
Ellen Tadd is an internationally known clairvoyant counselor, educator, and author who has been teaching and counseling for more than forty years. She is widely respected for the integrity of her work, the accuracy of her perceptions and guidance, and the clarity and usefulness of her teaching.
Shortly after completing her freshman year in college Ellen had a remarkable experience in which she was able to contact her deceased mother. Her mother's presence and message healed Ellen's childhood trauma of denying her clairvoyant and clairaudient gifts and transformed her view of the world. Very soon after this awakening she began to have contact with guides and teachers from spiritual realms who provided her with an extraordinary education.
Tadd is the author of three books: her latest book, The Infinite View, released in spring 2017, The Wisdom of the Chakras, and Death and Letting Go which appeared on the Boston Globe bestseller list.
RESOURCES:
The Infinite View – by Ellen Tadd
Wisdom of the Chakras – by Ellen Tadd
Death and Letting Go – by Ellen Tadd
CONNECT WITH ELLEN:
Website: ellentadd.com
INTRO AND OUTRO MUSIC (Used by permission):
Continuation Vibe – Written, arranged and performed by Luke Pecoraro (© 2018 LSP Music)
Straight Drive (© 2017 Tim Pecoraro)
Uphill Conversations is an Uphill Strategies, LLC production © 2017 Uphill Conversations