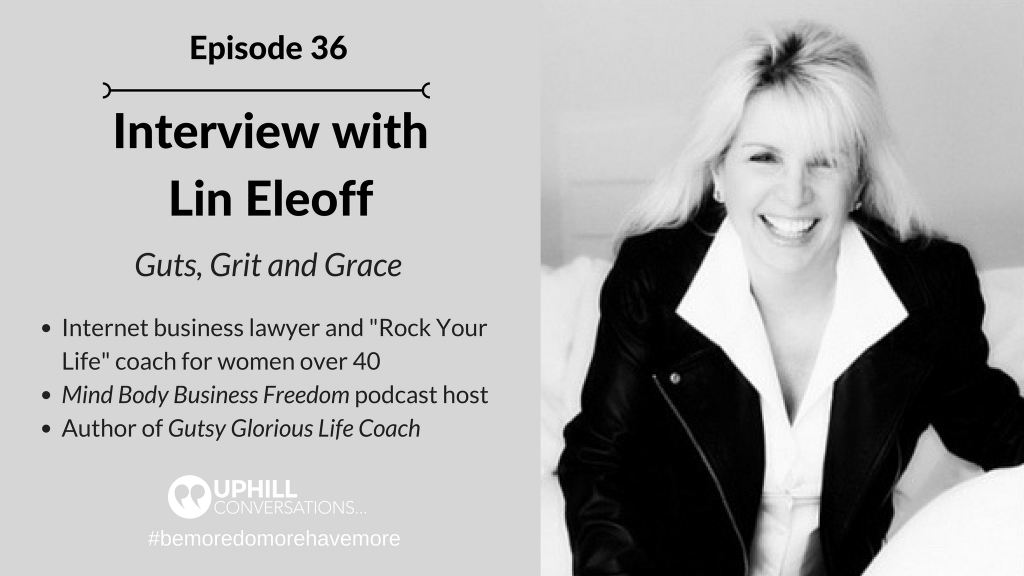 Lin Eleoff joins us on Uphill Conversations to talk about the key components of living a gutsy glorious life. She is an author, lawyer and "rock your life" coach for women over 40. Lin has written what she calls "The New Rules" for women who are ready to WOMAN UP in all aspects of their lives, something she says takes GUTS, GRIT, and GRACE.
Lin says one of the worst things a woman can do is turn her back on herself when it comes to the woman she sees in the mirror.
Show Notes:
Need to pay attention to your inner voice – your inner 6-year-old
How Lin has lived a life filled with bold moves
Don't overlook the importance of SECOND chances, whether they are given to you or you make them for yourself
Disciplines needed to cultivate persistence and grit
AFGOs – Another Freaking Growth Opportunity
Tremendous combination of guts, grit and grace
Importance of doing an audit of your own values: Are they yours or did you inherit them from someone else and you've been living them your whole life?
We are not called to get it right, we are called to learn
Trap of self-comparison versus embracing our uniqueness and imperfections
In order to change, we must be willing to see that supporting others to the detriment of ourselves is not as a badge of honor
Impact our parents have in our lives: inspiring us, imposing wisdom and leading by example
Using mantra "Cut. Bleed. Heal." to work through situations where you've been wounded
Not allowing past wounds to determine our present or future actions
Awareness of inner feelings and recognizing signals to guide choices
Sometimes need to scare people into paying attention and taking responsibility, to understand the dangers of ignorance
How Lin invests in herself and empowers others
Lin's perspective on the myth of "having it all"
Connect with Lin:
INTRO AND OUTRO MUSIC (Used by permission):
No Worries (© 2014 Anderson Music, LLC)
Gotta Move On (© 2014 Anderson Music, LLC)
Uphill Conversations is a POTAD, LLC production (Partnership of Thinking and Doing)
© 2017 Uphill Conversations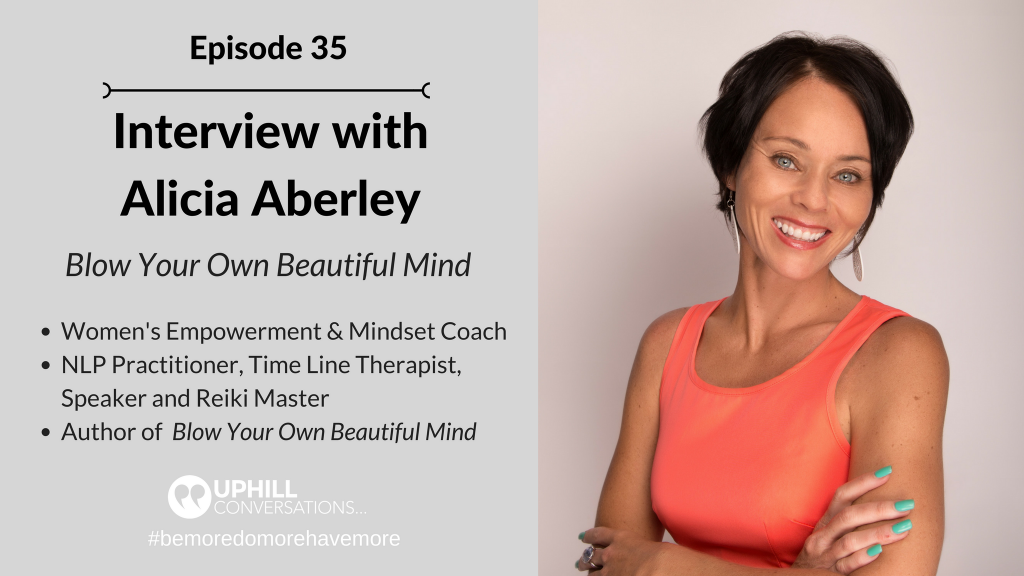 In this episode of Uphill Conversations, we interview Alicia Aberley and she shares what it means to Blow Your Own Beautiful Mind. Alicia is a noted Women's Empowerment and Mindset Coach with a strong passion towards to guiding women through the art of putting themselves first so that they can design a life they love.  Also an accredited NLP Practitioner and Time Line Therapist, Author, Speaker and Reiki Master, Alicia has recently launched her global brand Alicia Aberley International.
Alicia looks to utilise her new brand to create a positive impact around the world by inspiring her clients to design their life on their own terms. Alicia has followed her passion to inspire women to connect with their true self, to step in to their own brilliance and to leave a legacy in this world. In all of her endeavors, Alicia donates 10% of her earnings to Destiny Rescue, an internationally-recognized non-profit dedicated to rescuing children trapped in the sex trade.
SHOW NOTES: 
Alicia shares about her journey and what inspired her to be a guide for other women
Importance of putting oneself first, being lovingly selfish, then empowering others do the same
Letting go of guilt and the power of forgiveness
Constant need to be aware of and overcome limiting beliefs
Accepting and deconstructing emotions that have built up inside of you
We are not broken, we are breaking open or broken in all the right places
Truly owning all of your decisions and the resulting consequences
Do your relationships serve you? Are they giving you what you desire?
Acknowledgement and awareness of what you're feeling: "Get dirty with the pain, roll around in it."
How Alicia helps people to feel safe enough to fall apart in order to shine brightly
A few ways Alicia invests in herself: hiring a coach, reading, workshops, masterminds
Overcoming the fear and taking the leap into a new endeavor
The necessity of trusting yourself and letting go of the "How?"
True growth occurs when things don't go your way
Fun and interesting way that Alicia finds joy in simple things
What Alicia is most optimistic about over the next 12 months
CONNECT WITH ALICIA: 
BOOKS: 
INTRO AND OUTRO MUSIC (Used by permission):
No Worries (© 2014 Anderson Music, LLC)
Gotta Move On (© 2014 Anderson Music, LLC)
Uphill Conversations is a POTAD, LLC production (Partnership of Thinking and Doing)
© 2017 Uphill Conversations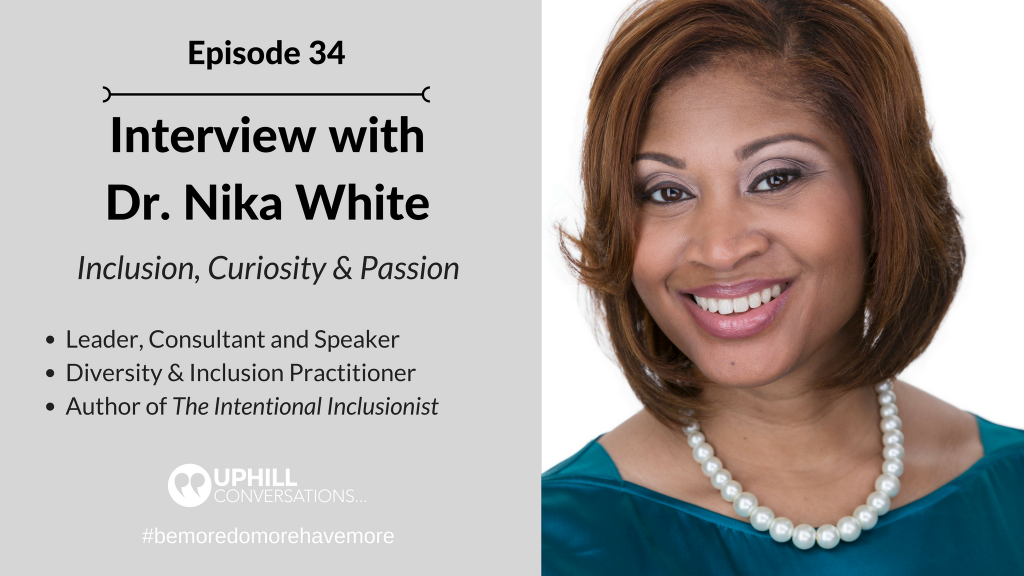 Listen to an Uphill Conversation with Dr. Nika White about the value of inclusion, curiosity, passion and authenticity in both our professional and personal lives.
Dr. Nika White's professional career spans about 20 years, ranging from serving as a diversity and inclusion practitioner, an accomplished marketing communications executive, economic development leader and community advocate. Dr. White found inspiration through the intersection of business, diversity and leadership, and has made this her niche. She is a national sought after consultant, thought leader, and speaker to countless organizations and executives on issues of team engagement, organizational leadership, strategic diversity, and intentional inclusion.
Read her full bio at www.nikawhite.com.
Show Notes: 
Nika shares about her professional journey from Marketing & Advertising to her current work in Diversity & Inclusion
Addressing and overcoming the "trendiness" / "buzz words" of Diversity & Inclusion
Reframing the conversation to "Effective Management of Human Difference"
How to create understanding, show value and bring new people into the D&I conversation
Allow curiosity to lead you to action and be bold in asking questions to seek understanding
Being persistent and not losing courage when working towards change
Surrounding yourself with quality people and a willingness to grow and bend while working towards your vision
Value that diversity brings to organizations, teams and the bottom line
Importance of personal strategic planning for Nika
Just because you can do a lot of things well, doesn't mean you should be doing a lot of things
Having a spirit of conviction where you are "all in" and the power of intention and striving for excellence
Glorification of "busy" and "curse of being capable"
Willingness to be vulnerable enough to ask for help, don't assume others can see your need
Ensuring that as you are climbing, you are also lifting others
Being an "intrapreneur" and placing priority on doing significant work
Digging in and doing deep work instead of the safety of surface-level work
How Nika keeps herself in alignment and maintains forward momentum
We must face our own biases and open up to the opinions and perspectives of others
Methods Nika uses to unplug and re-fuel
Instead of work-life balance, think work-life blend
Be the change – be the inclusion – you want to see in the world
Full-Day event in Oct with Greenville Chamber all around D&I/Effective Management of Human Difference
Connect with Nika: 
Website: nikawhite.com
LinkedIn: https://www.linkedin.com/in/nikawhite/
Twitter: https://twitter.com/NikaWhite
Facebook: https://www.facebook.com/nikacwhite
Books / Podcasts / Videos: 
Intentional Inclusionist, Dr. Nika White
Amy Jo Martin Episode 32 
Video: Boy who sees father for first time
INTRO AND OUTRO MUSIC (Used by permission):
No Worries (© 2014 Anderson Music, LLC)
Gotta Move On (© 2014 Anderson Music, LLC)
Uphill Conversations is a POTAD, LLC production (Partnership of Thinking and Doing)
© 2017 Uphill Conversations
Tim Pecoraro: tim@uphillconversations.co
Megan Finnern: megan@uphillconversations.co
Tim & Megan: connect@uphillconversations.co
Uphill Conversations, 600 East North Street, Suite 103, Greenville, SC  29601
Skype: timothyk.pecoraro
Let us know what I can do