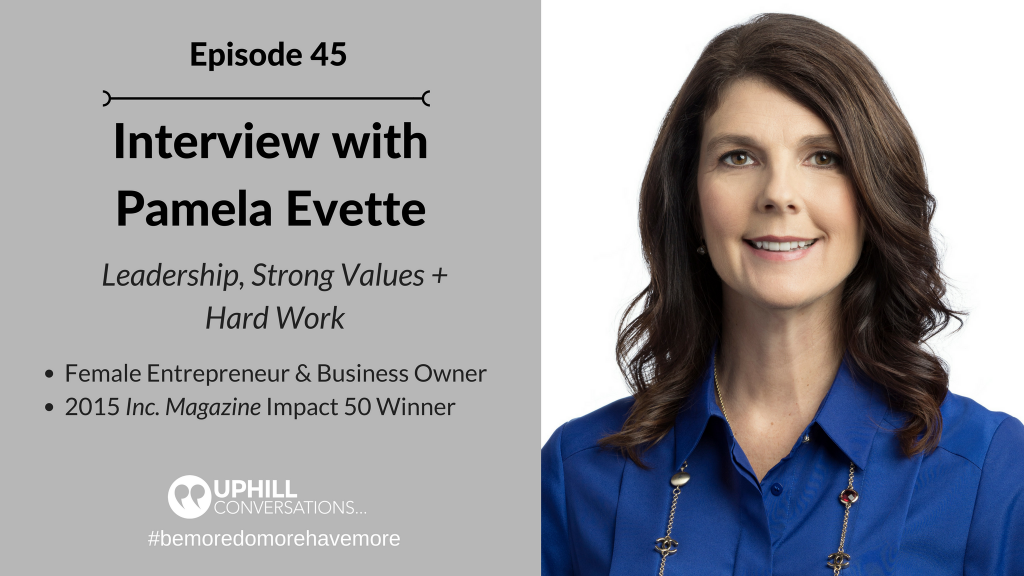 On this episode of Uphill Conversations we talk with Pamela Evette on values, priorities, and hard work in business and in life.
Pamela Evette brings more than 20 years of experience and an entrepreneurial spirit to her role as President/CEO of Quality Business Solutions (QBS).  A trained accountant and former CFO, Evette's primary expertise is in building Professional Employer Organizations (PEOs), firms that provide a service under which an employer can outsource employee management tasks, such as payroll, employee benefits and workers' compensation, recruiting, risk/safety management, and training and development.
Under her leadership, QBS has grown exponentially, becoming a $1 billion dollar enterprise in 2016.  QBS has been honored as one of the best places to work in its home state of South Carolina and as one of the Inc. 5000 fastest growing companies in the United States.
Show Notes:
Fearlessness and what it means for a Pamela to be fearless
How Pamela's ancestors and family have inspired her to be bold
The impact of what you say and don't say on those around you
Being brave vs. having courage
Owning a business means you can set certain priorities, but there are always trade-offs
What holds people back from stepping out on their own professionally
An entrepreneurial spirit can make you feel unsettled at times
You don't always need to take big risks, you can systematically and gradually work towards building your vision
How Pamela's background and Polish heritage taught her the value of hard work and never to expect anything to be easy, to be handed to you or to go smoothly.
"Nothing is free. There is never a free lunch."
Pamela's view on change: very few outcomes are unfixable, so be open to new ideas, be decisive, and keep moving forward
Importance of being realistic and honest in asking yourself what you're willing to sacrifice as an entrepreneur
Impact 9/11 had on the industry and QBS as a business
Benefits of starting lean, growing smart and persevering
Pamela's optimism about QBS' continued growth, the QBS team getting stronger and the U.S. economy
Connect with Pamela:
INTRO AND OUTRO MUSIC (Used by permission):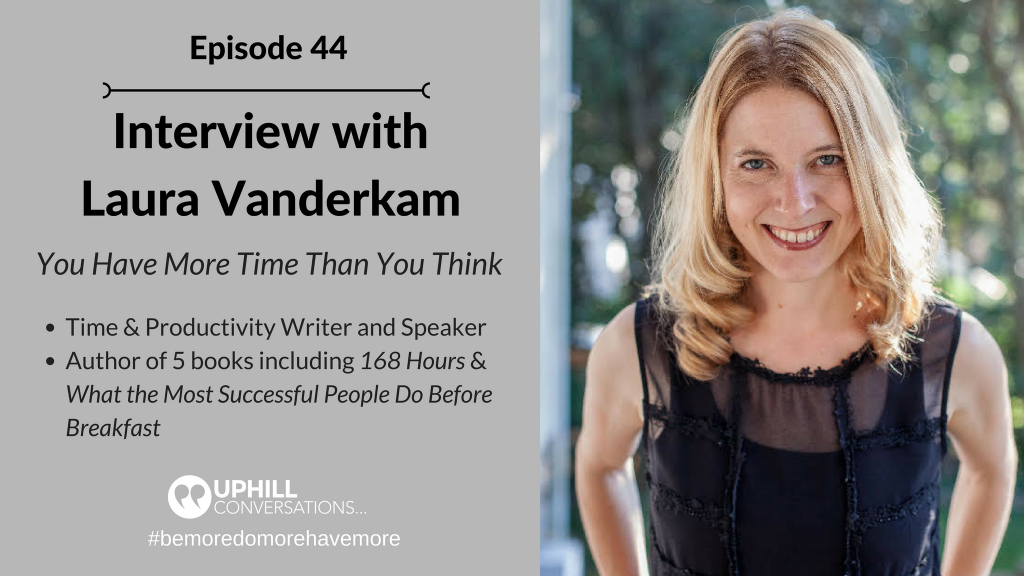 In this episode of Uphill Conversations, we talk with Laura Vanderkam on time management and the choices we make daily and moment-to-moment on how we spend our 168 hours each week.
Laura Vanderkam is the author of several time management and productivity books, including I Know How She Does It, What the Most Successful People Do Before Breakfast, and 168 Hours. Her work has appeared in publications including Fast Company, Fortune, USA Today, and the Wall Street Journal. She lives outside Philadelphia with her husband and four children, and blogs at LauraVanderkam.com.
Show Notes:
When we build the lives we want, time saves itself
Everything we do is a choice
Choosing how to spend leisure time can be a big challenge
Having a "to do" list vs scheduling priorities
Annual goal setting, personal and professional, helps align and adhere to your top priorities
Don't just fill time, build intentional breaks into your day where you actually disconnect and mentally recharge
Time tracking shines a light on how where you're losing or wasting hours throughout the day and week
Simplify your approach to tracking hours – it doesn't have to be complicated or highly-detailed
Questions you can ask yourself each day in order to be more mindful of how your time is spent
Making changes can cause discomfort and challenges for you and others
The vast majority of things that upset us today won't matter in a year or even next week
When you do two things at once, you're often doing neither of them well
Impact of giving your full attention to the person in front of you
Laura's Uphill Challenge in her early writing career
"Done is better than perfect because there is no perfect without being done"
Disciplines Laura uses to get started, build and gain momentum
Question of one's true capacity and value of planning free time
"Weekends can be the secret weapon of successful people"
When evaluating opportunities, it's all about what gives you the most energy and fulfillment
Laura's optimism on her new book, her family and the world in general
Connect with Laura:
Books / Resources:
INTRO AND OUTRO MUSIC (Used by permission):
No Worries (© 2014 Anderson Music, LLC)
Gotta Move On (© 2014 Anderson Music, LLC)
Uphill Conversations is an Uphill Strategies, LLC production
© 2017 Uphill Conversations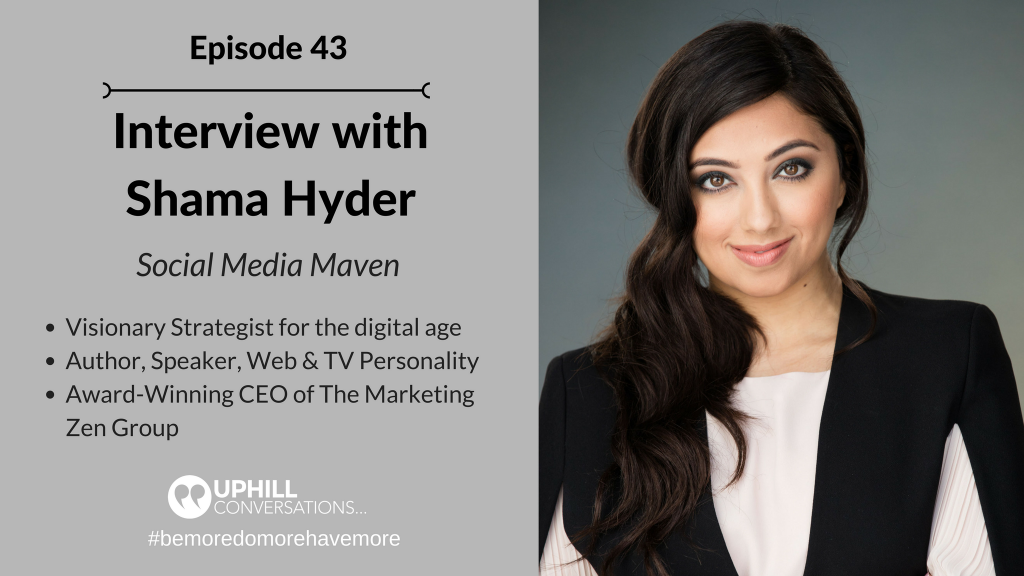 In this episode, Tim and Megan have an Uphill Conversation with Shama Hyder on social media, identity and awareness. Shama is a visionary strategist for the digital age, a web and TV personality, a bestselling author, and the award-winning CEO of The Marketing Zen Group – a global online marketing and digital PR company.
Under her leadership, The Marketing Zen Group has grown an average of 400% growth annually since 2009 to include a team of 30 and serve clients ranging from publicly-held Fortune 500 companies to privately-held small businesses and nonprofit organizations across the globe. Read her full bio here.
Show Notes:
How Shama spends her time personally and professionally
Shama's suggestions on how to best use social media for business and building your personal brand – it's finding the right blend of showcasing who you are and being strategic in what you share
Shama considers how what she shares on social is adding value – "You should use social media, not be used by it."
Be an editor, not a perfectionist. It's better to accept the imperfections and take the first step.
True identity is something that is constantly changing
Learn to be responsive to opportunities as they are presented
Shift your perspective to break down challenges into smaller, more manageable chunks – approach them bit-by-bit and day-by-day.
Importance of self-editing which ideas you choose to pursue
Self-awareness is important for growth and balance
You need to take breaks and take care of yourself physically, mentally and emotionally
Shama's optimism on growth of online video, new technologies that will improve peoples' lives and growth of The Marketing Zen Group
Connect with Shama: 
INTRO AND OUTRO MUSIC (Used by permission):
No Worries (© 2014 Anderson Music, LLC)
Gotta Move On (© 2014 Anderson Music, LLC)
Uphill Conversations is an Uphill Strategies, LLC production
© 2017 Uphill Conversations
Tim Pecoraro: tim@uphillconversations.co
Megan Finnern: megan@uphillconversations.co
Tim & Megan: connect@uphillconversations.co
Uphill Conversations, 600 East North Street, Suite 103, Greenville, SC  29601
Skype: timothyk.pecoraro
Let us know what I can do