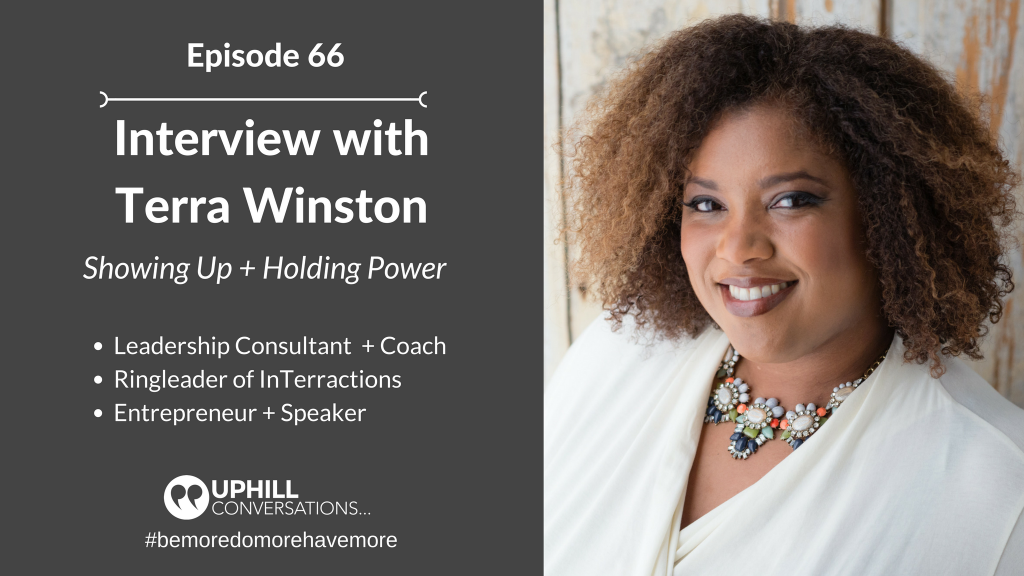 In this episode, Terra Winston joins us for an Uphill Conversation on how each of us shows up in our daily lives – at work and home – and our ability to all "hold power."
Terra Winston, Ringleader of inTerractions and Principal of inTerract Consulting, has dedicated her life to helping her clients unleash the potential of each employee. She is a leadership consultant and executive coach with 20 years of internal and external business consulting experience. Terra has a flexible style that has driven results in boardrooms and on plant floors, for Fortune 100 companies and small start-ups, alike.
Show Notes:
Terra's background in engineering + discovering her fascination of how and why people work
We get put into boxes early on based on our intellectual or physical gifts
Tendency to be defined by who others teach us to be
It can be hard to figure out what you really want to do + who you are at the core
Tactics for self-discovery on what is meaningful in your own life
We get caught up in the "thing" that we forget the importance of what's behind it
Tendency to focus too much on what we can't do, rather than what we can do + what is nearby
Ask yourself, does something feel "light" or "dark" – take heed of your gut reaction
You must make compromises in the moment in order to attain long-term visions + goals
You must own your outcome + make intentional choices in your life
Must know the game you're playing: "If there are two people in the room, a game is afoot … every organization has rules written and unwritten"
Need to understand how you show up in the room and that you hold power – especially if you want to be in a leadership position
Need to guide + teach our youth emotional intelligence + self-awareness
Lack of trust is the major contributor to redundancy + inefficiency in organizations
Importance of holding one another accountable and making accountability central to your culture
Balancing care and candor
Difficulty in walking away from stability to go after your dreams
You must not only have a vision, but also a conviction to follow through
Connect with Terra:
Resources:
INTRO AND OUTRO MUSIC (Used by permission):
Dreams Groove (© 2017 Tim Pecoraro)
Straight Drive (© 2017 Tim Pecoraro)
Uphill Conversations is an Uphill Strategies, LLC production
© 2017 Uphill Conversations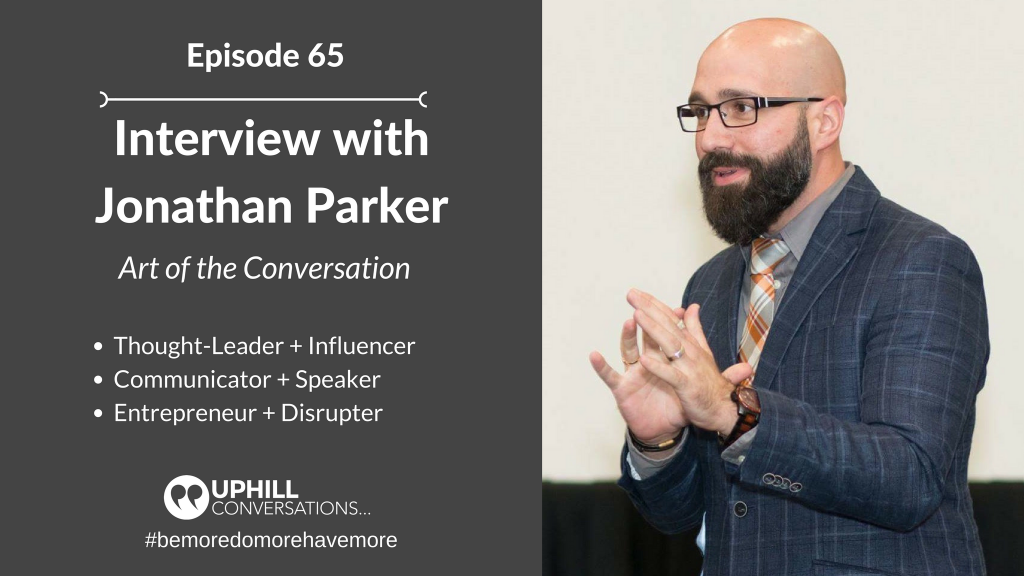 In this episode we speak with Jonathan Parker on the Art of the Conversation and creating great vocal art through curiosity, asking great questions, listening and sharing.
Jonathan Parker is a creative thought-leader and influencer who has a captivating story about why the Art of the Conversation became important to him. Originally from New England, Jonathan did not speak until almost five years old; and then became an adult who is known for engaging conversations and powerful public speaking. His own journey led him to research and value the incredible power of intentional conversations resulting in a compelling training around this topic that he takes to businesses and nonprofit organizations with great success.
Show Notes:
We are all artists and our conversations are our artwork
Need to once again give people the permission to be curious
An artist is first accountable to themselves, not the viewer
We've become so used to others telling us what we believe, that we become counterfeit artists
What you do comes from who you are, it doesn't make you who you are
We are so hard on ourselves that self-reflection can be scary
In order to grow self-awareness, seek to understand why you do the things you do
You need a to build an inner circle who can be brutally honest
Prescribed authenticity versus true authenticity
Jonathan believes there are two universal things all people want:

The opportunity to communicate
The respect to be heard

Importance of creating margin and self-discovery
Social media is a powerful tool, but gives a false impression of connection and conversation
Need to learn how to truly communicate and actively listen instead of actively responding
Busyness versus productivity
"If you tell the truth, you don't have remember anything" – Mark Twain
Leaders must model the behaviors they desire: you can only multiply what you model
No one can consistently act in a way that is inconsistent with how they view themselves
Jonathan's desire to create a space for fellowship and connection outside of church for believers
Surprise and reward in stepping out and pursuing your passion
Optimism that we will come together for more conversations and that relationships will get deeper because of differences, not in spite of them
Connect with Jonathan:
Resources:
INTRO AND OUTRO MUSIC (Used by permission):
Dreams Groove (© 2017 Tim Pecoraro)
Straight Drive (© 2017 Tim Pecoraro)
Uphill Conversations is an Uphill Strategies, LLC production
© 2017 Uphill Conversations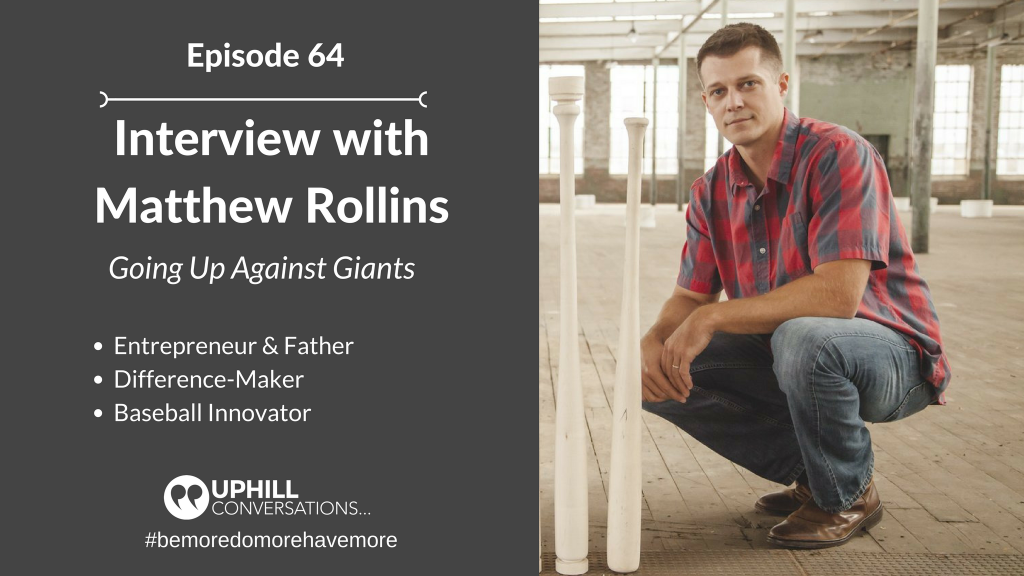 Matthew Rollins joins us for an Uphill Conversation on his journey from playing baseball to his current life as an entrepreneur. He is carving his own path and going up against giants in a very established industry.
Matthew Rollins was a four-year starter for North Greenville University, playing centerfield and hitting leadoff the majority of his college career. After his time at NGU, he had the rare opportunity to play professionally. Though the majors never came calling, Matthew's love for the game couldn't deter his involvement in athletics somehow, some way. His work experience includes time with a performance research facility where he trained hundreds of professional and Division I athletes, members of U.S. Special Forces and first responders. But as the company and Matthew's responsibilities grew, he found himself missing the baseball community, and understood a comeback was inevitable.
Show Notes:
Matthew's journey from athlete to entrepreneur
At some point the game will tell you "it's enough"
Intentionality and time it takes to discover your passion
Evaluating opportunities and choosing the path your life will take
Anchor Bat Company's focus on quality and design
Story behind the meaning of "Anchor" in the company name
"We'll make a bat for anyone, but we're not for everyone."
Bravery and grit it takes to follow your heart instead of your ego – and to stick with it when times are tough
Learning the ins and outs of a very specific industry with strong, established competitors
Power in owning your decisions + your circumstance
Underdogs and self-belief
Joys and challenges of working with family
What it feels like to see your product in action
Unexpected ways your product can positively impact the lives of others
Your life will be tough, but it's all worth it – so keep fighting
Connect with Matthew:
Resources:
INTRO AND OUTRO MUSIC (Used by permission):
Dreams Groove (© 2017 Tim Pecoraro)
Straight Drive (© 2017 Tim Pecoraro)
Uphill Conversations is an Uphill Strategies, LLC production
© 2017 Uphill Conversations
Tim Pecoraro: tim@uphillconversations.co
Megan Finnern: megan@uphillconversations.co
Tim & Megan: connect@uphillconversations.co
Uphill Conversations, 600 East North Street, Suite 103, Greenville, SC  29601
Skype: timothyk.pecoraro
Let us know what I can do