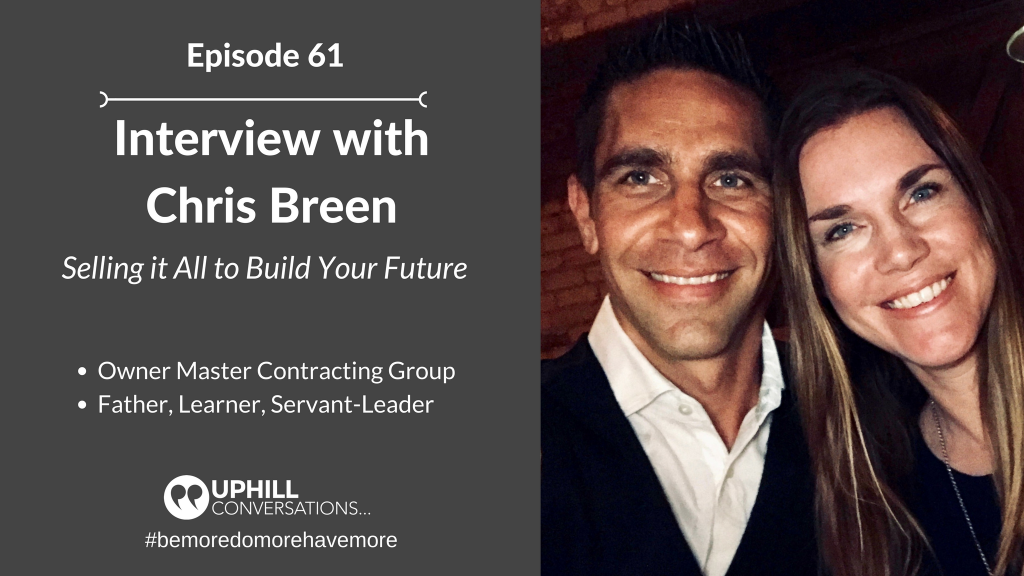 Chris Breen joins us and shares his journey of self discovery and entrepreneurship. He greatly values continuous learning and realizes the power of investing in oneself.
Chris and his wife Amy have been successful entrepreneurs for 20 years.  They currently operate 2 construction companies, a construction management firm and coach other entrepreneurial couples like themselves. Chris is a Certified Trainer in Training with Wake Up Warrior and has a passion for men to live up to their purposes. They live in upstate South Carolina with their 3 children.
Show Notes: 
Being happily "unemployable"
Raised with entrepreneurial spirit and encouraged to build something
Chris's journey from a landscaping company at 14 years old to now owning a construction management firm and operating two companies
Value of supporting and feeling "called" to mission work
Sold first business, their home and almost all of their belongings to travel across country with their three children for five months
Discovered that "you can be serving and kingdom-minded within an industry"
"Instead out of doing something out of my desire, I felt it was my obedience to my calling"
Tendency to move in the direction of what you want to do – what gives you pleasure – rather than following your calling + purpose
Stepping away from something can provide incredible perspective on your gifts and purpose
Beginning with core values and a clear vision in building a business – being intentional
You can't do it on your own – must surround yourself with great people to free yourself up empower others
You must learn to lead yourself before you can lead others
Creating space and opportunities to truly connect + be present with your loved ones
Importance of investing in yourself – it can be contagious to those around you + ROI is what YOU do with it
Chris's advice for younger generations: "Develop a routine that's going to put you in a place of power every day."
Coaching provides an opportunity for perspective you can't gain on your own + challenging you to see things differently
Resources:
Connect with Chris: 
INTRO AND OUTRO MUSIC (Used by permission):
Dreams Groove (© 2017 Tim Pecoraro)
Straight Drive (© 2017 Tim Pecoraro)
Uphill Conversations is an Uphill Strategies, LLC production
© 2017 Uphill Conversations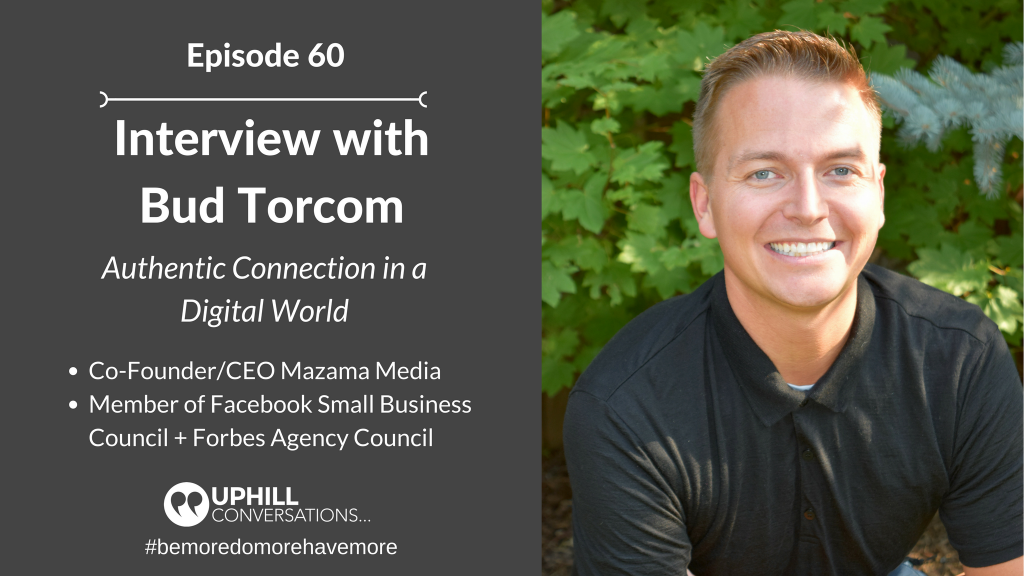 In this episode, we have an Uphill Conversation with young professional, entrepreneur and business owner Bud Torcom on authentic connection, relationships and values in an increasingly automated and digital world.
Bud Torcom is the CEO and co-founder of Mazama Media, a digital marketing agency that offers high-quality social and digital media solutions for businesses. Mazama Media focuses on the individual needs and personalities of clients to create unique and engaging social media content, and the company is part of the prestigious Facebook Small Business Council. In addition, Bud is a member of the Forbes Agency Council, which has recognized him as an industry leader among advertising and media strategy firms.
Show Notes:
Creating company policies that match your core values
At Mazama Media fun + continuous learning are central
Setting stretch goals for your organization – i.e. an anxiety free workplace
Benefits + pitfalls of a world increasingly conditioned for instant communication and gratification
Social tools like LinkedIn are incredibly powerful for connection + sharing information, but are often abused by those looking to push a product or service
Importance of leading by example + learning from mistakes
Bud believes leadership is "always looking out for the person on your left and the person on your right"
Coinciding need for intentionality in relationships alongside need to embrace our increasingly automated world
Multitasking is not truly possible "you don't have a split screen brain"
Generation Y and their use of technology and social media channels
How online dating could impact our future generations' ability to successfully network and interview
What would happen if we stopped just showing our best moments on social media – what if we "got real?" Could we help others?
Importance of investing in oneself through continuous learning
Building a relationship with your local community can be essential to small business success
Tips for developing, reinforcing and celebrating your company's core values
Connect with Bud: 
References:
INTRO AND OUTRO MUSIC (Used by permission):
Dreams Groove (© 2017 Tim Pecoraro)
Straight Drive (© 2017 Tim Pecoraro)
Uphill Conversations is an Uphill Strategies, LLC production
© 2017 Uphill Conversations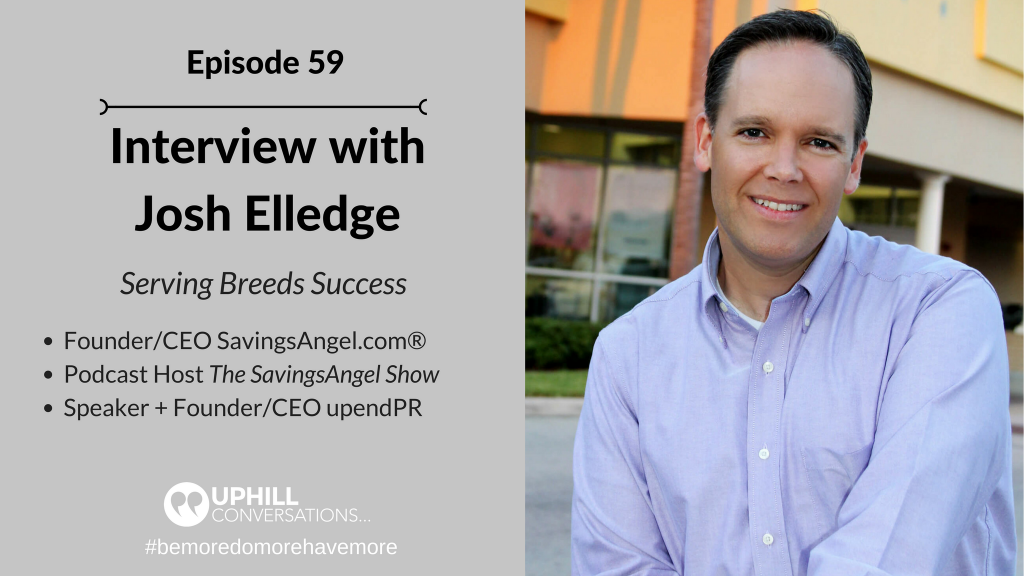 Josh Elledge joins us for an Uphill Conversation on the power of serving others and giving of oneself as a means to grow your business and achieve your dreams.
Josh Elledge is the Chief Executive Angel at SavingsAngel.com and helps consumers get discounts and upgrades on everything through his syndicated newspaper column with 1.1 million readers and on TV in 75 cities. He's been in the media more than 1500 times. Josh now turns digital entrepreneurs into media celebrities at upendPR.com. Full bio here.
Show Notes:
How Josh used his journalism background, worked with local media, provided value to their audiences and SERVED
Spent less than $500 in advertising – "everything we do is through service and giving and providing value to audiences"
Feeling a moral imperative to help other business owners succeed
What holds you back: fear of judgment
Fear robs us from those things that we feel called to do
An early desire to join the US Navy and to be self-reliant translates to his passion to empower others to do the same
View money as a by-product, not as sole motivation
"Who do I get to serve to today?" versus "Who am I going to sell to today?"
Josh's mission is to change the PR industry
Staying balanced/grounded means protecting yourself, saying no sometimes and surrounding yourself with great people.
Make investments that put you outside of your comfort zone
Best ways to grow your business:

1. Network with influencers
2. Serve large audiences

Not JUST serving, but INTENTIONAL serving
The importance of scheduling your priorities.
Connect with Josh:
INTRO AND OUTRO MUSIC (Used by permission):
Dreams Groove (© 2017 Tim Pecoraro)
Straight Drive (© 2017 Tim Pecoraro)
Uphill Conversations is an Uphill Strategies, LLC production
© 2017 Uphill Conversations
Tim Pecoraro: tim@uphillconversations.co
Megan Finnern: megan@uphillconversations.co
Tim & Megan: connect@uphillconversations.co
Uphill Conversations, 600 East North Street, Suite 103, Greenville, SC  29601
Skype: timothyk.pecoraro
Let us know what I can do