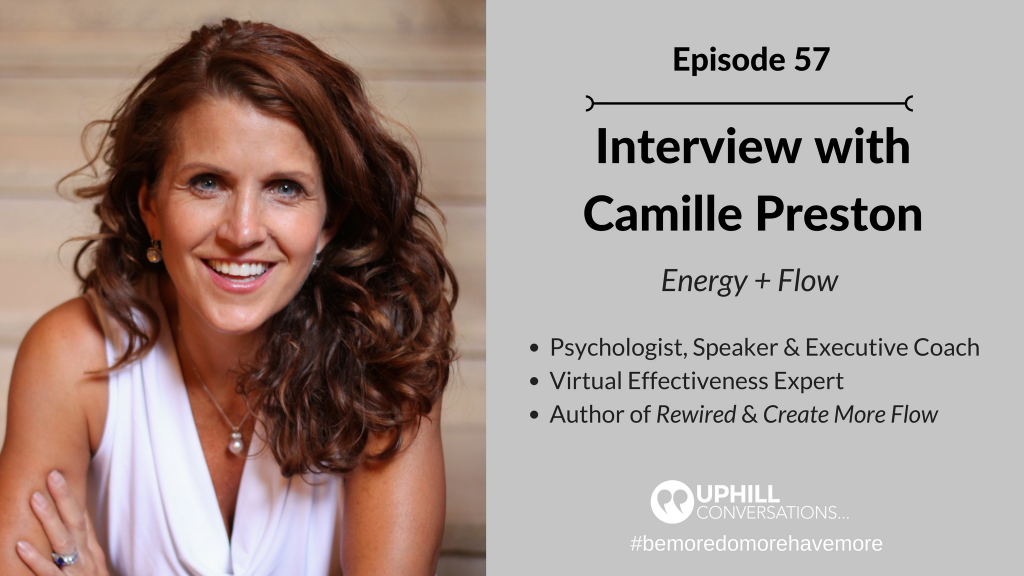 Camille Preston, PhD, PCC joins us for a conversation on igniting peak performance. We discuss energy, awareness and our capacity to create more flow.
Camille is a leadership expert. She understands where people are, what is happening to them, and how to be their best selves most quickly. Camille specializes in helping people unlock their capacity for excellence, action, and impact. Her clients learn to lead—and live—better. A psychologist by training, Camille is masterful in recognizing underlying patterns that inhibit performance.  She works with individuals and teams to identify specific actions they can take to amplify impact. In 2008, she identified the negative impact of technology and was on the front edge of the tech mindfulness movement with her book
Rewired
.  Full bio
here
.
Show Notes:
Igniting peak performance through awareness, perspective + planning
There is incredible energy in emotion
Presence and harnessing the power of past peak performance
Impact of experiencing and discovering your flow
Importance of realizing and embracing your own success formulas
Develop resources + relationships that boost your energy
Disciplines to deal with depletion, capacity, margin + proximity
Our tendency to be reactive instead of creative
Controlling access and ability to tap into energy sources
Benefits of proactively feeding into your soul and well-being
Allowing for space/margin to think deeply and deal with unexpected
Camille's definition of bandwidth in an overwired world
Flow enhances creativity and drastically improves productivity
Thoughtful preparation is necessary to achieve desired outcomes: be clear on the outcome, but flexible on the approach
Maintaining impact through collaboration + empowerment
How Camille "dreams into people" and continues on her journey uphill
Connect with Camille:
Resources:
INTRO AND OUTRO MUSIC (Used by permission):
Dreams Groove (© 2017 Tim Pecoraro)
Straight Drive (© 2017 Tim Pecoraro)
Uphill Conversations is an Uphill Strategies, LLC production
© 2017 Uphill Conversations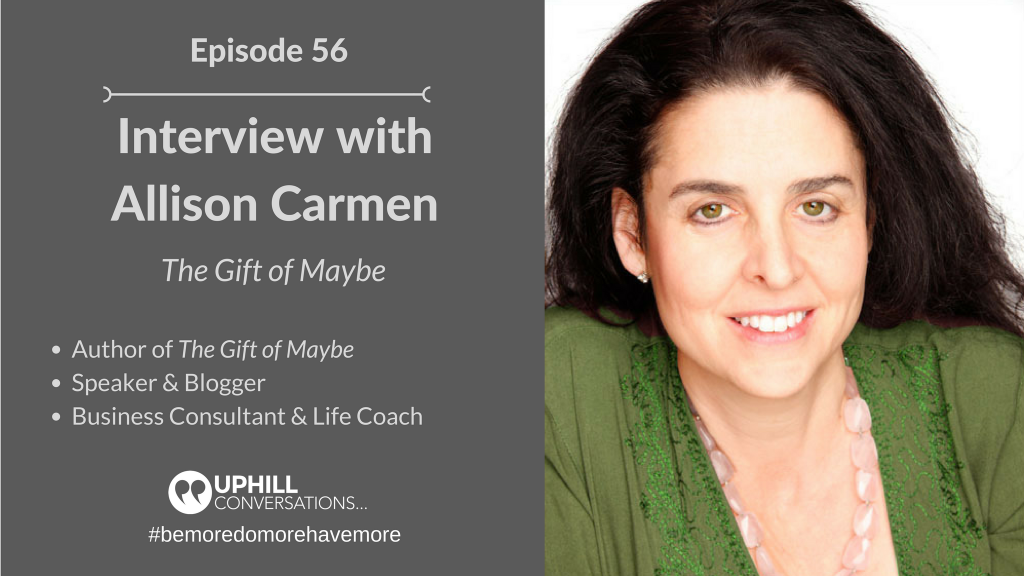 Allison Carmen joins us for an Uphill Conversation on "The Gift of Maybe." We discuss how Maybe had changed her life and the lives of others by allowing them to remain open to possibilities.
As a life coach, business consultant and author, Allison Carmen has developed the simple life philosophy called "Maybe" to help people deal with the uncertainty of life. She has successfully applied the philosophy to help her clients, who range from entrepreneurs and owners of multi-million dollar companies to artists, actors, writers, fashion designers, attorneys, health care workers, parents, nannies and the homeless. Allison has witnessed hundreds of people, regardless of present circumstances, who had the courage to step into the realm of Maybe improve their lives. Full bio here.
Show Notes: 
Our society's addiction to certainty
Optimism and our ability to take perceived negative occurrences in stride
Having control vs. fear of the unknown
Awareness and curiosity
Put your emphasis on the journey
Beauty of presence and being open to all of life's possibilities
Uncertainty is the beginning of all creativity
Need to allow our thoughts and emotions to move through us
Exercises to embrace and practice Maybe
"Maybe" is a tool to stay resilient when things don't go as planned
Allison shares how she has implemented Maybe in her own life
Allowing others to show up in our lives as the best versions of themselves
Perspective and taking a second look at our own views
Allison's Uphill Challenge in getting her book published
Allison's optimism about family, the world and all the unknown possibilities
Connect with Allison: 
Resources: 
INTRO AND OUTRO MUSIC (Used by permission):
Dreams Groove (© 2017 Tim Pecoraro)
Straight Drive (© 2017 Tim Pecoraro)
Uphill Conversations is an Uphill Strategies, LLC production
© 2017 Uphill Conversations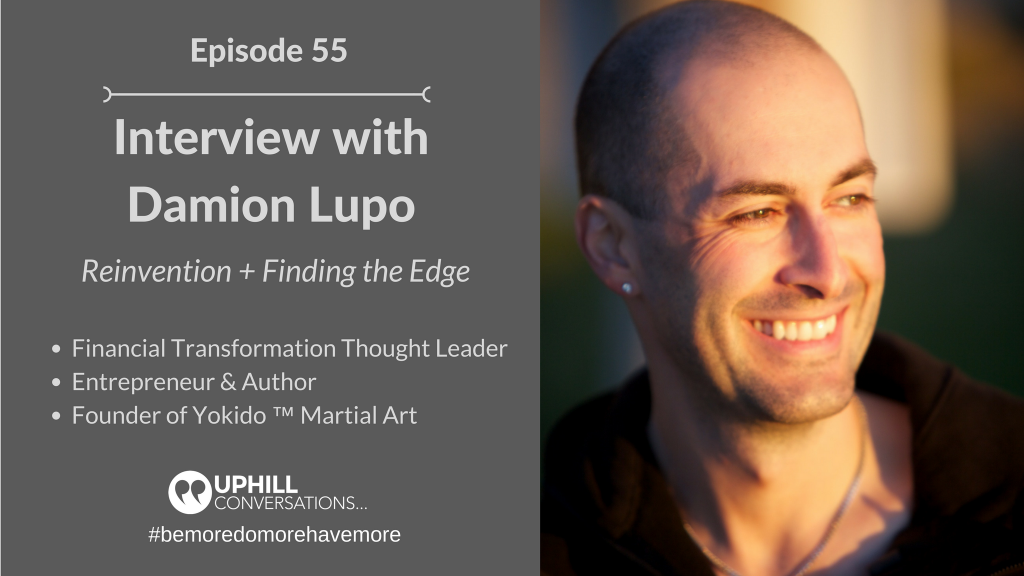 Self-described rule breaker and system disrupter Damion Lupo joins us for a conversation on reinvention, relationship, impact, and finding the edge.
A financial transformation thought leader, Damion is a born entrepreneur with his first business at age 11, he's started and sold dozens since, ranging from insurance to real estate and personal development.  Founder of his own martial art, Yokido ™, and holder of 3 other black belts.  Damion paid for his first rental house with a VISA, bought 150 houses in 7 states over next 5 years and then went through a $20,000,000 meltdown in 2008.  Today he runs a FinTech dedicated to Disrupting the Wall Street Monopoly by getting people off the Wall Street Roller Coaster and in control of their financial future using alternative assets. Damion is the author of 5 books and has two more being released in 2017.
Show Notes:
Being an "Edge-case," rule breaker, and system-disrupter
We must experience pain to push us to and through change
Seeing gifts as not just opportunities, but as responsibilities
Danger of outsourcing your thinking
Tendency to change external without addressing the underlying internal issues
Honoring the truth and stepping into it
Damion's 6 Words
Be intentional in who you surround yourself with: relationship is everything
First, second and third order consequences
Improving awareness by asking yourself tough questions and acknowledging actual results
People will fight to be right, even when they are wrong, to avoid acknowledging their own weaknesses
Presence and earning your passion
Disrupting Wallstreet by empowering Main Street – "Stop smoking 'hopium'."
How Damion invests in himself and his recent Uphill Challenge
Each of us is the CEO of our own life
The ability to hold space
Connect with Damion:
References: 
INTRO AND OUTRO MUSIC (Used by permission):
Dreams Groove (© 2017 Tim Pecoraro)
Straight Drive (© 2017 Tim Pecoraro)
Uphill Conversations is an Uphill Strategies, LLC production
© 2017 Uphill Conversations
Tim Pecoraro: tim@uphillconversations.co
Megan Finnern: megan@uphillconversations.co
Tim & Megan: connect@uphillconversations.co
Uphill Conversations, 600 East North Street, Suite 103, Greenville, SC  29601
Skype: timothyk.pecoraro
Let us know what I can do