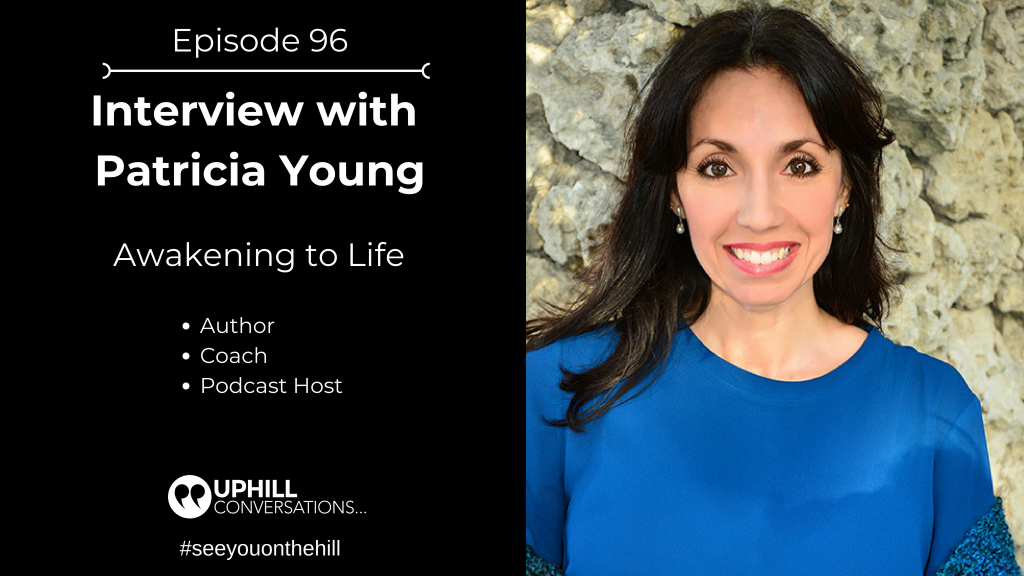 In this episode, Tim has a conversation with the coach, author, and host of the podcast  Awakening to Life, Patricia Young. Patricia is full of insight, nurturing energy, with a very strategic mind! Listen in and enjoy!
OUR CONVERSATION: 
Her life and transitions and what she discovered
Anxiety and panic attacks even when things were great!
Learning to listen to what life is telling you
Asking bigger questions
Stop living small
Two powerful questions she answered for herself early on
Having a willingness to explore and discover
Her mess is her message
Taking baby steps and getting clarity to work through anxiety
How putting limits on your dreams will produce symptoms
Being open to see what the journey will reveal to you
The power of sacred space every day to connect with yourself
Collecting evidence and sacred space
Unapologetic self-love is the key to developing confidence
How we learn to un-love ourselves when we are growing up
Stories + self-image
Beyond "Never Enough"
Kicking the habits that were holding her back
The importance of remaining open to life
Being curious and kind
About her book, Awakening to Life
Three things Patricia is optimistic about over the next 12 months
BOOK:
Awakening to Life: Your Sacred Guide to Consciously Creating a Life of Purpose, Magic, and Miracles by Patricia Young
CONNECT WITH PATRICIA:
Website: InnerProsperityAcademy.com
LinkedIn: in/patriciayoungfl
Instagram: @innerprosperityacademy
Facebook: innerprosperityacademy
Twitter: @InnerProsperity
ABOUT PATRICIA:
Patricia Young is a Certified Professional Coach and Certified Holistic Coach, host of the Awakening to Life podcast, founder of Inner Prosperity Academy, and author of the #1 Amazon Bestselling Book "Awakening to Life: Your Sacred Guide to Consciously Creating a Life of Purpose, Magic, and Miracles.".
With her keen insights, nurturing energy, and proven strategies Patricia has worked with hundreds of people in her coaching practice and online programs, supporting sensitive and growth-oriented women to lead more meaningful lives. She helps her clients connect with their inner courage and confidence, and identify their highest life vision, so they can make braver decisions and take action to bring their vision into reality—personally and professionally.
Patricia has been featured in Aspire Magazine, on OM Times Radio, and on websites such as FinerMinds by Mindvalley, Lifehack, Personal Growth, Sivana Spirit and The Wellness Universe. She has shared the virtual stage with Dr. Alex Loyd, Dana Wilde, Meadow & Denise Linn, Carol Look, Kari Samuels and Dee Wallace on multiple Tele-summits.
INTRO AND OUTRO MUSIC (Used by permission):
Continuation Vibe – Written, arranged and performed by Luke Pecoraro (© 2018 LSP Music)
Uphill Conversations is an Uphill Strategies, LLC production © 2016 – 2018 Uphill Conversations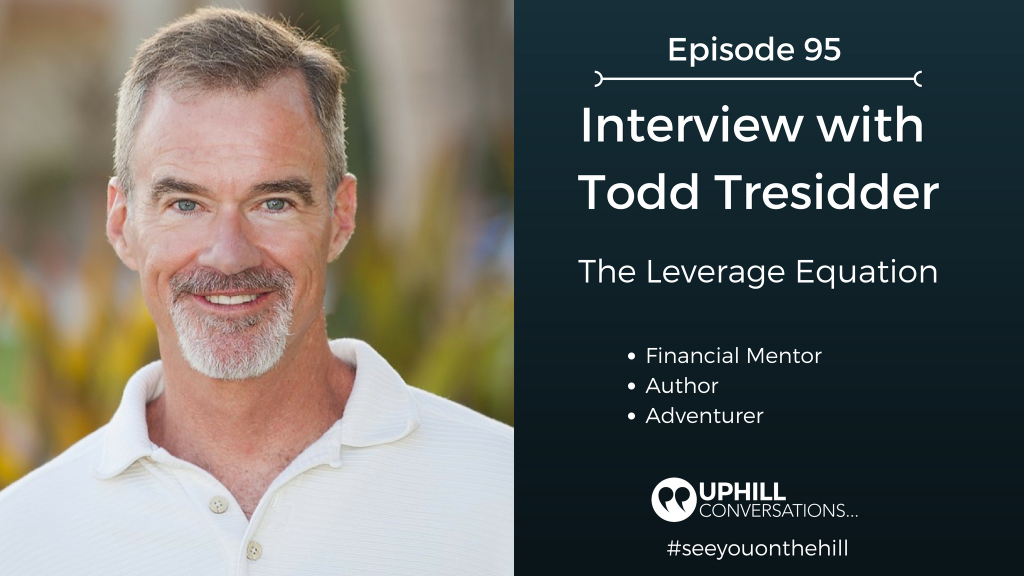 In this episode, Tim has another conversation with Todd Tressider a brilliant financial mind who is relatable and practical. Tresidder shares what he has learned and unlearned, as well as finding satisfaction in life!
OUR CONVERSATION:
Focus + Personal Growth + Financial Freedom
Learning daily and overcoming obstacles
The connection between the spiritual and financial
Emotional baggage and financial issues
Defining fulfillment
The requirements of fulfillment
What does retirement really mean?
Developing a broader point-of-view
Getting a bigger understanding
Know the levels of understanding
What Todd's unlearned
Avoiding distractions and staying on course
Successful people know how to recognize the difference between opportunity and distraction
Getting live feedback to develop his latest book
Principles + practices to better connect with others
 Having a level of intensity in the mind and self-acceptance
Todd's new book and his expectations
Todds legacy
TODD'S QUALIFICATIONS:
B.A. in Economics from University of California at Davis
Member of Economics Honors Society and Deans List
A serial entrepreneur since childhood building many businesses and retiring at age 35 from his position as a Hedge Fund Investment Manager responsible for a 20+ million dollar portfolio.
Todd's portfolio management for the Hedge Fund produced 100% winning years except one which was less than a 5% loss.
Raised net worth from less than zero at age 23 to self-made millionaire 12 years later by "walking the talk" using the same personal finance and investment strategies taught on this web site.
An early pioneer and expert in statistical and mathematical risk management systems for investing.
Financially independent from age 35 through investing – not marketing – unlike many other financial gurus who made their money through marketing courses and books.
Still an active investor who earns consistent investment returns in both up and down markets.
CONNECT WITH TODD + RESOURCES:
Website: financialmentor.com
INTRO AND OUTRO MUSIC (Used by permission):
Continuation Vibe – Written, arranged and performed by Luke Pecoraro (© 2018 LSP Music)
Uphill Conversations is an Uphill Strategies, LLC production © 2016 – 2018 Uphill Conversations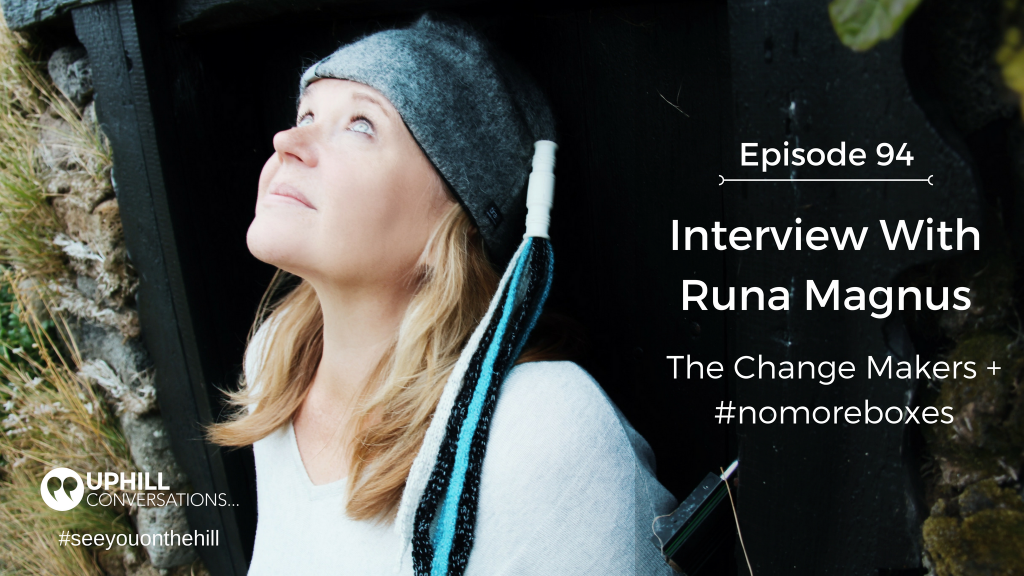 In this episode, Tim has a wonderful conversation with Runa Magnus, the creator, and CEO of THE CHANGE MAKERS and co-creator of #nomoreboxes. Listen in and enjoy!
OUR CONVERSATION:
The transition from politics to entrepreneurship
Joining the family business + getting the 'business bug'
Growing confidence through what she learned
Buying + selling the family business
Asking the question, "what do I want to do with my life?"
Coming to the cross-point of your life when you realize you are not passionate about what you are doing
 Looking at the long-term vision and dreaming in order to make a transition
Learning to work with and look at the things that are threats to your vision or X-factor
About the Change Makers group and #nomoreboxes, she created
Changemakers do things that are sustainable, inclusive and magnetic
Understanding the many boxes we place ourselves into, many changes and raising our own awareness
Organizational health and leadership
The #nomoreboxes Breakfast Clubs
Opening up space for magic to exist in
Runa's positive habits
Drivers that impact our beliefs
Runa's uphill challenge and what she experienced
REFERENCES:
Awakenings – Robert De Niro, Robin Williams, Julie Kavner
Mindset: The New Psychology of Success by Carol S. Dweck, Ph.D.
The Breakfast Club – Emilio Estevez, Judd Nelson, Molly Ringwald
ABOUT RUNA:
Rúna Magnúsdóttir (a.k.a. Rúna Magnús) is the founder and CEO of The Change Makers. An internationally-acclaimed and multi-awarded personal branding expert and best-selling author of Branding Your X Factor. Runa is also the founder of Connected Women, co-founder of BRANDit – the EU awarded Personal Branding Boutique and the co-founder of The Network for Transformational Leaders.
Rúna is a sought-after speaker who uses used her shaken but not stirred sense of humour with a good dash of passion to speak, inspire and coach professionals who want to make their mark in the global marketplace and be the change they want to see in their world. She has shared the stage with brands such as; Brené Brown, Seth Godin, Daniel Pink, Mari Smith and Chelsea Clinton.   Rúna loves to engage her audience to look outside their Boxes and brand their uniqueness.
In her upcoming book; The Story Of Boxes, The Good, The Bad & The Ugly – The Secret to Human Liberation, Peace and Happiness is the new inspirational book by Rúna and Nicholas Haines. In this easy to digest, insightful book and at times funny book the authors explore and illustrate the positive and destructive consequences of classifying the world into certain camps or Boxes – whether it's people, ideas, or even objects like underpants.
CONNECT WITH RUNA:
Website: runamagnus.com
INTRO AND OUTRO MUSIC (Used by permission):
Continuation Vibe – Written, arranged and performed by Luke Pecoraro (© 2018 LSP Music)
Uphill Conversations is an Uphill Strategies, LLC production © 2016 – 2018 Uphill Conversations