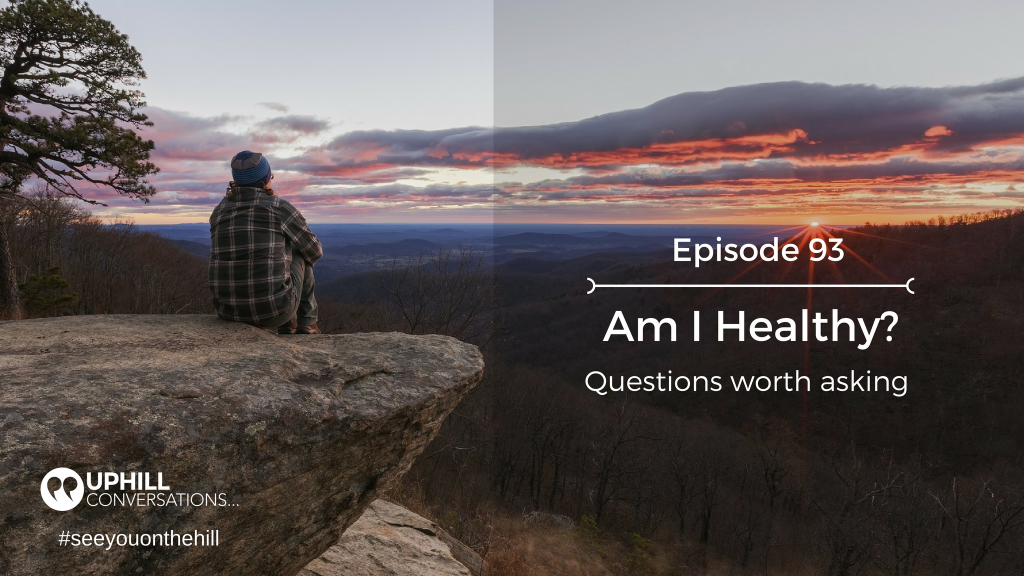 In this episode, Tim shares with you questions he read in one of his favorite books written by his life-long mentor, John C. Maxwell, Developing the Leader Within You 2.0. The questions were incorporated into the book from an article written by Gary Hamel, a management consultant and founder of Strategos. These questions are helpful to anyone desiring a healthy character and are willing to go through the process of self-examination. As John writes in the book, "Questions like these heighten my awareness of the need to keep improving my character, especially in the context of leadership, because the heightened influence of leaders magnifies their impact on others—both positively and negatively."
THE QUESTIONS:
To what extent do I …
Feel superior to those who work for me?
Demonstrate imbalance between work and other areas of my life?
Substitute formality for true human intimacy?
Rely too much on plans and not enough on intuition and improvisation?
Spend too little time breaking silos and building bridges?
Fail to regularly acknowledge the debt I owe to my mentors and to others?
Take too much satisfaction in my perks and privileges?
Isolate myself from customers and first-level employees?
Denigrate the motives and accomplishments of others?
Exhibit or encourage undue deference and servility?
Put my own success ahead of the success of others?
Fail to cultivate a fun and joy-filled work environment?
Exhibit selfishness when it comes to sharing rewards and praise?
Encourage parochialism rather than community?
Behave in ways that seem egocentric to those around me?
RESOURCES:
Developing the Leader Within You 2.0 by John C. Maxwell
Ego is the Enemy by Ryan Holiday
INTRO AND OUTRO MUSIC (Used by permission):
Continuation Vibe – Written, arranged and performed by Luke Pecoraro (© 2018 LSP Music)
Uphill Conversations is an Uphill Strategies, LLC production © 2017 Uphill Conversations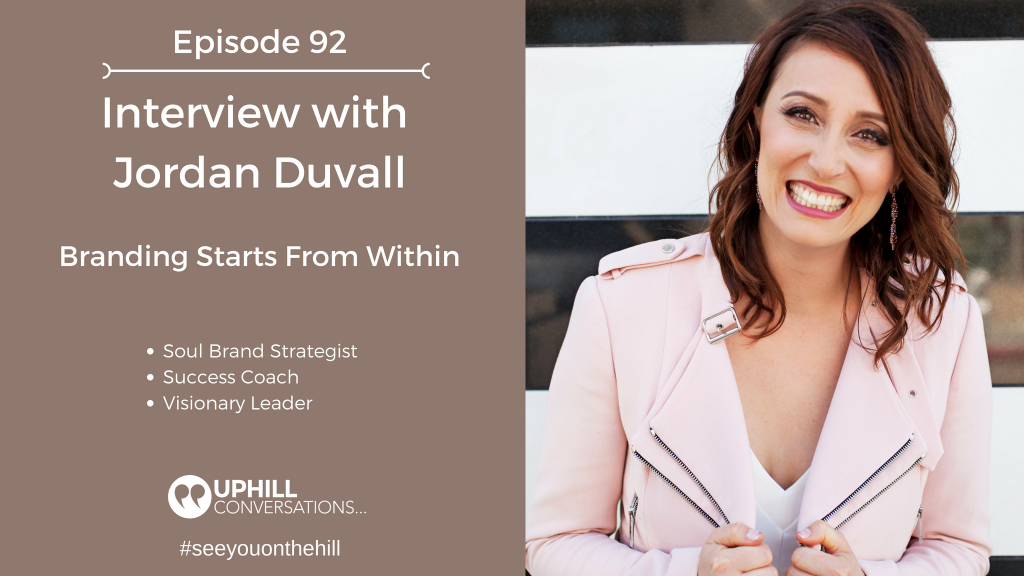 In this episode, Tim has a great conversation with Soul Brand Strategist, Success Coach, and Award-winning Art Director Jordan Duvall. Listen in as Jordan shares real-life lessons and the amazing work she is doing in this world with the understanding that any and all brands start from within!
OUR CONVERSATION:
How she is using Social Media
Knowing the entry point of your story and how to tell it
The hospital bed story and the mess she created
Job loss, no income and getting pregnant
Getting obsessed with personal growth
Being the artist of your own disaster and not knowing what the end will look like
Getting introduced to limiting beliefs
The relationship with emotions
Realizing fear is just a shadow
Experiencing the reverse of an emotion
Developing the desire to help and teach others
Asking for help is not admitting failure
Business is a mirror reflection of who you are
CONNECT WITH JORDAN:
Website: www.jordanduvall.com
Facebook: ingiteyoursoulbrand
Instagram: igniteyoursoulbrand
REFERENCES:
Abraham Hicks
Zero Limits by Joe Vitale & Ihaleakala Hew Len
The Compound Effect by Darren Hardy
ABOUT JORDAN:
Jordan Duvall is a Soul Brand Strategist, Success Coach, Photographer, and Award-winning Art Director based in Los Angeles. With more than 18 years of experience in entertainment advertising, marketing, and photography, Jordan has worked on such campaigns as "The Lord of the Rings" Trilogy, "Star Trek", and "The Voice".
She got her start as one of the three founding members of The Ant Farm print department and went on to work with such private clients as Ben Stiller and Eddie Murphy. She served as an Art Director for BLT Communications, Universal Pictures, AvatarLabs and NBC Entertainment developing unique and award-winning campaigns and won PromaxBDA awards for her work on both "The Blacklist" and "Aquarius".
Jordan combined her knowledge of marketing, branding, and social media to launch her own brand to help coaches, creatives and healers create a clear strategic roadmap and cohesive brand vision so they can build a brand that matters. Her specialties include creative direction, photography, marketing, and productivity which produce strong ROI for her private clients + students.
INTRO AND OUTRO MUSIC (Used by permission):
Continuation Vibe – Written, arranged and performed by Luke Pecoraro (© 2018 LSP Music)
Uphill Conversations is an Uphill Strategies, LLC production © 2017 Uphill Conversations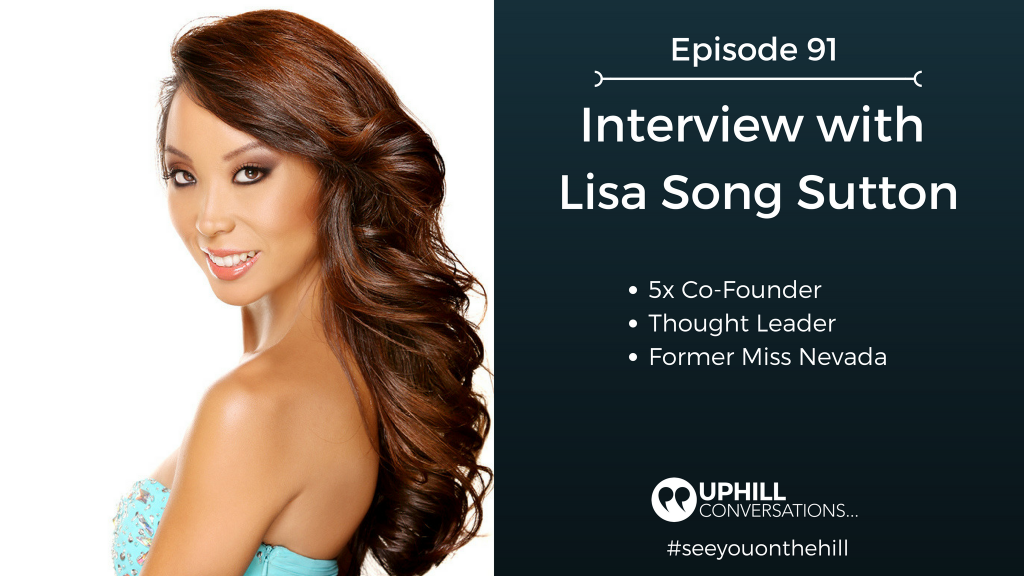 In this episode, Tim has a great conversation with serial entrepreneur, former Miss Nevada + Miss Las Vegas, speaker, and thought leader Lisa Song Sutton. Lisa will draw you in with her magnetism, wisdom, and sense of connection and community!
OUR CONVERSATION:
Her knack for brainstorming and the process
The importance of being in community
Implementation + Action
Being intentional with pursuits
How actions should match your capabilities
Creating + maintaining momentum
The dissolution of a partnership and working through it
Dealing with the inner-critic
Valuable things learned as Miss Nevada + Modeling
Doing things in a non-traditional way
CONNECT WITH LISA:
Website: www.lisasongsutton.com
Facebook: lisasongsutton
Twitter: @lisasongsutton
Instagram: lisasongsutton
LinkedIn: lisasongsutton
ABOUT LISA:
Lisa Song Sutton is a real estate investor and entrepreneur, holding ownership interests in several companies in the real estate, tech, retail and food & beverage industries, including Las Vegas' #1 alcohol-infused cupcake company: Sin City Cupcakes.
Lisa currently writes and speaks about entrepreneurship and business. Her work has been seen in Forbes, Inc. Magazine, Fast Company, and other business publications. Lisa has shared her knowledge at large-scale conferences including CrowdConverge and the Asian Real Estate Association of America national conference. She also sits on the advisory boards for several companies including Bitcoin Nevada, an education foundation promoting cryptocurrency, and Youngry, an entrepreneurship media company.
In addition to her professional careers, Lisa is actively involved in her community as a former Miss Las Vegas (2013), Miss Nevada (2014) and serves on the executive board of the Asian Community Development Council. Lisa was recently named a 2017 Top 10 Social Entrepreneur to Watch by Inc. Magazine.
INTRO AND OUTRO MUSIC (Used by permission):
Continuation Vibe – Written, arranged and performed by Luke Pecoraro (© 2018 LSP Music)
Uphill Conversations is an Uphill Strategies, LLC production © 2017 Uphill Conversations