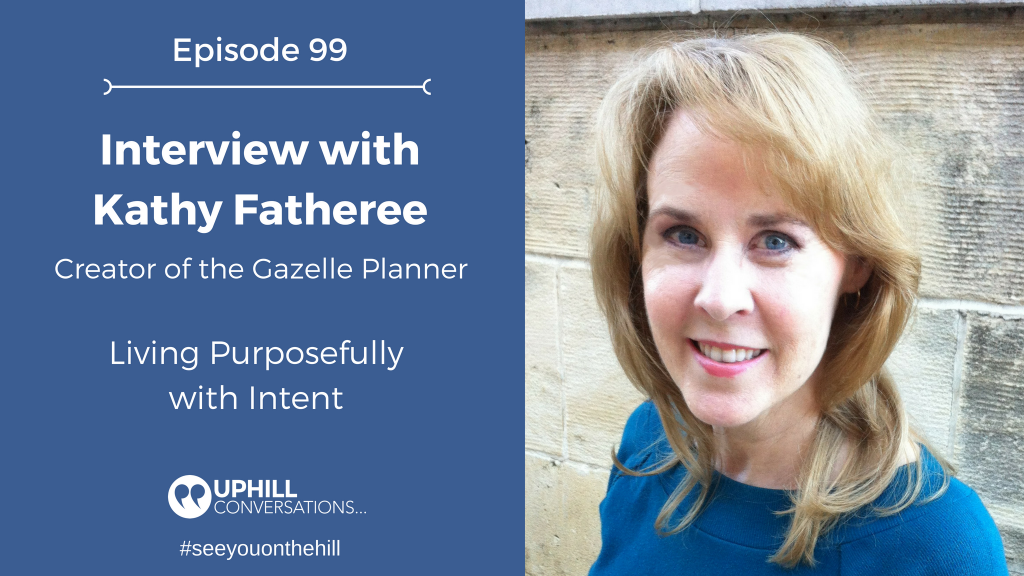 In this episode, Tim talks with Kathy Fatheree, the creator of the Gazelle Planner. Tim was on the hunt for the perfect planner to live into his day and finally found the solution. Kathy shares her background and what led her to create the Gazelle Planner.
Prior to this episode, Tim approached Kathy regarding the promotion of the planner on the show for his listeners to have a tool to use to live into their day as they move toward their emerging future. It was a resounding yes and a partnership is now in place!
OUR CONVERSATION:
About Kathy
How the desire to live purposefully and with intent led her to create the Gazelle Planner
How she discovered her love for art and creativity in the midst of her love for technical writing and process
The thought and design behind the planner and using it
The research, study, and experience behind the creation of the Gazelle Planner
Being creative with the planner and how she assists her clients with designing the right system
The benefits of using the Gazelle Planner
The roadblocks she faced while creating the planner
The meaning behind the name, Gazelle Planner
Her vision thoughts and plans for the Gazelle Planner
The planner sections and their purpose
 The Gazelle Planner + Uphill Conversations partnership
GET YOUR PLANNER:
Listeners of this podcast, receive a $5 discount at check out when you enter, GoingUphill (not case sensitive), in the coupon code section at checkout.
Get your Gazelle Planner

CONNECT WITH KATHY:
Website: GazellePlanner.com
LinkedIn: in/kathyfatheree
Instagram: @gazelledailyplanner
Facebook: gazelleplanner
ABOUT KATHY:
Kathy Fatheree is an author and technical writer with a wide range of experience from aerospace to medical to personal development. Drawing upon her life experience combined with research of planning system, she created the best-selling Gazelle Planner: a daily planner with a focus on reaching goals.
With her love of problem-solving and thinking outside the box, Kathy is helping thousands of people to become more productive and realize they can successfully reach their goals and dreams.
INTRO AND OUTRO MUSIC (Used by permission):
Continuation Vibe – Written, arranged and performed by Luke Pecoraro (© 2018 LSP Music)
Uphill Conversations is an Uphill Strategies, LLC production © 2016 – 2018 Uphill Conversation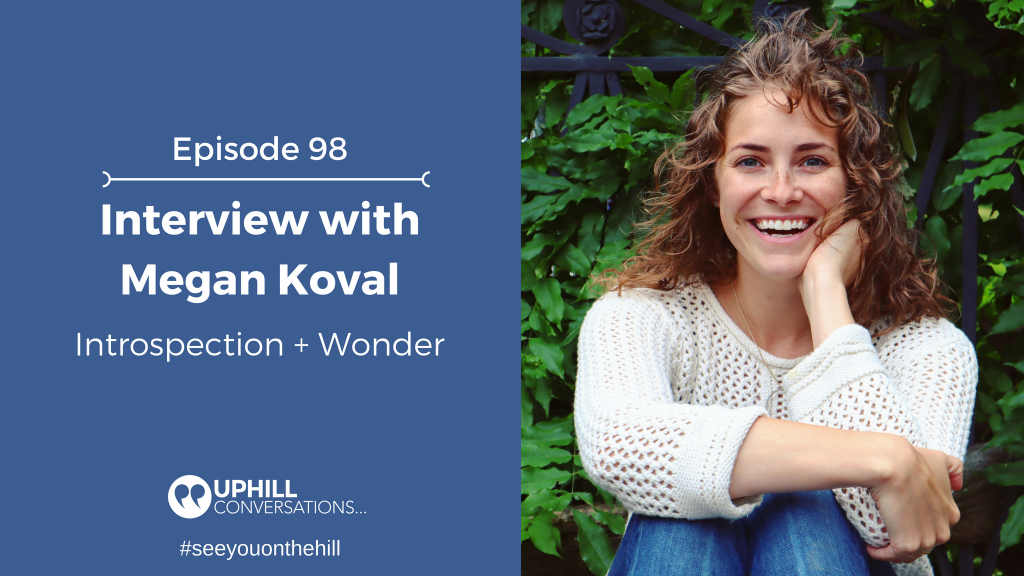 In this episode, Tim has a great conversation with Megan Koval, a pathfinder, explorer, and creator, who believes in going AWOL to really live and discover life. Megan is vibrant and full of joy and it shines through with each moment of the show. Tim and Megan dig into the coupling of introspection and wonder and the resulting effect of being fulfilled. Enjoy!
OUR CONVERSATION:
The value leaving and venturing out and 'Pathfinding'
What prompted her to launch out with her AWOL strategy and how she got there
Getting real with her own pursuits
Not the pursuit of happiness but the pursuit of fulfillment
Purpose, being and existence
Going AWOL – living your greatest potential + serving others
Megan's definition of wonder
Permission to play
Buying a plane ticket for an introspective quest with her name on it
The power of story
Defining confidence
The value that comes from pathfinding conversations + conversations
Her own uphill challenges
Three things she's optimistic about over the next 12 months
CONNECT WITH MEGAN:
Website: megankoval.com
LinkedIn: in/megankoval
Instagram: @megankoval
Facebook: @meganelsakoval
ABOUT MEGAN:
Megan Koval is a Brand Pathfinder based in New York City helping people and businesses clarify their pursuits so they can profit from their potential. After working with Fortune 500 brands like Nike and NBCUniversal for over seven years as a brand and communications strategist, she uses her arsenal of knowledge, techniques and time-honored tools to help people and businesses clarify and brand the path of their dreams. Her fascination with expeditions (around the world to within) coupled with her love for genuine storytelling was the catalyst for AWOL Strategy.
INTRO AND OUTRO MUSIC (Used by permission):
Continuation Vibe – Written, arranged and performed by Luke Pecoraro (© 2018 LSP Music)
Uphill Conversations is an Uphill Strategies, LLC production © 2016 – 2018 Uphill Conversations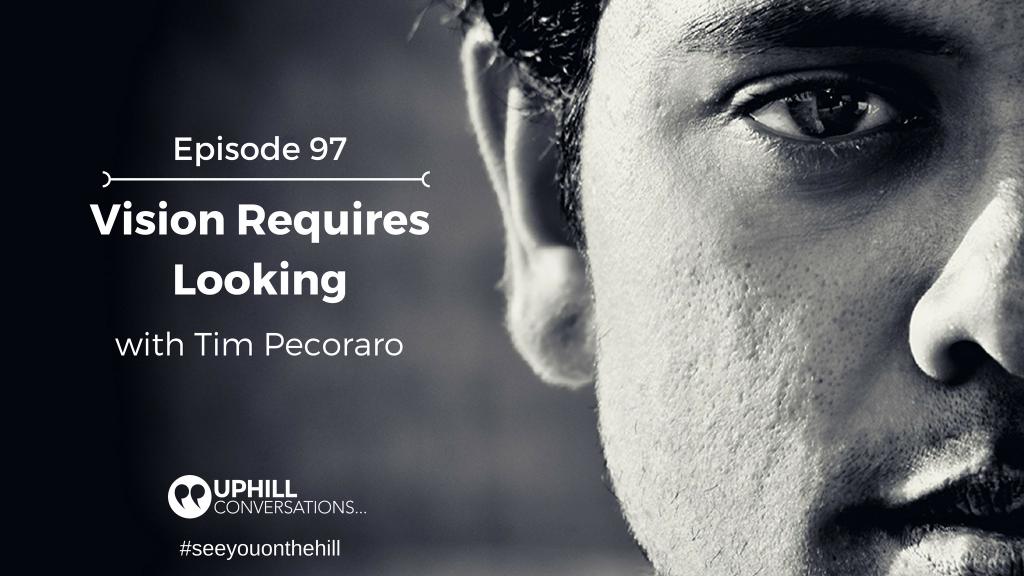 In this episode, Tim shares 5 questions related to developing the vision for your life!
The 5 Questions:
Look Within You: What Do You Feel?
Look Behind You: What Have You Learned?
Look Around You: What is Happening in the Lives of Others Around You?
Look Above You: What Does God or the Universe Expect of You?
Look Ahead: What is the Big Picture?
REFERENCES:
Start With Why + Find Your Why by Simon Sinek
Developing the Leader Within You by John C. Maxwell
INTRO AND OUTRO MUSIC (Used by permission):
Continuation Vibe – Written, arranged and performed by Luke Pecoraro (© 2018 LSP Music)
Uphill Conversations is an Uphill Strategies, LLC production © 2016 – 2018 Uphill Conversations