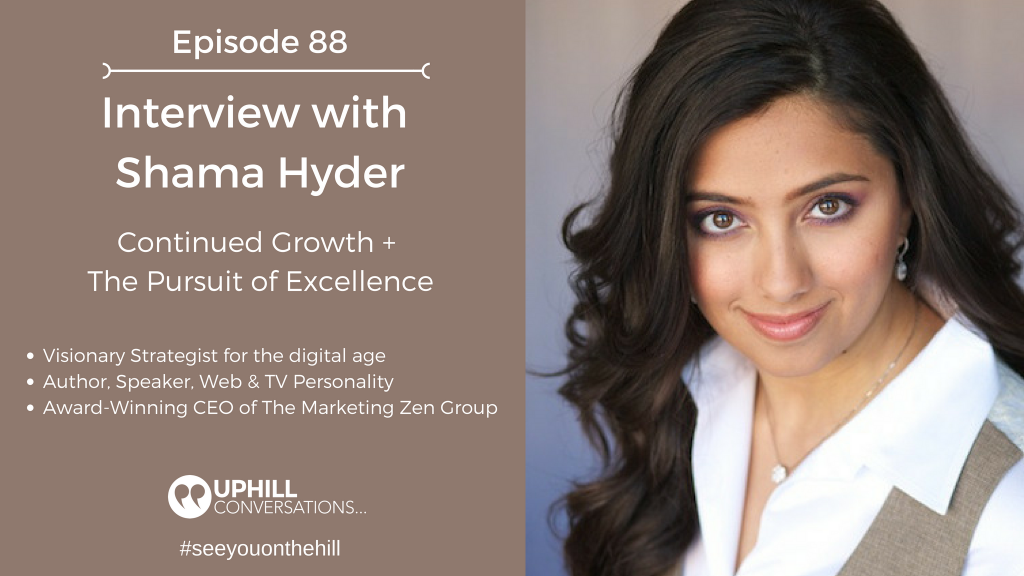 In this episode, Tim has a great conversation with best selling author, speaker, web + TV personality, Shama Hyder. Hyder opens up about her life, habits, disciplines, and her vision for the future that's all about excellence!
OUR CONVERSATION:
There is no perfection; we are all a work in progress
Attitude
How you approach a challenge and your mindset
Excellence
Setting the bar higher
Being value-based + Adding value
Learning to ask the right questions
How she handles making mistakes
Sto ancora imparando – I'm still learning
Daily positive habits that energize and help to remain focused
You cannot control output
More on excellence and less on expansion
BOOKS:
Momentum: The 5 Marketing Principles That Will Propel Your Business in the Digital Age by Shama Hyder
The Zen of Social Media Marketing: An Easier Way to Build Credibility, Generate Buzz, and Increase Revenue by Shama Hyder
CONNECT WITH SHAMA:
Blog: http://shamahyder.com/blog/
Facebook: ShamaHyderPage
Twitter: @Shama
Instagram: shamahyder
YouTube: ShamaTV
LinkedIn: ShamaHyder
RECOMMENDATIONS:
Super Connector by Scott Gerber & Ryan Paugh 
ABOUT SHAMA:
Shama Hyder is a visionary strategist for the digital age, a web and TV personality, a bestselling author, and the award-winning CEO of Zen Media – a global online marketing and digital PR company. She has aptly been dubbed the "Zen Master of Marketing" by Entrepreneur Magazine and the "Millennial Master of the Universe" by FastCompany.com. Shama has also been honored at both the White House and The United Nations as one of the top 100 young entrepreneurs in the country.
Under her leadership, Zen Media has grown an average of 400% growth annually since 2009 to include a team of 30 and serve clients ranging from publicly-held Fortune 500 companies to privately-held small businesses and nonprofit organizations across the globe.
Shama is the bestselling author of The Zen of Social Media Marketing, now in its 4th edition and Momentum: How to Propel Your Marketing and Transform Your Brand in the Digital Age, her latest book that launched in 2016. An acclaimed international keynote speaker, Shama has shared the speaking stage with the world's top leaders, including President Obama and the Dalai Lama.
As a result of her success, Shama has been the recipient of numerous awards, including the prestigious Technology Titan Emerging Company CEO award. She was named one of the "Top 25 Entrepreneurs under 25" by Business Week in 2009, one of the "Top 30 Under 30" Entrepreneurs in America in 2014 by Inc. Magazine, and to the Forbes "30 Under 30" list of movers and shakers for 2015. LinkedIn named Hyder one of its "Top Voices" in Marketing & Social Media. Her web show Shama TV was awarded the "Hermes Gold award for Educational Programming in Electronic Media" and most recently she was awarded the "Excellence in Social Media Entrepreneurship" award for 2016 by Anokhi Media.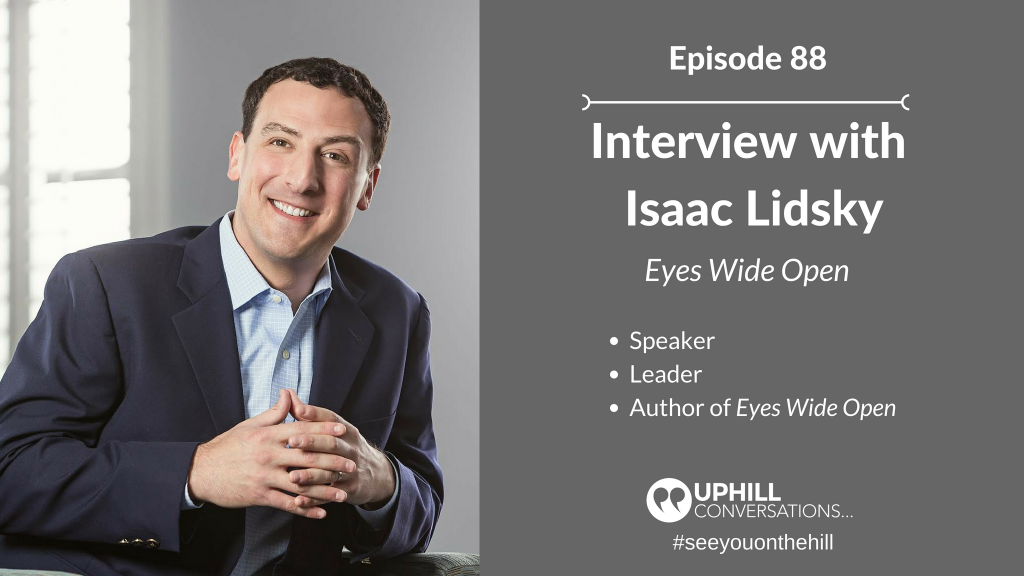 In this episode, Tim has a great conversation with an extraordinary man, husband, father, leader, businessman and author. Lidsky shares what he's learned from going blind at a young age and how it is one of the best things that's ever happened to him.
OUR CONVERSATION:
We are disabled with self-limiting assumptions we tell ourselves
We all misperceive success and values
We all have our blindness in our human condition
We are creating the reality we are experiencing
How we convince ourselves that the things we are thinking and doing are objective truths
The world is full of examples of people who've overcome unspeakable circumstances and found meaning and joy in life
Not taking control of writing your own narrative is a choice
Positive habits Isaac has built into his life
Having a real vigilance to separate out the difference between what you know, you think you know and what you need to figure out
How we try to identify and cling to heroes and villains in the face of fear
How fear shows up and fills in the blanks in your life with the most awful scenarios possible
What fear did in his life when Isaac started losing his sight
The importance of practicing your disciplines daily
Every instance in our life can yield knowledge, wisdom, and strength
The importance of quieting the noise and getting back to our strength
Living your life with an open heart and open mind
An open heart begins with being open and accessible to yourself first
Own your emotions and the responsibility for your emotions
The importance of introspection
The power and ruthlessness of words
Writing and how it is an invaluable tool
How we speak to others like attorneys and listen like five-year-olds (THIS NEEDS TO BE FLIPPED)
Confronting life's challenges with initiative, humor, grace and an empowering new vision
How effort without purpose is entropy
How we have ultimate agency over every thought and action
Isaac's Uphill challenge that he had to overcome
Three things Isaac is optimistic about over the next 12 months
RESOURCES:
ABOUT ISAAC:
"Isaac Lidsky may possess the most eclectic resume in business. Over the years, he has been a child television star (he played series regular "Weasel" on NBC's "Saved By The Bell: The New Class"), a Supreme Court clerk (for Justices Sandra Day O'Connor and Ruth Bader Ginsburg), and the co-founder of an internet startup. More recently, Lidsky has used his gift for logistics to build ODC Construction into one of the fastest-growing construction businesses," transforming an unsophisticated $11 million concrete subcontractor that was hemorrhaging money into an industry-leading $150 million construction services company—in 5 years."
-Inc. Magazine, The Incredibly Inspiring Journey of a Blind Entrepreneur, October 1, 2015.
The full list of his accomplishments is far longer. Lidsky graduated from Harvard at 19 with an honors degree in mathematics and computer science. He graduated from Harvard Law School magna cum laude. As a U.S. Justice Department lawyer, Lidsky argued more than a dozen appeals in federal court on behalf of the United States and never lost a case. He founded a nonprofit organization to fund the development of treatments for blinding diseases and within 5 years grew it to a dozen cities nationwide and more than $5 million. The technology company he founded sold for $230 million.
In 2016 Lidsky set out to share with others his empowering approach to living and leading, and he was promptly recognized as a visionary thought leader. Penguin Random House acquired for publication his first book, Eyes Wide Open, and it hit the shelves as a New York Times best seller in March 2017. TED invited Lidsky to present a mainstage TED Talk at TEDSUMMIT 2016 in Banff, Canada, and it was viewed more than a million times in 20 days. Lidsky now speaks to and works with organizations around the world.
Perhaps most striking, Lidsky is only 37, and he is blind. Born with Retinitis Pigmentosa, a rare degenerative disease of the retina, from age 12 to 25 he slowly lost his sight. As his bio makes clear, neither his youth nor his blindness have limited him, however.
This is true in his professional life and personal life alike. Isaac married Dorothy, the love of his life, in June 2004. In September 2010 she gave birth to their triplets, Lily Louise, Phineas and Thaddeus—collectively, "The Tripskys"—and in December 2015 baby Clementine completed the family. The six Lidskys live in Windermere, Florida.
INTRO AND OUTRO MUSIC (Used by permission):
Continuation Vibe – Written, arranged and performed by Luke Pecoraro (© 2018 LSP Music)
Uphill Conversations is an Uphill Strategies, LLC production © 2017 Uphill Conversations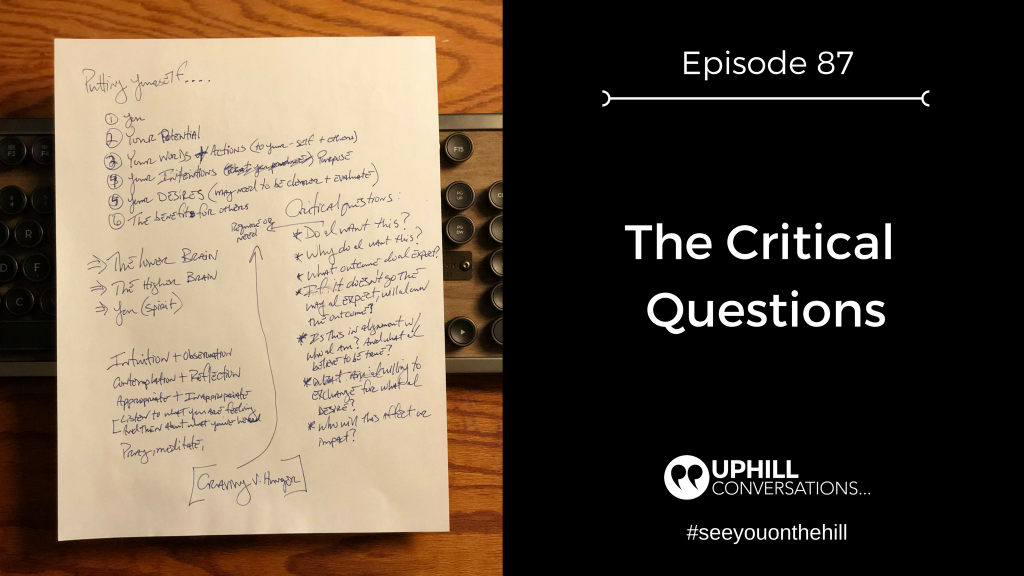 In this episode, Tim shares some of the critical questions and the thought process behind them, for decision making and change.
THOUGHT PROCESS:
Intuition + Observation
Contemplation + Reflection
Appropriate or inappropriate
Listen to what your feelings are saying, and think about what you've heard
Pray, meditate, be still, and listen
CRITICAL QUESTIONS:
Do I want this?
Why do I want this?
What outcome do I expect?
If it doesn't go the way I expect, will I own the outcome?
Is this in alignment with who I am and what I believe to be true?
What am I willing to exchange for what I desire?
Who will this effect? What will be the impact?
INTRO AND OUTRO MUSIC (Used by permission):
Continuation Vibe – Written, arranged and performed by Luke Pecoraro (© 2018 LSP Music)
Uphill Conversations is an Uphill Strategies, LLC production © 2017 Uphill Conversations