2: YP Perspective Part 2 – We're Not Millennials, We're Individuals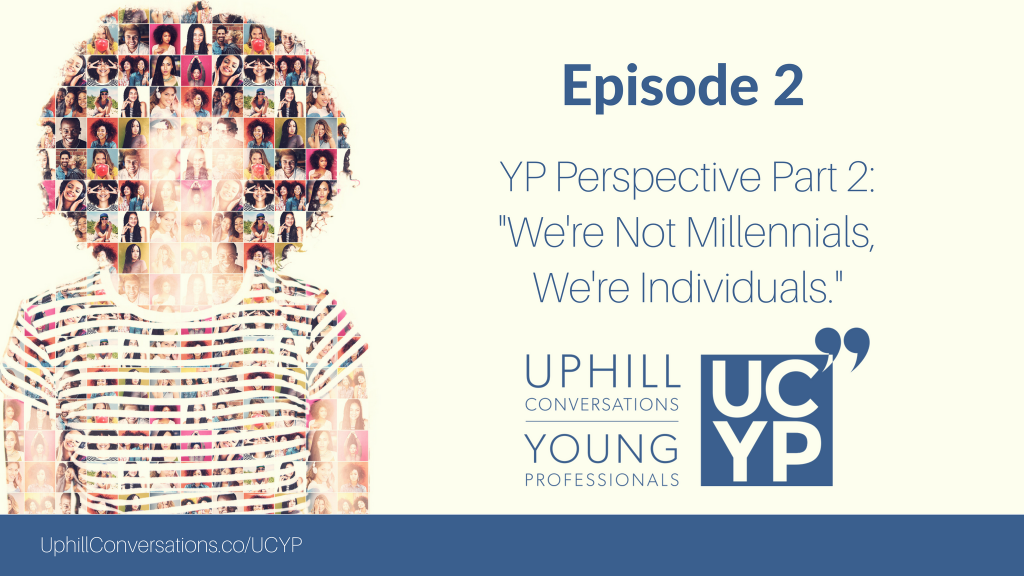 Podcast: Play in new window | Download
Subscribe: Apple Podcasts | Android | Google Podcasts | Stitcher | RSS
In Part 2 of our first UCYP interview with three diverse Upstate South Carolina young professionals (YPs), we continue our discussion on overcoming stereotypes and changing the conversation around millennials in the workplace.
Show Notes: 
Vision and purpose should impact your decision making
People building vs. empire building
How can millennials change the narrative and stereotypes out there
Lean into your fears and take risks; be bold enough to ask questions
Lead by example and bring others along with you (mentorship)
Even if your not the boss, anyone can lead from where they are
YPs work ethic, strong values, high integrity and determination can be overlooked when people make erroneous assumptions
Importance of seeking to understand the differences within and across generations
Recommendations for other YPs: Ask questions, love one another, treat others with respect, have transparency and give grace/presume good intentions
Knowing your aspirations is important in working towards your goals
Leadership is influence
Guests:
Ramon Lugo-Nieves: As Principal of UniComm Media Group, Ramón provides the branding, strategic and marketing expertise to harness the power of a multicultural approach for his clients. Operating the first full-service Hispanic marketing, advertising and event management firm in South Carolina, Ramón is a recognized authority on multicultural marketing and brand communication. A Puerto Rican native, Ramón understands the importance of knowing the different cultures represented in our region and how effectively build strong and meaningful relationships to elevate brands. Learn more and connect with Ramon on LinkedIn
Timicia Grant: Timicia is the current AmeriCorps VISTA for Rebuild Upstate. During this year of service she is focused on building capacity for the organization through agency partnerships, volunteer recruitment as well as volunteer training. Originally born in Brooklyn, NY she's been a Greenville resident for the last 15 years. Timicia graduated from Greenville Technical College with honors, with an associate's degree in Human Services. Her passion is to create a more diverse and inclusive environment for young professionals of Greenville, as well as advocate for those Greenville residents that are marginalized such as the homeless and low income family population. Learn more and connect with Timicia on LinkedIn.
Jordan Trolinger: Jordan has been a Greenville native since graduating from Samford University in 2012 and is currently the Director of Creative Services for the Southern Conference. In this role, Jordan leads the league's marketing and branding efforts, including graphic design, event management and digital strategy. She's been a Pulse member for two years now and thoroughly enjoys her role as Co-Marketing Chair. Learn more and connect with Jordan on LinkedIn. 
INTRO AND OUTRO MUSIC (Used by permission):
© 2017 UCYP Theme written and arranged by Luke Pecoraro all rights reserved.
© 2017 UCYP (Uphill Conversations Young Professionals) (UCYP is an Uphill Strategies, LLC production)