23: Sunniva Holt – Authenticity, Discipline, Habit and Routine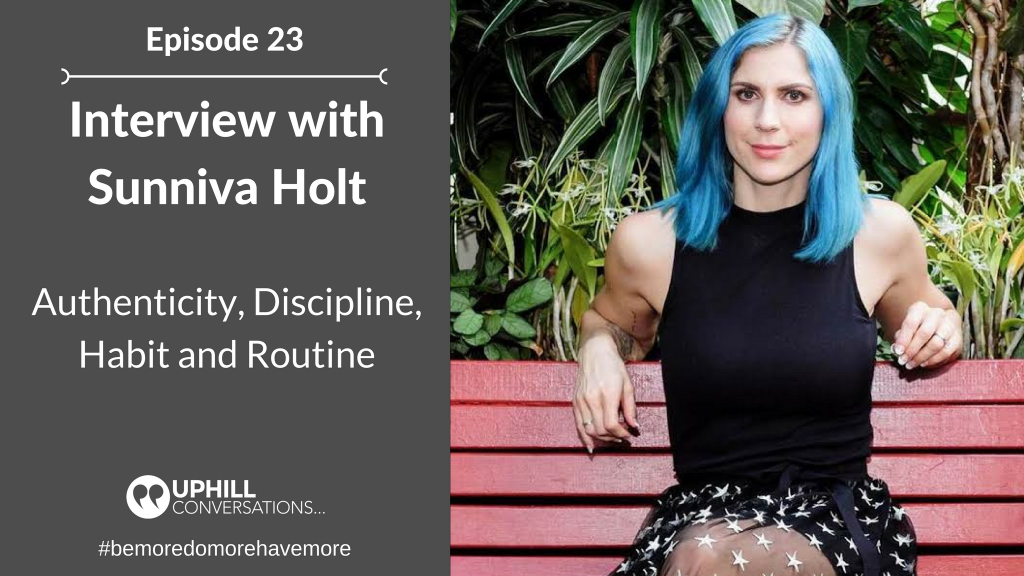 Sunniva Holt describes herself as a serial entrepreneur, property developer, coach, speaker, author, social media queen, wife and mother from Auckland New Zealand. As you'll hear in our conversation, she gets straight to the point and doesn't pull any punches.
Now that we're halfway through January and the New Year is in full swing, it's the perfect time to harness your own personal power to maintain forward momentum as you live into your 2017.
Show Notes:
Discussed Sunniva's work in property, coaching, public speaking and writing – specifically her interest in personal development
How the style of coach needs to match the needs of individual
Importance of open, honest, real communication in coaching
Finding comfort in discomfort in order to get results
Difference in your belief in your abilities to be successful v. true self-belief
Need to own and acknowledge past while also moving forward
Necessity to surround yourself with the right people and environments – and knowing when to step away from problem situations
How utilizing outside resources can help to sustain forward momentum
Sunniva's daily practices and routines that help to maintain alignment
How daily visualization and putting pen to paper helps to bring harmony between the conscious and subconscious mind
Insights into Sunniva's work with female go-getters and her desire to build up other women
Transparency about past can bring tremendous power and allows you to help others by sharing your stories
Journaling is an important first step in helping people to figure out who they truly are: true identity and full potential
Ability to be the same person in all areas of your life, of having alignment, can open you up to massive returns
Perception can be a game-changer if we seek out the good in every situation and practice gratitude
Embracing and sharing ourselves and our unique gifts with the world
How Sunniva maintains momentum by pushing herself daily to take actions towards her goals and her views on failure and learning
Quick peek into what Sunniva's working on and her excitement in how businesses are shifting focus towards greater consciousness
Connect with Sunniva Holt: 
INTRO AND OUTRO MUSIC (Used by permission):
No Worries (© 2014 Anderson Music, LLC)
Gotta Move On (© 2014 Anderson Music, LLC)
Uphill Conversations is a POTAD, LLC production (Partnership of Thinking and Doing)
© 2017 Uphill Conversations