24: Keep Moving – Resolutions, Alignment + Momentum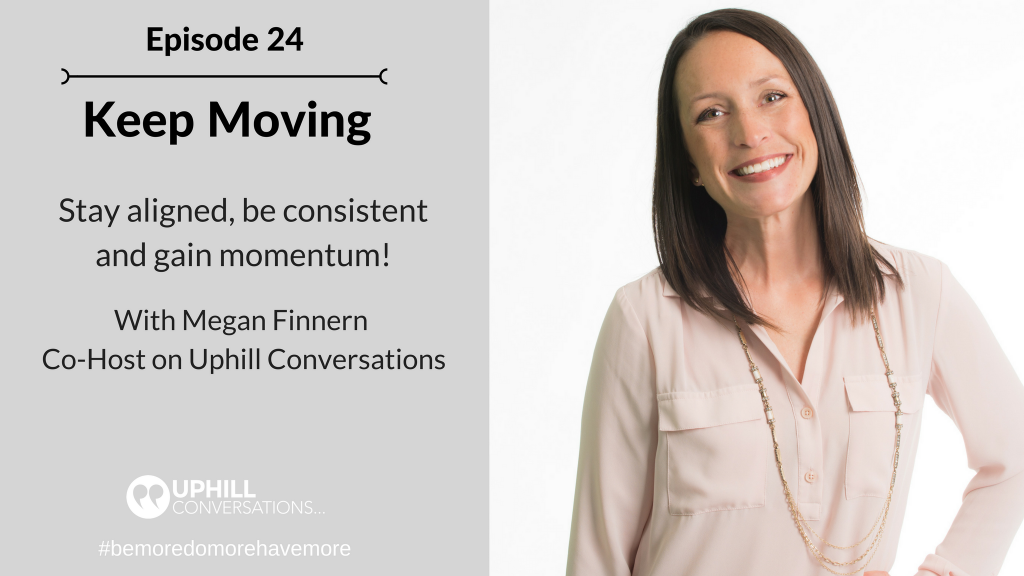 Podcast: Play in new window | Download
Subscribe: Apple Podcasts | Android | Google Podcasts | Stitcher | RSS
In this episode, we take a deep dive into the annual ritual of making New Year's resolutions. Whether or not you have resolved to do anything different in 2017, listen as we discuss how to overcome obstacles and maintain forward momentum.
We also introduce you to Uphill Conversations' new co-host, Megan Finnern. She is an entrepreneur and marketer in Upstate South Carolina who has a passion for leadership and building leaders in the community and beyond.
Show Notes:
Megan shares her passion for leadership and how she gives back to the community.
Megan shares how her upbringing led her to value relationships and her belief in the ability to achieve anything you set your mind to.
The importance of forward movement
Value of reflecting on the past year and asking where you want to go in the new year
Why people avoid resolutions or follow other traditions
Common obstacles to achieving what you've resolved to do
Looking inward and asking yourself "Is there more?","Who do I want to become?" and "What can I bring to the world?"
How comfort can create stagnation
Self-checking and self-awareness. Are you asking "What's missing?"
The trouble with living your life on "what ifs."
The need to help and grow yourself before you can effectively help and grow others.
Not allowing personal challenges and struggles to define you
The new year is the perfect time to dream big, to reevaluate gifts and relationships, and to focus on making real change.
Once you've set goals, create a plan and consistent checkpoints to evaluate success and maintain momentum.
Bringing others into your plan can help you stay accountable, add value and elevate your results.
Tim's goals for this year: writing his book and continuing to grow Uphill Conversations by creating valuable, lasting content
Challenges and obstacles people face when making changes
How you can learn to work with an obstacle: if you're not being challenged, you're not going to grow.
Key differentiator between resolve and regret
Why people and relationships matter so much to Megan
Making mistakes and learning from them is critical for growth
How striving for perfection can be a hindrance to self-actualization
How coaching has benefitted Megan in her personal and professional journey and her experience as a leader and coach
Why Megan is excited to join Uphill Conversations!
Connect with Megan Finnern:
Author + Book References: 
INTRO AND OUTRO MUSIC (Used by permission):
No Worries (© 2014 Anderson Music, LLC)
Gotta Move On (© 2014 Anderson Music, LLC)
Uphill Conversations is a POTAD, LLC production (Partnership of Thinking and Doing)
© 2017 Uphill Conversations