32: Amy Jo Martin – Be the Change: A Why Not Now? Conversation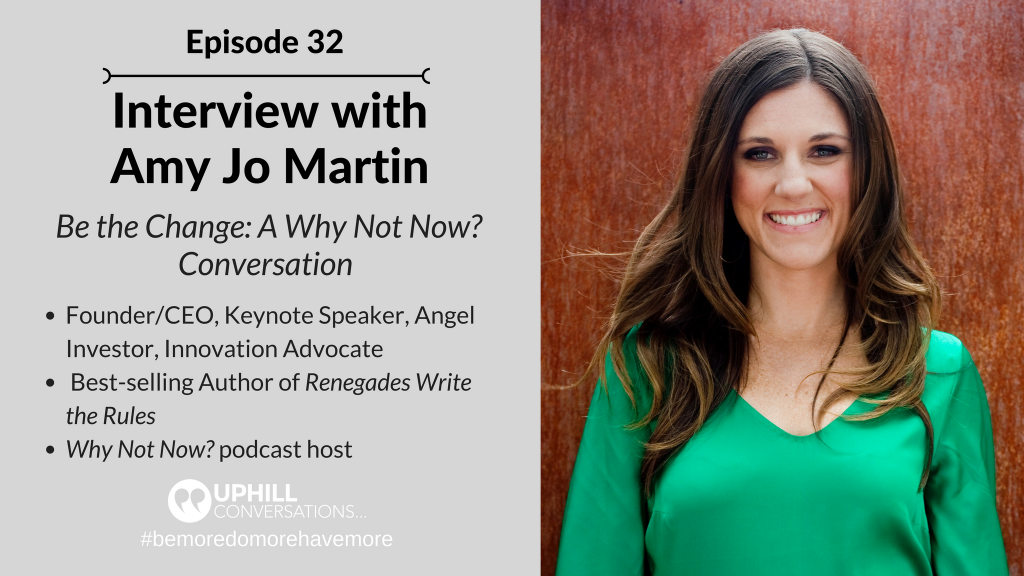 Podcast: Play in new window | Download
Subscribe: Apple Podcasts | Android | Google Podcasts | Stitcher | RSS
Amy Jo is the author of New York Times best-seller Renegades Write the Rules, and host of the Why Not Now? podcast. She founded Digital Royalty in 2009 to help corporations, celebrities and sports entities humanize their brands online through social communication channels. Amy Jo has worked closely with world-renowned brands such as Hilton Worldwide, Dwayne "The Rock" Johnson and Shaquille O'Neal to successfully humanize their presence. Her motto: humans connect with humans, not logos.
Amy Jo herself was named the third most powerful woman on Twitter by Forbes. Amy Jo believes the future of technology is the future of humanity. After a successful seven-year run as the Founder & CEO of Digital Royalty and growing the business globally into ten different countries, Amy Jo recently exited the company.
As a young female building her career in male-centric industries, Amy Jo has developed a passion for helping women thrive in business leadership. She is currently spending her time researching the relationship between technology and humanity. She is also investing in other female entrepreneurs so they can reach their full potential.
Read Amy Jo's full bio here
Show Notes: 
Tim and Megan discuss Amy Jo's authenticity and renegade status
Amy Jo and Tim's shared love of hats and the story behind the "crown" in Amy Jo's brand
Pros and cons of being "addicted to change" or "shiny object syndrome"
When to stay in your swim lane can and when to navigate out
Value in curiosity, fresh eyes and differing perspectives for innovation
Feeling a need to prove oneself
Value exchange that occurs when women have strong male mentors
Companies with female leadership tend to perform better overall
Solution-driven steps are needed to see progress in closing gender gap: focus on young girls, parents and men in positions of power
Amy Jo's work with young girls and their parents through a girls' leadership conference
Difference between worry and concern
Conscious, unconscious and confirmation biases
Fake it until you make it or fake it until you become it
Importance of both earning credibility and having self-belief
Discussion of Amy Jo's sentiment that value rises to the top on social media
Your thoughts don't define who you are
Amy Jo shares some of her own "Why not now?" moments
Amy Jo's desire to create positive, scalable impacts on the world
Empathy, music, animals, sports and books
Upcoming "Why not now?" live events!
Connect with Amy Jo Martin: 
Books/Authors/Apps Mentioned:
INTRO AND OUTRO MUSIC (Used by permission):
No Worries (© 2014 Anderson Music, LLC)
Gotta Move On (© 2014 Anderson Music, LLC)
Uphill Conversations is a POTAD, LLC production (Partnership of Thinking and Doing)
© 2017 Uphill Conversations