37: Todd Tresidder – Values, Wealth & Happiness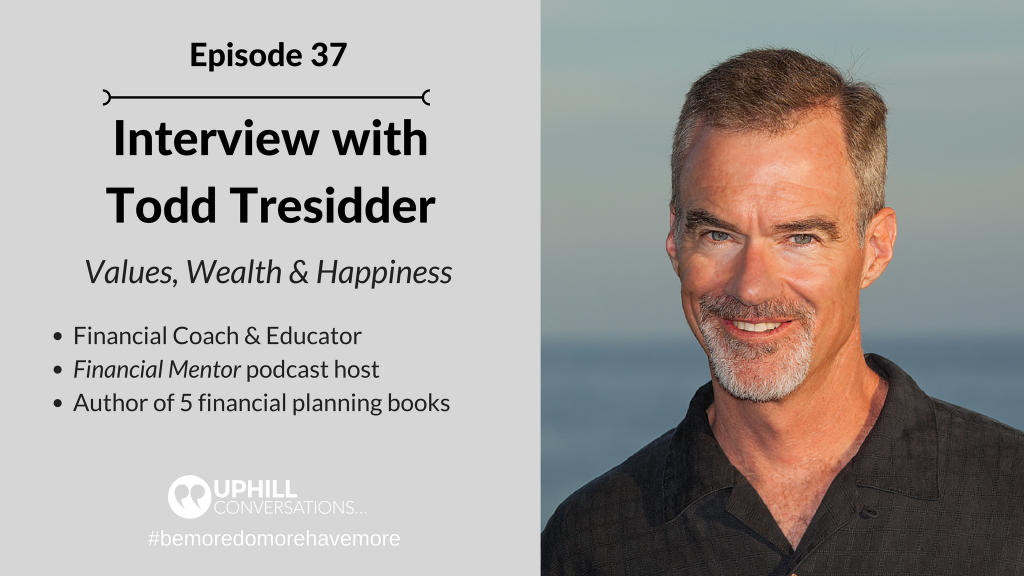 Todd Tresidder joins us for an Uphill Conversation on finances, values, wealth and happiness.
Todd graduated from the University of California at Davis with a B.A. in economics and a passion for creating successful businesses. A serial entrepreneur since childhood, Todd went on to build his own wealth as a hedge fund investment manager before "retiring" at 35 to teach others. Today, he provides advanced investment and retirement planning education at FinancialMentor.Com showing you what works, what doesn't, and why based on a depth of proven experience.
Show Notes: 
Disproving the "millionaire myth."
Financial freedom opens up possibilities, but will not make you happy
Seeking financial wealth to compensate for feelings of low self-worth
Todd's bumpy journey towards a more fulfilling life
We have ingrained values and traits alongside developed passions
Through actions and work, developed passions deepen
Important to align and honor your values with your passions
Power of clarity in decision making – theories versus evidence
Todd is a "hopeless realist", not holding romantic delusions in work or life
Culture of convenience, instant gratification and "sound byte" environment sets us up for disappointment in journeys to make true impact, learn and grow
Todd measures wealth by how much value you've added to the world
Success takes hard work and resilience
Quantifying how much time remains in your life can impact how you're living this year, month or day
Being internally directed versus externally directed in our lives
Being successful versus having significance; outcomes vs. process
Quotes:
"Judge by results, often harsh, always fair." – Brian Klemmer
"Success is 10% inspiration, 90% perspiration." – Thomas Edison
"What you do today is important because you're trading a day of your life for it." – Unknown
"Don't do work based on what you do, but do it based on what you become." – Po Bronson
"You are more than you've become." – Friend of Tim Pecoraro
"Happiness is not the belief that we don't need to change, it's the realization that we can." – Shawn Achor
Books/resources:
Connect with Todd: 
INTRO AND OUTRO MUSIC (Used by permission):
No Worries (© 2014 Anderson Music, LLC)
Gotta Move On (© 2014 Anderson Music, LLC)
Uphill Conversations is a POTAD, LLC production (Partnership of Thinking and Doing)
© 2017 Uphill Conversations