43: Shama Hyder – Social Media Maven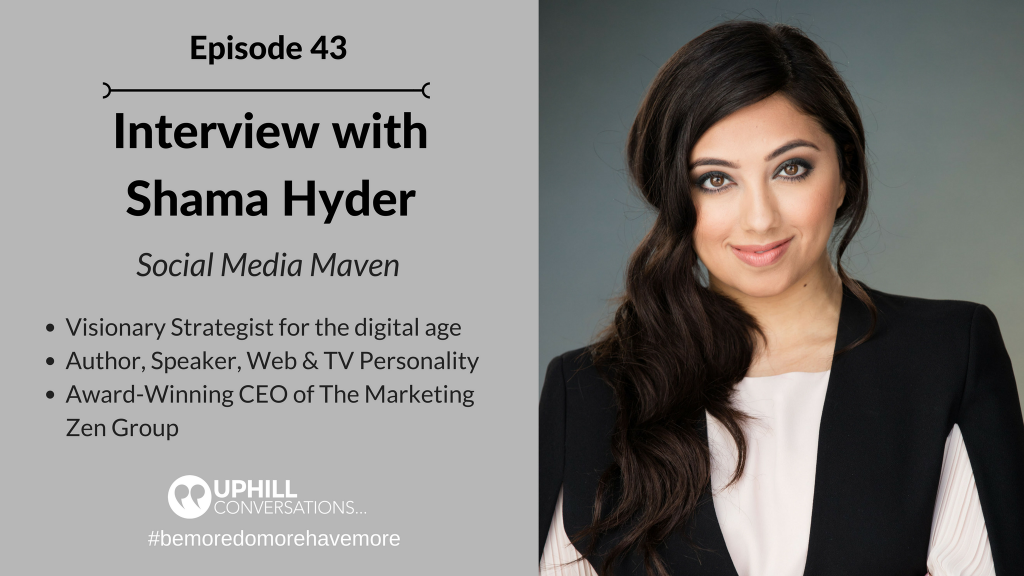 In this episode, Tim and Megan have an Uphill Conversation with Shama Hyder on social media, identity and awareness. Shama is a visionary strategist for the digital age, a web and TV personality, a bestselling author, and the award-winning CEO of The Marketing Zen Group – a global online marketing and digital PR company.
Under her leadership, The Marketing Zen Group has grown an average of 400% growth annually since 2009 to include a team of 30 and serve clients ranging from publicly-held Fortune 500 companies to privately-held small businesses and nonprofit organizations across the globe. Read her full bio here.
Show Notes:
How Shama spends her time personally and professionally
Shama's suggestions on how to best use social media for business and building your personal brand – it's finding the right blend of showcasing who you are and being strategic in what you share
Shama considers how what she shares on social is adding value – "You should use social media, not be used by it."
Be an editor, not a perfectionist. It's better to accept the imperfections and take the first step.
True identity is something that is constantly changing
Learn to be responsive to opportunities as they are presented
Shift your perspective to break down challenges into smaller, more manageable chunks – approach them bit-by-bit and day-by-day.
Importance of self-editing which ideas you choose to pursue
Self-awareness is important for growth and balance
You need to take breaks and take care of yourself physically, mentally and emotionally
Shama's optimism on growth of online video, new technologies that will improve peoples' lives and growth of The Marketing Zen Group
Connect with Shama: 
INTRO AND OUTRO MUSIC (Used by permission):
No Worries (© 2014 Anderson Music, LLC)
Gotta Move On (© 2014 Anderson Music, LLC)
Uphill Conversations is an Uphill Strategies, LLC production
© 2017 Uphill Conversations