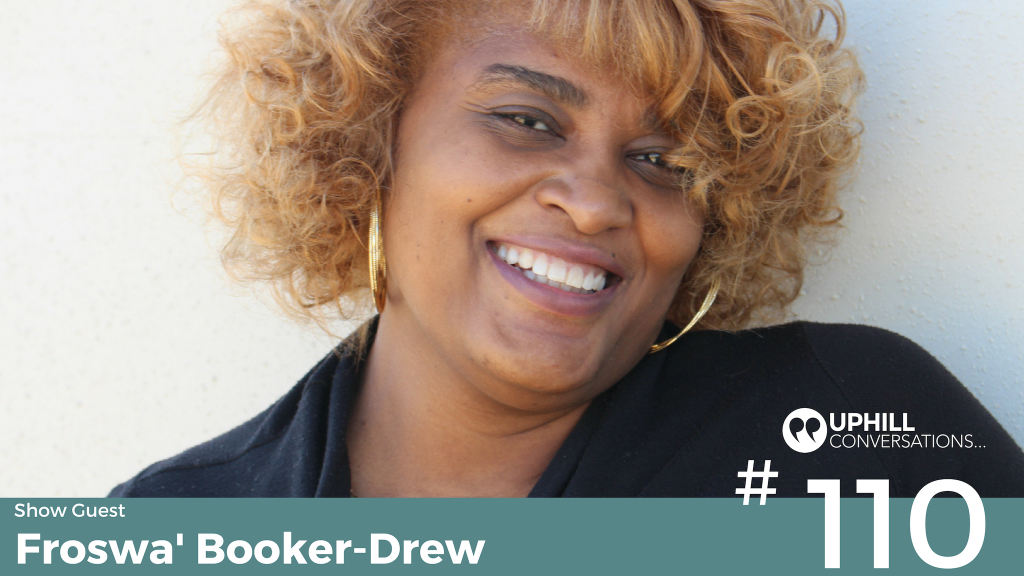 In this episode, Tim has a conversation with Froswa' Booker-Drew. Froswa believes that Social Capital is critical and spends her days weaving people together via networking and connecting. Booker-Drew is a relational leadership junkie. Relationships, when cultivated well, are powerful and transformative. Tim and Froswa' keep it real and go deep with real-life challenges that keep people from experiencing true growth, connections, and engagement. Enjoy!
THE CONVERSATION:
Growing up in the deep south
How she didn't stay 'STUCK' as a child with limited resources and lack of opportunities
How her relationships and family helped her see there is more out there beyond 'LUCK'
Which is greater, your own power or privilege?
Life can be 'Both-And …'
Thoughts on: Opinions, Beliefs, and Values
The importance of finding spaces of reflection and feedback loops
The problem with not letting people hurt and feel pain
Being on the balcony and being on the dancefloor (The Practice of Adaptive Leadership by Ronald A. Heifetz)
Understanding that people are not machines and they need to be the totality of who they are
Learning to be still in silence. The Silence Retreat
We are not human 'DOERS' we are human 'BEINGS'
Replacing the technology connections with real face-to-face conversations
The struggle people have to identify and share the descriptors of who they are beyond the surface or obvious
The lost desire for CURIOSITY and INNOVATION
People are creating but not being creative
The power of saying, I AM and what it's paired with
Overcomplicating things that are simple
Examining your own narrative
What do you focus on?
Are you the common denominator in less than desired situations and circumstances?
The value of openness and vulnerability
An UPHILL challenge Froswa' experienced and what she did to overcome
RESOURCES:
Rules of Engagement by Froswa Booker-Drew
Videos of Dr. Froswa' Booker-Drew
BOOK REFERENCES:
Walk on Water by Madeline L'Engle
From Here to There by Don Miguel Ruiz
CONNECT WITH THANE:
Website: froswasrules.com
LinkedIn:in/froswabookerdrew
Twitter: @Froswa
ABOUT FROSWA:
Dr. Froswa' Booker-Drew
Vice President, Community Affairs and Strategic Alliances at State Fair of Texas®
I am intrigued by relationships, particularly building networks to address issues in organizations and communities. Because of my extensive background in leadership, nonprofit management, partnership development, training and education, I've been quoted in Forbes, Ozy, Bustle, Huffington Post and other media outlets around the world. As Vice President of Community Affairs for the State Fair of Texas, I lead a department focused on community initiatives, educational programming, partnerships, and philanthropy.
In addition, I have been asked to speak on a variety of topics such as social capital and networking, leadership, diversity, and community development to national and international audiences. This included serving as a workshop presenter at the United Nations in 2013 on the Access to Power. One of the most impactful life events for me was being a part of the documentary, Friendly Captivity, a film that followed a cast of 7 women from Dallas to India.
I consider myself so fortunate to be honored for my work which includes: Semi-finalist for the SMU TEDx in 2012, 2012 Outstanding African American Alumni Award from the University of Texas at Arlington, 2009 Woman of the Year Award by Zeta Phi Beta Sorority, Inc. and Diversity Ambassador for the American Red Cross.
Graduating with a Ph.D. from Antioch University in Leadership and Change with a focus on social capital and relational leadership has offered me the opportunity to have a scholar/practitioner lens in all I do. I attended the Jean Baker Miller Institute at Wellesley for training in Relational-Cultural Theory and completed facilitator training on Immunity to Change based on the work of Kegan and Lahey of Harvard. I have also completed training through UNICEF on Equity-Based Evaluations. I am the author of 2 workbooks for women, Ready for a Revolution: 30 Days to Jolt Your Life and Rules of Engagement: Making Connections Last as well as a writer for several publications around the globe.
INTRO AND OUTRO MUSIC (Used by permission):
Continuation Vibe – Written, arranged and performed by Luke Pecoraro (© 2018 LSP Music)
Uphill Conversations is an Uphill Strategies, LLC production © 2016 – 2018 Uphill Conversations
The post 110 – Froswa' Booker-Drew – Grow + Connect + Engage appeared first on Uphill Conversations.