17: Jen DeVore Richter – Reinvent, Reenergize and Redesign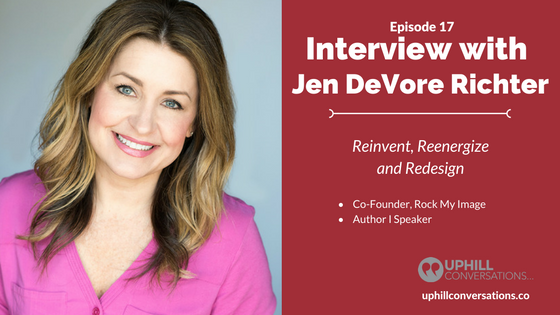 Jen DeVore Richter is an author and seasoned business owner recently personally invited by Arianna Huffington to be a contributor on The Huffington Post as an expert on personal branding and marketing.
For over ten years, she enjoyed an achievement-filled career as a marketing executive working in television, at Kennedy Space Center, and for a Fortune 500 pharmaceutical company. In 2003, she made the transition into entrepreneurship and co-founded Rock My Image in 2013 where she spearheads strategic planning.
Her expertise in marketing and creative approach to business has culminated in a co-authored book Amplify Your Business: The Rockstar Professional's Guide to Marketing Success.
Jen is an active member of her church and a regular participant in their community volunteer initiatives. In her spare time, she takes acting workshops and attends local community theater events. She enjoys traveling with her husband Will, is a "bonus mom" to his two teenage children, and is an avid painter and home cook.
CONNECT WITH JEN:
Website: jendevore.rocks
Facebook : jen.devore.richter
Twitter: @JenRDeVore
JEN'S BOOK:
Amazon: Amplify Your Business
INTRO AND OUTRO MUSIC (Used by permission):
No Worries (© 2014 Anderson Music, LLC)
Gotta Move On (© 2014 Anderson Music, LLC)
Uphill Conversations is a POTAD, LLC production (Partnership of Thinking and Doing)