30: Kelly Kozaris – What's Missing? Aligning Passion with Purpose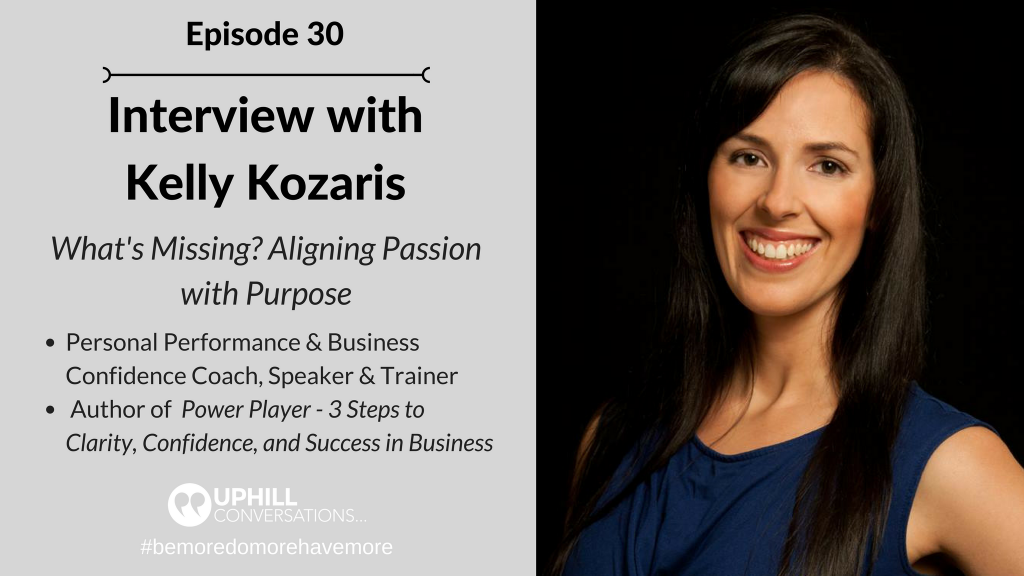 Podcast: Play in new window | Download
Subscribe: Apple Podcasts | Android | Google Podcasts | Stitcher | RSS
Kelly Kozaris is a Personal Performance and Business Confidence Coach, Speaker and Trainer dedicated to the advancement of people in business. She helps ambitious and talented people bring their purpose and passion to life through helping commercialize and market their zone of genius. Kelly also helps people get into alignment in their work, and lead with confidence through developing, enhancing and accelerating their brand and visibility.
In this episode Kelly shares her journey from HR to coaching. She also provides insights into the value of continuing to work on herself and find greater alignment and awareness.
Show Notes: 
Kelly's early career in HR and how she entered the coaching field
How coaches and mentors were integral to Kelly's life and career transition
Diving in to your industry and expanding knowledge can make a tremendous positive impact in your professional growth
How Kelly found her confidence in the male-dominated industry of Oil & Gas
Three core things Kelly realized about herself that helped propel her forward
The tendency of women to "fall into" careers because they are good at doing something even though the passion may not be there
How to move through and overcome the missing link, the feeling of "What's missing?"
Clarifying what like to do; Realize your talents; Define where you'd like to go and what you're passionate about; Then take these three things and marry them all together asking "What is your non-negotiable? What could you not live without doing?"
Kelly's journey of self-discovery: realizing areas she wanted to work on, gaining confidence and making the entrepreneurial leap
Managing uncertainty, balancing risk and then committing to the change
Discovering and living your "Career-Life Values"
Embracing your true, authentic self allows you to do your best work
Your uniqueness is a gift and it's important to bring your magic into all that you do
How Kelly continues to invest in herself
Discussion around limiting beliefs and peoples' fears of not being good enough or even the fear of being successful
Importance of necessary endings and how to do it properly
Having grit is central to knowing your way forward and finding success
The three things that Kelly is optimistic about in 2017
Connect with Kelly: 
Kelly's Mentors/Coaches: 
Book Details:
Power Player- 3 Steps to Clarity, Confidence, and Success in Business is about creating your best self through unlocking your potential and up leveling your career or business through accelerated growth. You will discover how to develop, enhance and accelerate your unique value proposition, market your brand and potential and accelerate your visibility to increase your income and impact in business.
Power Player, will help you unlock your greatness, master your mind, communicate with impact and will teach you how to position yourself with confidence. It will help you transform your reality to think boldly, take chances and build your beliefs to create an unstoppable mindset and strategy to succeed in your business or career.
It is about unlocking your magic and moving from your zone of competence to your zone of genius.
INTRO AND OUTRO MUSIC (Used by permission):
No Worries (© 2014 Anderson Music, LLC)
Gotta Move On (© 2014 Anderson Music, LLC)
Uphill Conversations is a POTAD, LLC production (Partnership of Thinking and Doing)
© 2017 Uphill Conversations