39: Jessica Nazarali – Follow Your Intuition & Build the Life You Desire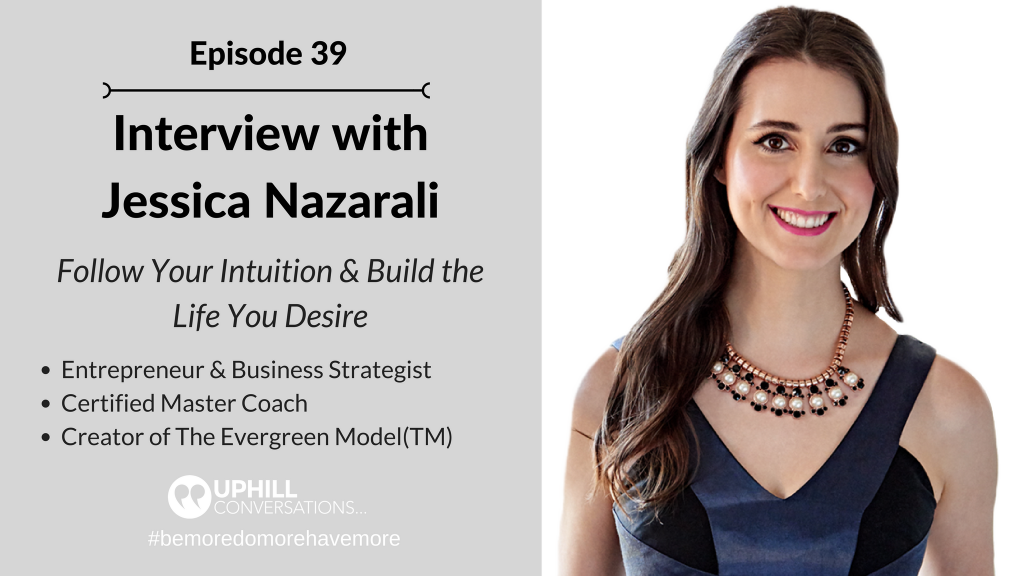 Jessica Nazarali joins us for an Uphill Conversation around following your intuition and building the life you desire.
Jessica Nazarali knew from an early age that personal development would be part of her life's work. But it wasn't until she started a passion project – a blog and health food website in 2011 – that Jessica's dream came to fruition. Today Jessica merges business with her desire to help people through the courses she releases through It Girl Academy and her podcast It Girl Radio. She is passionate about helping women to use the evergreen model for enrolling consistent clients without having to do big stressful launches.
Show Notes:
Jessica talks about her unique Coaching Mastery program
Relationship and differences between coaching and mentoring
Navigating bends and bumps in a mentor/mentee relationship and owning your decisions
Allowing yourself to pay attention to your intuition
Even though a method isn't proven, doesn't mean you won't succeed
Jessica developed proprietary Evergreen Model(TM)
Using the OODA loop: observe-orient-decide-act
Appearance that you "have it all," but still feel unfulfilled and confused
Importance of taking the first step when feeling stuck
Providing guidance and education while retaining authenticity
Recognizing the expanse of life gives perspective on having patience
Journaling, working with a coach and fitness are ways Jessica works on herself
How Jessica brings her ideas to life and tools she uses
The It Girl Foundation empowers women in developing countries
Possibilities for both failure and success can hold you back from making changes or taking risks
Connect with Jessica:
Books:
INTRO AND OUTRO MUSIC (Used by permission):
No Worries (© 2014 Anderson Music, LLC)
Gotta Move On (© 2014 Anderson Music, LLC)
Uphill Conversations is a POTAD, LLC production (Partnership of Thinking and Doing)
© 2017 Uphill Conversations