45: Pamela Evette – Leadership, Strong Values + Hard Work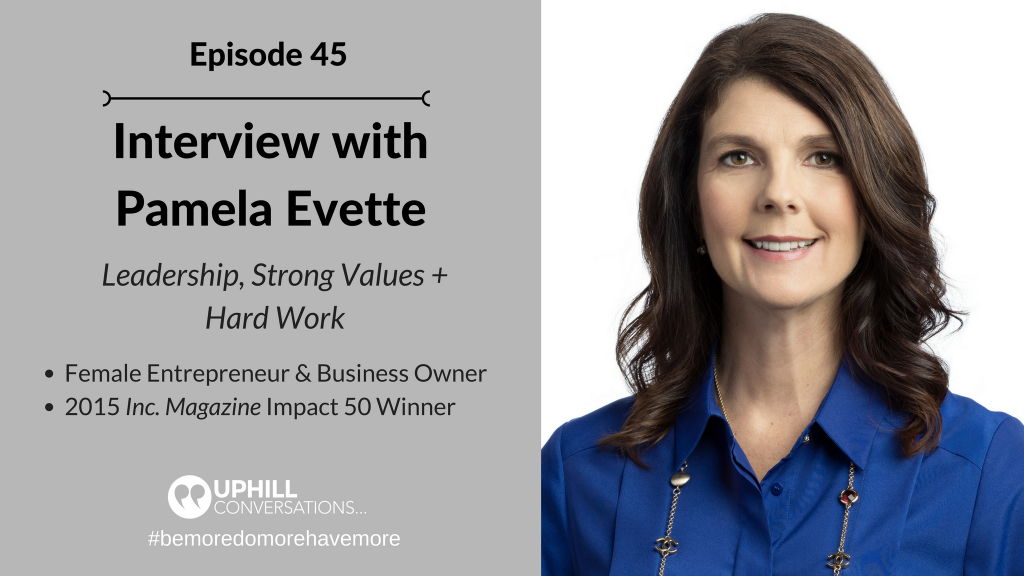 Podcast: Play in new window | Download
Subscribe: Apple Podcasts | Android | Google Podcasts | Stitcher | RSS
On this episode of Uphill Conversations we talk with Pamela Evette on values, priorities, and hard work in business and in life.
Pamela Evette brings more than 20 years of experience and an entrepreneurial spirit to her role as President/CEO of Quality Business Solutions (QBS).  A trained accountant and former CFO, Evette's primary expertise is in building Professional Employer Organizations (PEOs), firms that provide a service under which an employer can outsource employee management tasks, such as payroll, employee benefits and workers' compensation, recruiting, risk/safety management, and training and development.
Under her leadership, QBS has grown exponentially, becoming a $1 billion dollar enterprise in 2016.  QBS has been honored as one of the best places to work in its home state of South Carolina and as one of the Inc. 5000 fastest growing companies in the United States.
Show Notes:
Fearlessness and what it means for a Pamela to be fearless
How Pamela's ancestors and family have inspired her to be bold
The impact of what you say and don't say on those around you
Being brave vs. having courage
Owning a business means you can set certain priorities, but there are always trade-offs
What holds people back from stepping out on their own professionally
An entrepreneurial spirit can make you feel unsettled at times
You don't always need to take big risks, you can systematically and gradually work towards building your vision
How Pamela's background and Polish heritage taught her the value of hard work and never to expect anything to be easy, to be handed to you or to go smoothly.
"Nothing is free. There is never a free lunch."
Pamela's view on change: very few outcomes are unfixable, so be open to new ideas, be decisive, and keep moving forward
Importance of being realistic and honest in asking yourself what you're willing to sacrifice as an entrepreneur
Impact 9/11 had on the industry and QBS as a business
Benefits of starting lean, growing smart and persevering
Pamela's optimism about QBS' continued growth, the QBS team getting stronger and the U.S. economy
Connect with Pamela:
INTRO AND OUTRO MUSIC (Used by permission):