47: Deb Ingino – Leading from Within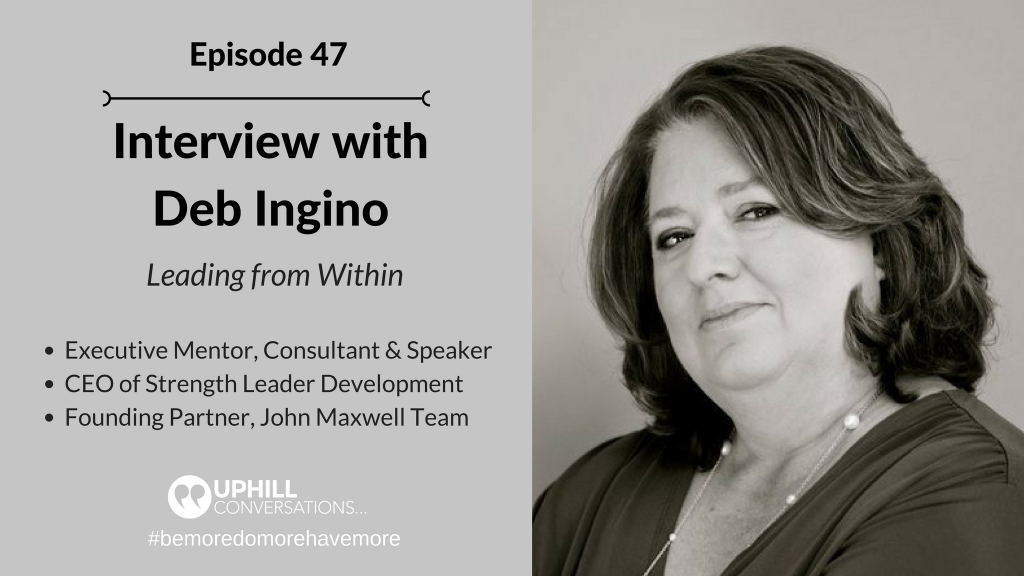 Podcast: Play in new window | Download
Subscribe: Apple Podcasts | Android | Google Podcasts | Stitcher | RSS
In this episode of Uphill Conversations, we have another great discussion with Deb Ingino around leadership – taking a deep dive into benefits and challenges of leading from within.
Deb Ingino is a mentor and consultant to leaders who are eager to move into a higher level of performance. She leads individuals and enterprises through a process to discover, leverage and lead with their strengths.
As The CEO of Strength Leader Development, she is a highly sought-after executive mentor, consultant, and speaker worldwide, Deb is well versed in business operations and in the importance of asking key questions most business leaders won't ask themselves. She brings deep experience in leadership development, strategy, high-performance team building, global operations, brand management, design, product development and training to her work. Her passion is for leaders and their teams to move into a higher level of performance.
Show Notes: 
Being recognized as a leader vs. influencer
Importance of recognizing and knowing yourself and your gifts
Value of understanding the needs, challenges and desires of others
Leaders look for opportunities to contribute and serve the greater good
Your potential: see it, seize it, serve using it, and simplify it
Risk failing in your journey to success
"We find our confidence in our competence"
Imposter syndrome and maintaining true self in new situations
Happiness is temporary, joy is lasting
In order to be a good leader, you need to learn to become a good follower
Having a values match at the core within an organization or team
Leadership means developing others to become leaders
Optimism on innate gifts, obstacles and leadership
Connect with Deb: 
INTRO AND OUTRO MUSIC (Used by permission):