53: Brian Knox – Uphill Accountability Partner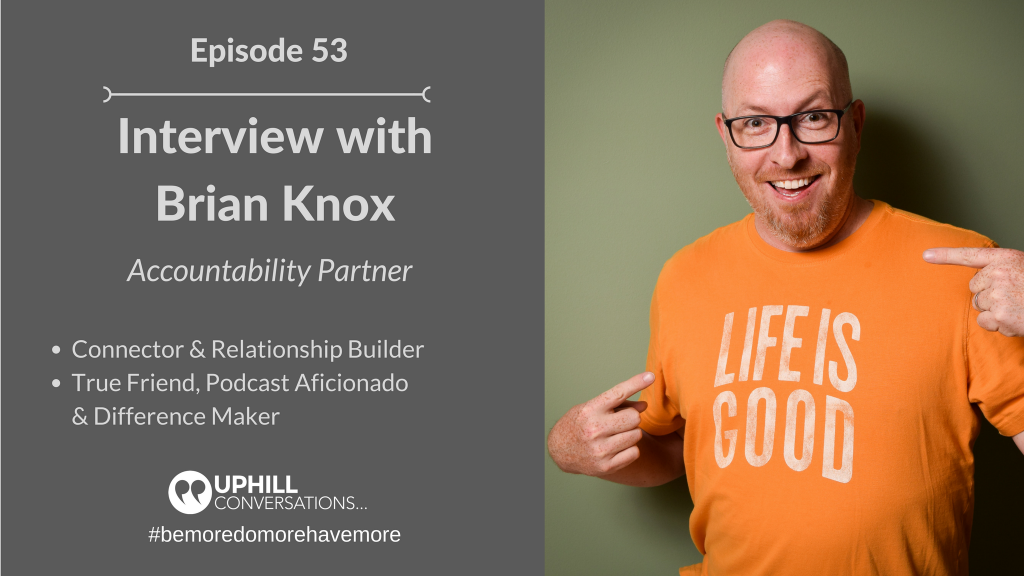 Podcast: Play in new window | Download
Subscribe: Apple Podcasts | Android | Google Podcasts | Stitcher | RSS
Brian Knox joins us as we continue to celebrate our 1 Year Anniversary. Find out how Brian was instrumental as an accountability partner in the launch of this podcast and how he inspires and helps others in his daily life.
Brian is a guy determined to focus on the good things in life. He's 38-years-old, has been married for 15 years, and is the father to two daughters (8 and 5). He's worked at Habitat for a little over a year and it is the exact place that he needs to be. After 17 years in corporate America, Brian is finally in a role that engages his talents, skills, and passions while making the world a better place for others.
Show Notes
Connecting over John Lee Dumas and The Freedom Journal
Value in finding true accountability partners
Taking the first steps towards your entrepreneurial dreams
Moving beyond the "curse of being capable"
Podcasts as a treasure trove of information for personal growth
Importance of asking powerful questions and challenging others' thinking to help give perspective and recognize blind spots
Podcast "turn-offs"
There's no quantum leap – it takes time – consistent small efforts day over day to be successful
Habits to reduce stress and maintain momentum: get enough sleep,  be mindful of feelings and emotions
Having a servant heart, second chances and seeing the best in others
Being intentional in engaging others before and throughout conversations and interactions
Keeping yourself open to hear and understand others' opinions, beliefs, and perspectives
Tim and Megan's go to resources for information and their love of people
How each of us would spend our days if we were financially free
How are you leaving a legacy?
Quote correction: "In my walks, every man I meet is my superior in some way, and in that I learn from him." ― Ralph Waldo Emerson
Connect with Brian: 
Podcasts
Resources 
INTRO AND OUTRO MUSIC (Used by permission):
Dreams Groove (© 2017 Tim Pecoraro)
Straight Drive (© 2017 Tim Pecoraro)
Uphill Conversations is an Uphill Strategies, LLC production
© 2017 Uphill Conversations