59: Josh Elledge – Serving Breeds Success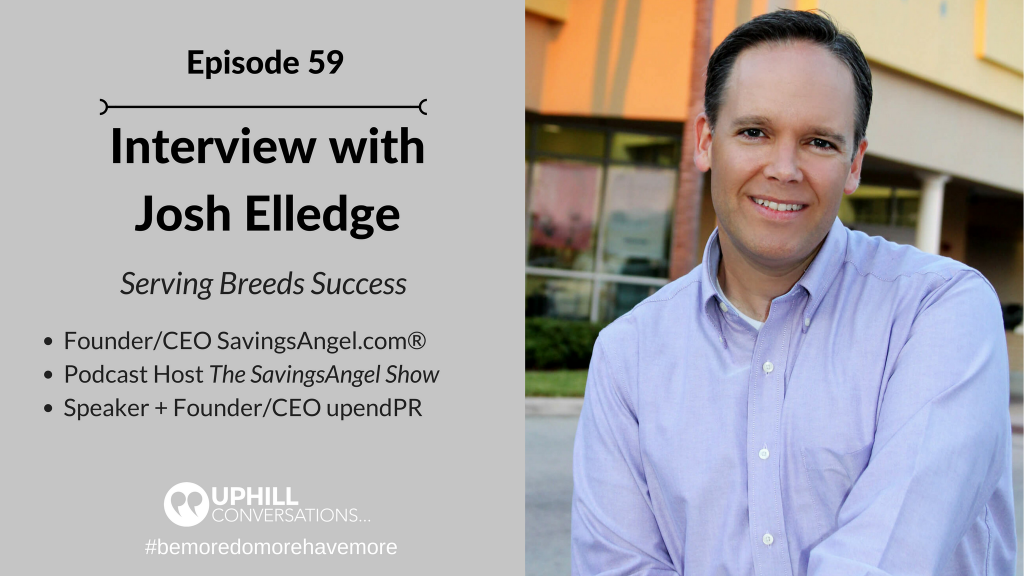 Podcast: Play in new window | Download
Subscribe: Apple Podcasts | Android | Google Podcasts | Stitcher | RSS
Josh Elledge joins us for an Uphill Conversation on the power of serving others and giving of oneself as a means to grow your business and achieve your dreams.
Josh Elledge is the Chief Executive Angel at SavingsAngel.com and helps consumers get discounts and upgrades on everything through his syndicated newspaper column with 1.1 million readers and on TV in 75 cities. He's been in the media more than 1500 times. Josh now turns digital entrepreneurs into media celebrities at upendPR.com. Full bio here.
Show Notes:
How Josh used his journalism background, worked with local media, provided value to their audiences and SERVED
Spent less than $500 in advertising – "everything we do is through service and giving and providing value to audiences"
Feeling a moral imperative to help other business owners succeed
What holds you back: fear of judgment
Fear robs us from those things that we feel called to do
An early desire to join the US Navy and to be self-reliant translates to his passion to empower others to do the same
View money as a by-product, not as sole motivation
"Who do I get to serve to today?" versus "Who am I going to sell to today?"
Josh's mission is to change the PR industry
Staying balanced/grounded means protecting yourself, saying no sometimes and surrounding yourself with great people.
Make investments that put you outside of your comfort zone
Best ways to grow your business:

1. Network with influencers
2. Serve large audiences

Not JUST serving, but INTENTIONAL serving
The importance of scheduling your priorities.
Connect with Josh:
INTRO AND OUTRO MUSIC (Used by permission):
Dreams Groove (© 2017 Tim Pecoraro)
Straight Drive (© 2017 Tim Pecoraro)
Uphill Conversations is an Uphill Strategies, LLC production
© 2017 Uphill Conversations