67: Creating Emotional + Physical Margin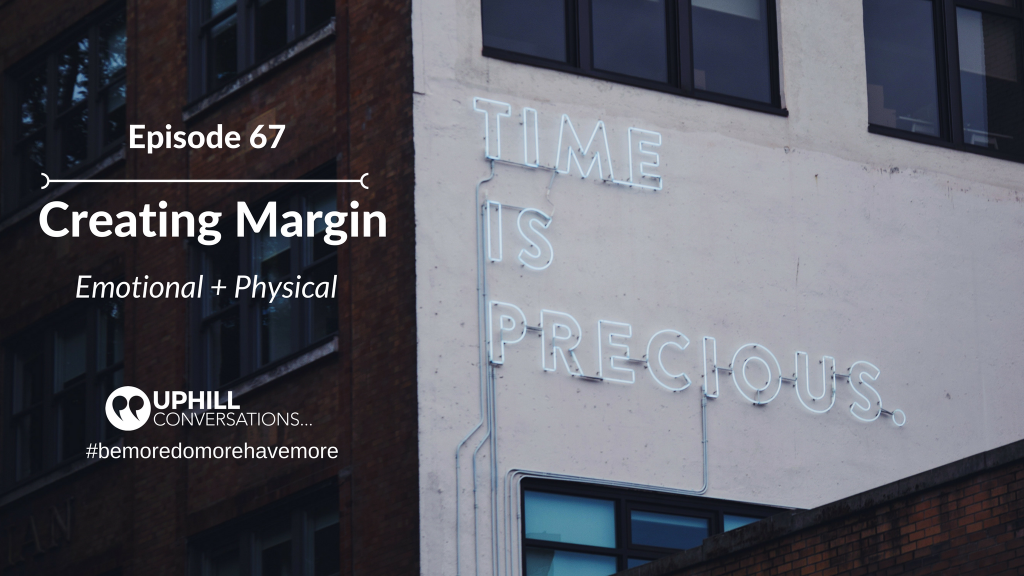 Podcast: Play in new window | Download
Subscribe: Apple Podcasts | Android | Google Podcasts | Stitcher | RSS
Following the Thanksgiving holiday, Tim and Megan have an Uphill Conversation on progress, limits + creating margin – physical and emotional.
Show Notes:
As a society we are overwhelmed, overcommitted and over-stressed
The promise and peril of progress
Humans have a limited amount of resources – physical, financial, emotional, mental and spiritual
Type-A people don't view margin as a necessary reserve, but rather as a gap to be filled
Just because you can, doesn't mean you should
Living your life at full throttle + full capacity is not sustainable
Need to find things that replenish and energize you
Must determine your true capacity and your own individual limits and LISTEN to them
Need to intentionally live and make choices that align with what you want
How are you proactively doing to create your own margin?
8 tips for restoring margin in emotional energy
7 tips for managing or even restoring your resource of time
Resources:
Margin, Richard A. Swenson, M.D.
INTRO AND OUTRO MUSIC (Used by permission):
Dreams Groove (© 2017 Tim Pecoraro)
Straight Drive (© 2017 Tim Pecoraro)
Uphill Conversations is an Uphill Strategies, LLC production
© 2017 Uphill Conversations