70: Dr. Gregory Pickett + Jamie Patterson – Innovation in Education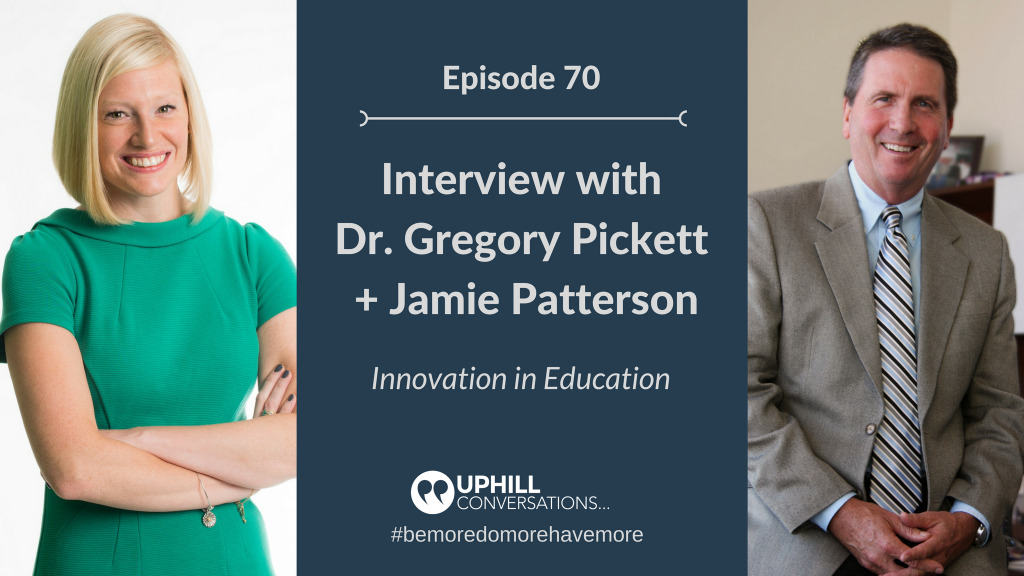 Podcast: Play in new window | Download
Subscribe: Apple Podcasts | Android | Google Podcasts | Stitcher | RSS
In this episode, Tim and Megan have an Uphill Conversation with Dr. Gregory Pickett and Jamie Patterson on innovation and its impact on education and students.
Gregory Pickett is senior associate dean of the College of Business at Clemson University. In this role, he oversees all business functions for the college including marketing and PR activities, business affairs, and human resource functions. Pickett also serves as Director for Clemson's MBA Program and the college's Greenville ONE operations. The MBA program has experienced significant growth including new concentrations in business analytics and entrepreneurship and innovation. These programs are delivered on seven residency weekends a year and online.
As the Director of Career Services and Student Experience for the Clemson MBA Program, Jamie Patterson focuses on the entire student experience including career services and professional development opportunities. She runs the internship program for the MBA and works closely with hiring managers in Greenville's thriving business community. Jamie teaches courses on Career Development and Business Communication. As a passionate career coach, Jamie takes great joy in watching the Clemson MBA students succeed, while also by helping her corporate connections find exceptional talent for their organizations.
Show Notes:
How technology is changing the world of education
Importance of innovation in delivery + learning environments
Changing expectations in how students consume education
Flexibility is important in this rapidly-changing environment
Challenge of providing the same level of support to online + offline learners
Maintaining the "uniqueness" of the Clemson brand
Introduction and use of "flipped classrooms" to foster critical thinking and communication skills
Creating true community in an increasingly digital/virtual world is critical
Building a strong brand culture builds a strong alumni base
Direct communication, not via text or email, is a key to success and something we must be intentional in teaching our youth
Networking and listening are critical skills in life and business
Bringing more professional development opportunities into the classroom
How parents' involvement and growth opportunities outside the classroom foster EQ + problem-solving skills
Jamie's two questions she asks her daughters every day
Fostering greater social- and self-awareness
Jamie & Greg's Uphill journeys: challenges + finding joy
Optimism of people finding the good in others, Greenville's ability to deal with the challenges that come with growth and continued growth and success of Clemson's MBA program
Connect with Greg + Jamie:
Resources:
INTRO AND OUTRO MUSIC (Used by permission):
Dreams Groove (© 2017 Tim Pecoraro)
Straight Drive (© 2017 Tim Pecoraro)
Uphill Conversations is an Uphill Strategies, LLC production
© 2017 Uphill Conversations