78: Lisa Carpenter – Let's E.A.T!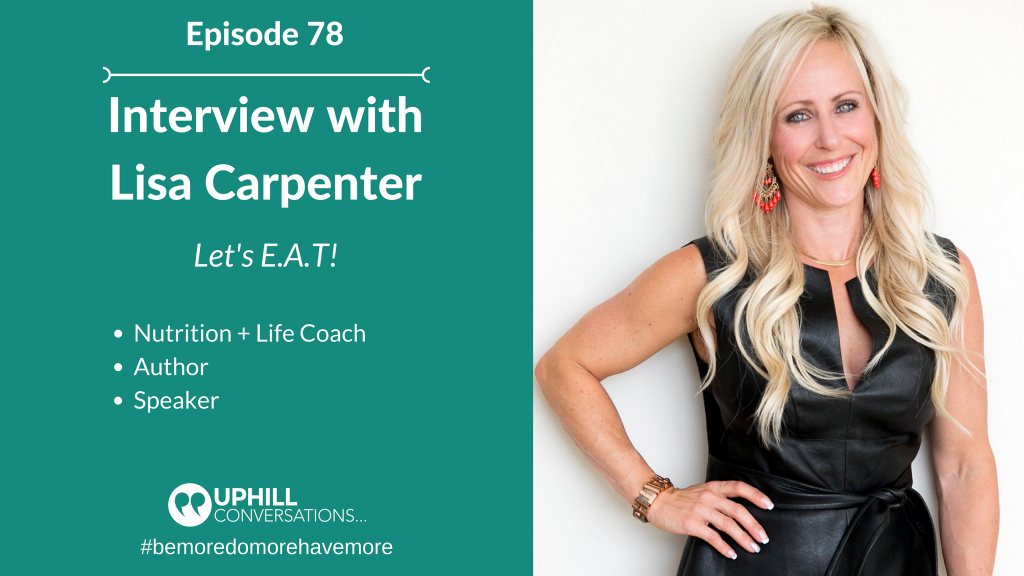 In this episode, Tim has a great conversation with Lisa Carpenter about her new book, "Let's E.A.T!, behaviors, control, perfectionism and life transformation. This is a fruitful conversation that gets deep quick. Lisa brings a tremendous amount of wisdom, life experience and love for others.
ABOUT LISA:
Lisa Carpenter, CNC, CSNC, Pn1, CPT, is the secret weapon for the frustrated dieters and driven achievers of the world. As a nutrition and life coach, she empowers her clients to connect deeply with their emotions, free themselves from judgment, and create lasting physical and emotional transformations. She inspires them to wake up to Full Frontal Living™ — a new mindset of conscious ownership of the decisions we all make around our health and daily life, as well as the emotions that drive them.
With nearly 20 years of experience and an extensive background in nutrition and fitness Lisa fosters a deeply fulfilling life for the women she serves, free of negative self-judgment. As an empowerment expert and nutritional ninja, she helps her clients reclaim their relationship with themselves and their bodies.
Her work acknowledges the deep connection between food and feelings, and she helps her clients experience freedom from the constraints of traditional dieting. Her own personal family journey with addiction and codependency also plays a role in her teachings, as so often unhealthy relationships with food are caused by compulsive and numbing behaviors. The creator of the E.A.T! Program, her signature weight loss and nutrition program, Lisa has been featured on CBC radio and news and was voted as one of the top online weight loss programs and coaches in 2016. She has spoken before many groups, including dentists, teachers, breast cancer survivors, runners, Ironman competitors, and other fitness professionals. Additionally, she has graced the competitive fitness and figure stage, placing first multiple times, along with a top-10 national level placing at the Fitness Universe competition.Lisa is also a loving wife and proud mother of three boys. She and her family live in Vancouver, BC.
OUR CONVERSATION:
Choosing your perspective and taking responsibility for your life
Curiosity and judgment cannot co-exist
Leading with curiosity
The role we play in relationship to our problems
People pleasing, perfectionism and control
How identity gets tied up into bad behaviors and the harm it can cause
Change cannot happen from a place of control
Boundaries
Transformation happens when you're willing to stay with the discomfort
Turning down the volume on bad behavior
The importance of doing less but better
Putting down judgment
What it means to make an impact with movement
Let's E.A.T!: Education, Action and, Transformation
CONNECT WITH LISA:
Social Media Links:
https://www.facebook.com/lisacarpenterinc
https://www.instagram.com/lisacarpenterinc/
Website:
http://lisacarpenter.ca/
Sign-up for the Book launch: Let's E.A.T!
http://lisacarpenter.ca/booklaunch
http://lisacarpenter.ca/book
RESOURCES:
Money, A Love Story: Untangle Your Financial Woes and Create the Life You Really Want – Kate Northrup
Walking on Water – Madeleine L'Engle
INTRO AND OUTRO MUSIC (Used by permission):
Dreams Groove (© 2017 Tim Pecoraro)
Straight Drive (© 2017 Tim Pecoraro)
Uphill Conversations is an Uphill Strategies, LLC production © 2017 Uphill Conversations