8: Eric Bandholz – Founder of Beardbrand and Urban Beardsmen, Inspiration for all who want to make their mark!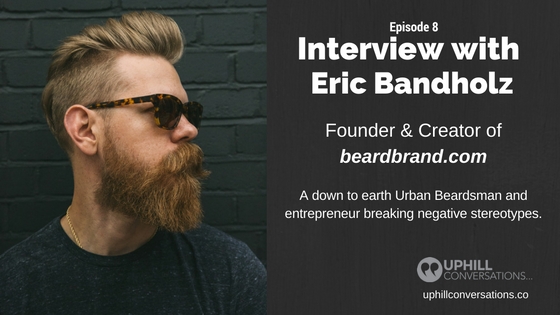 Eric Bandholz is the founder of Beardbrand, a men's grooming company that focuses on beard care. With the help of the Beardbrand team, they've built a community that is changing the way society views beardsmen.
Eric started out as a financial advisor but had an entrepreneurial bent. So he quit his job and launched out into the world of being an entrepreneur.
It all started with growing out his beard.  Then he went to a beard competition where he noticed there were other guys just like him. There he found his tribe and the inspiration for the Urban Beardsmen and began his journey to unite them through a community called, Beardbrand.
Eric is a man with a positive outlook on life who enjoys meeting and getting to know like-minded people.
In this episode, Eric shares his thoughts about creating momentum, investing in himself, relationship and a bit of his journey to date.
CONNECT WITH ERIC:
INTRO AND OUTRO MUSIC (Used by permission):
No Time To Waste (© 2014 Anderson Music, LLC)
No Worries (© 2014 Anderson Music, LLC)
Uphill Conversations is a POTAD, LLC production (Partnership of Thinking and Doing)