81: Kathleen Janus – Social StartUp Success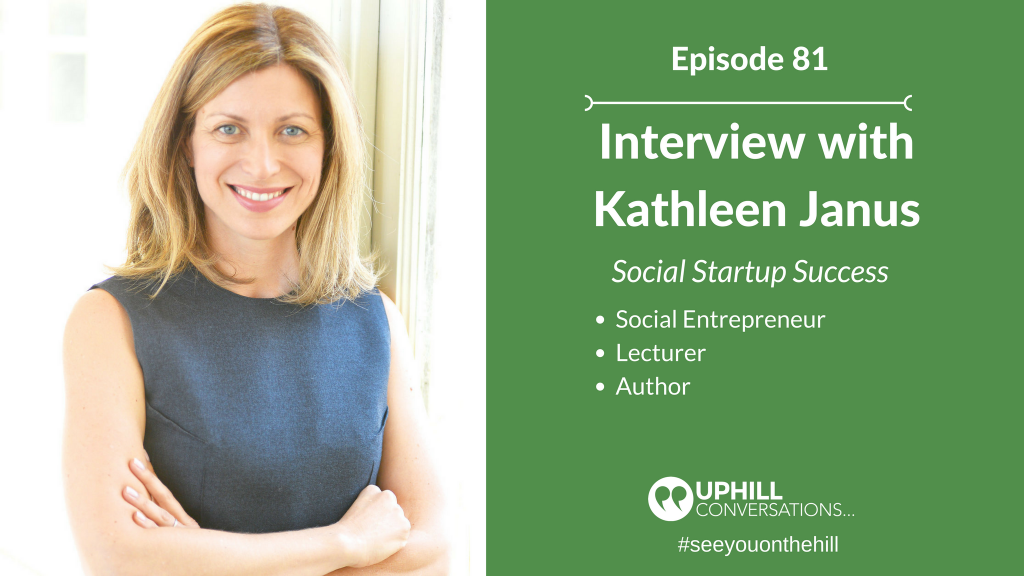 In this episode, Tim has a wonderful conversation with Kathleen Janus. It is very clear from the beginning that Kathleen is confident in who she is, the work she does, and the impact she wants to make for those who want to see social change in people, communities and the world.
OUR CONVERSATION:
Hearing 'NO' is an open door for other opportunities and future connections
Work on your response when you hear NO, learn to elevate yourself in the situation
We all need to reframe failure as learning
How Kathleen started out getting involved with Social Startups
Her involvement and what she learned from her first venture, 'Spark'
Her drive for getting involved started in the community
Her peers had the energy for something great but needed an avenue + outlet
Why Kathleen wrote the book "Social Start-Up Success"
Just because you scale revenue doesn't equate to scaling impact
Our potential to be activists for our communities, causes and, organizations
The importance of making a difference and not just feel good about ourselves
The story of Rob and his journey as a young person who learned starting an organization is more than one's charisma and passion
Connection with your community and the importance of proximity
Understand that good intention can be completely misguided when learning + nurturing should be the priority
Communities are overlooked and not afforded access to the resources available and the reasons why
Removing our ego from our efforts
Every organization needs to take a better look at their team and how they are functioning
ABOUT KATHLEEN:
Kathleen Kelly Janus is a social entrepreneur, author, and lecturer at Stanford University's Program on Social Entrepreneurship. As an expert on philanthropy, millennial engagement and scaling early stage organizations, her work has been featured in the Wall Street Journal, Huffington Post, Stanford Social Innovation Review, Tech Crunch and the San Francisco Chronicle. Her book – Social Startup Success: How the Best Nonprofits Launch, Scale Up and Make a Difference – is a playbook for nonprofit organizations based on a five-year research project interviewing hundreds of top-performing social innovators.
 
An attorney, Kathleen has spearheaded numerous social justice initiatives. Kathleen is a co-founder of Spark – a network of over 10,000 millennial donors – which seeks to advance gender equality by engaging the next generation in accessible forms of philanthropy. As a teaching fellow at Stanford Law School, Kathleen helped launch and direct Stanford Law School's international human rights clinics in Namibia and South Africa. She has also served as pro bono counsel at Covington and Burling and a litigation associate at Thelen Reid & Priest. 
 
Kathleen is currently the board chair of both Accountability Counsel and Cow Hollow School. She informally advises dozens of other nonprofits, including the Stanford Social Entrepreneurs in Residence. In 2014, she received the Laura Arrillaga-Andreessen SV2 Social Impact Award for her commitment to philanthropy.
 
A graduate of Berkeley Law School, Kathleen also graduated with highest honors from U.C. Berkeley. She lives in San Francisco with her husband Ted. Kathleen is a certified yoga instructor, which comes in handy when juggling their three young children.
CONNECT WITH KATHLEEN:
Website: katleenjanus.com
ABOUT THE BOOK:
Social Startup Success: How the Best Nonprofits Launch, Scale Up, and Make a Difference is now available! Thank you in advance for your support of my first book. Go to your favorite retailer to buy the social entrepreneurship's essential playbook; the first definitive guide to solving the problem of nonprofit scale.
INTRO AND OUTRO MUSIC (Used by permission):
Continuation Vibe – Written, arranged and performed by Luke Pecoraro (© 2018 LSP Music)
Straight Drive (© 2017 Tim Pecoraro)
Uphill Conversations is an Uphill Strategies, LLC production © 2017 Uphill Conversations