83: Dr. Neeta Bhushan – Emotional GRIT + Coaching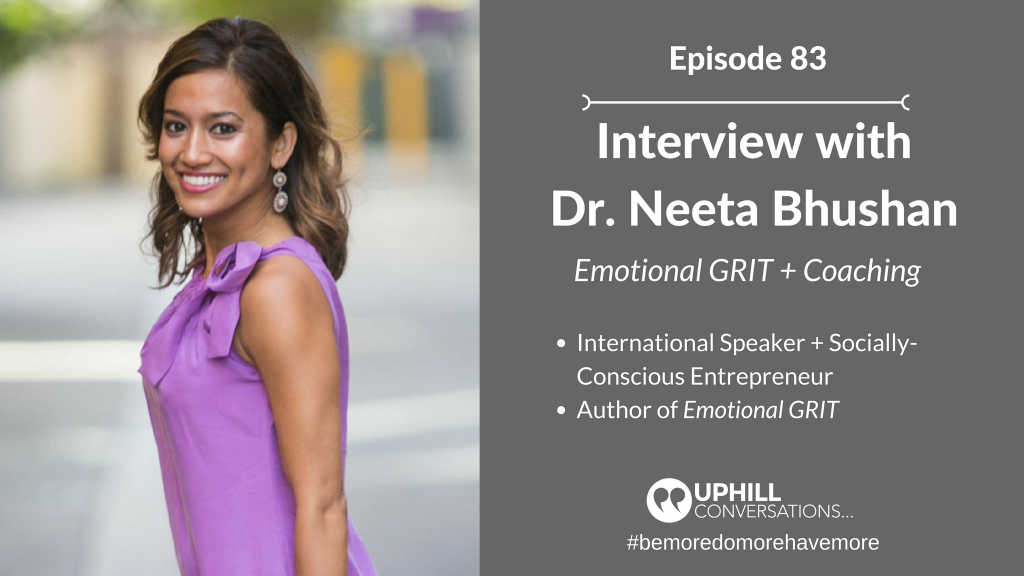 In this episode, Tim has another great conversation with Dr. Neeta Bushan, and they go deep quick. Digging deeper into growth, empathy, compassion and overall improvement, Tim and Neeta challenge the status-quo and shine a light on real transformation.
THE CONVERSATION:
Mixing your genius zone
Using coaching as a skill for all areas of your life
Education and the current model for learning
Helping others to figure out problems for themselves
Being a great listener and developing your ear
Empathy + Compassion
Leadership and what's missing
Leadership and the art of compassion
Making decisions with understanding and not out of fear
Setting boundaries and limits
Help for the most hated man in America
Being open to learn
The real power in life is when you see the value in others
Being vulnerable as you build trust
The power of groups and community in a collective
The power of observation coupled with intuition
ABOUT NEETA:
Dr. Neeta Bhushan is a former cosmetic dentist turned best-selling author, international speaker, social entrepreneur, the advocate of emotional health, and leadership coach.
Neeta left her million-dollar dentistry practice to pursue her inner truth; a journey which saw her spend over 15 years across 45 countries researching and immersing herself in the field human behavior, as well as studying the works of classical philosophers and modern psychology.
Her pursuit of knowledge to understand human behavior in order to create positive life transformation is sparked by her own life experience to overcome multiple extreme adversities, which includes being orphaned at a young age, surviving an abusive marriage of domestic violence, and facing homelessness.
Neeta's approach seamlessly blends the emotional grit she developed to overcome personal adversity with the understanding of human behavioral patterns. The power of her coaching and message has transformed the lives of thousands across the world and set the bar for a new form of emotional leadership.
RESOURCES:
Emotional GRIT – by Dr. Neeta Bhushan
The Book of Coaching: For Extraordinary Coaches – by Ajit Nawalkha & Dr. Neeta Bhushan
CONNECT WITH NEETA:
Website: https://www.neetabhushan.com/
INTRO AND OUTRO MUSIC (Used by permission):
Continuation Vibe – Written, arranged and performed by Luke Pecoraro (© 2018 LSP Music)
Straight Drive (© 2017 Tim Pecoraro)
Uphill Conversations is an Uphill Strategies, LLC production © 2017 Uphill Conversations