85: Dr. Amy Johnson – Clarity and Insights on Habits and Life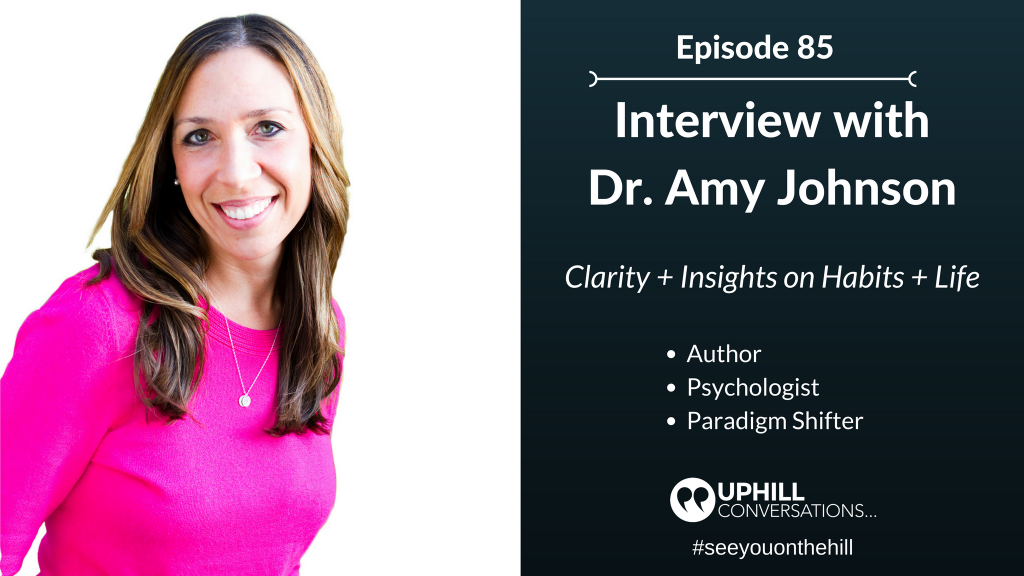 In this episode, Tim and Dr. Amy Johnson, Author, Psychologist and Paradigm Shifter, delve into the topics of, clarity, insights, habits and, life! Amy has the ability to help people see the possibilities for change + transformation. Simply put she makes it clear that "you are habit free and well already!"
OUR CONVERSATION:
Clarity + Insights
Habits + Life
Finding the evidence that connects with us deeply and personally
Struggles with bulimia
Finding the persona in us that is deeper than the psychology
Navigating the mental clutter
When things look real and true, it's the biggest brick wall we face
Relax the mind when it's lying to you
Getting quiet to see things differently
How curiosity suffers when we are under pressure
How you feel what you think
Our little mind is creating our problems
How we are using our heads to solve the problems that our minds have created
How the first answer is never the answer
Getting hooked on our own thinking
Forming positive habits that stick
People are habit free but their mind is spewing out illusions
Willpower is not sustainable for change and transformation
Willpower is an exhaustible resource
The Little Book of Big Change + knowing how we work
You cannot sustainably use your mind to beat your mind
ABOUT DR. AMY JOHNSON:
Amy Johnson, PhD is a psychologist, coach, author, and speaker who shares a groundbreaking new approach that helps people find true, lasting freedom from unwanted habits via insight rather than willpower. She is the author of Being Human (2013), and The Little Book of Big Change: The No-Willpower Approach to Breaking Any Habit (2016). In 2017 she opened The Little School of Big Change, an online school that has helped hundreds of people find freedom from anxiety and habits and live a more peaceful life.
Johnson has been a regularly featured expert on The Steve Harvey Show and Oprah.com, as well as in The Wall Street Journal and Self magazine. Learn more at www.DrAmyJohnson.com or www.TheLittleSchoolofBigChange.com.
RESOURCES:
Being Human: Essays on Thoughtmares, Bouncing Back, and Your True Nature – by Dr. Amy Johnson
The Little Book of Big Change – by Dr. Amy Johnson
CONNECT WITH ELLEN:
Website: DrAmyJohnson.com
The Little School of Big Change: LittleSchoolofBigChange.com
Facebook: DrAmyJohnson
INTRO AND OUTRO MUSIC (Used by permission):
Continuation Vibe – Written, arranged and performed by Luke Pecoraro (© 2018 LSP Music)
Uphill Conversations is an Uphill Strategies, LLC production © 2017 Uphill Conversations