87: The Critical Questions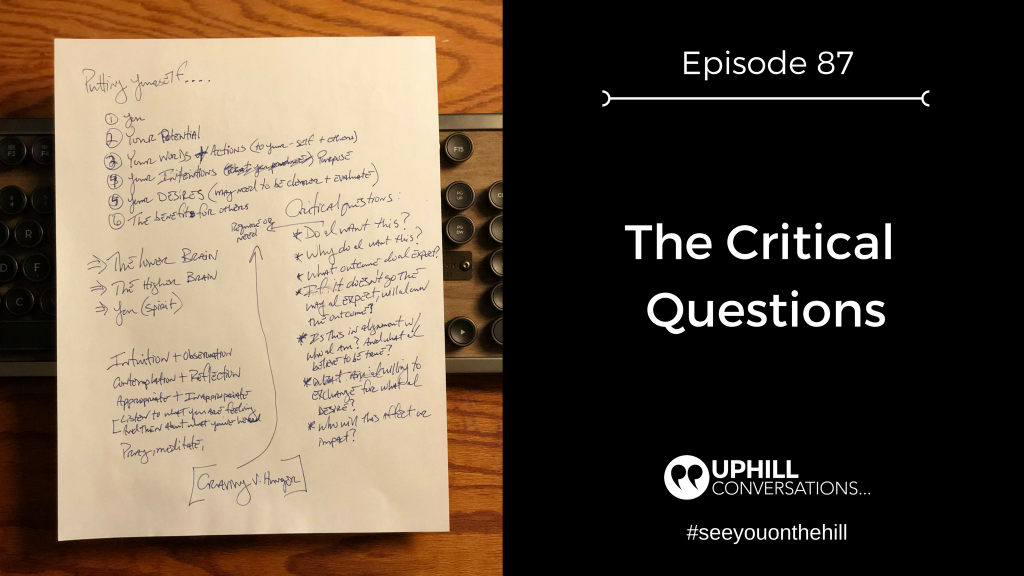 In this episode, Tim shares some of the critical questions and the thought process behind them, for decision making and change.
THOUGHT PROCESS:
Intuition + Observation
Contemplation + Reflection
Appropriate or inappropriate
Listen to what your feelings are saying, and think about what you've heard
Pray, meditate, be still, and listen
CRITICAL QUESTIONS:
Do I want this?
Why do I want this?
What outcome do I expect?
If it doesn't go the way I expect, will I own the outcome?
Is this in alignment with who I am and what I believe to be true?
What am I willing to exchange for what I desire?
Who will this effect? What will be the impact?
INTRO AND OUTRO MUSIC (Used by permission):
Continuation Vibe – Written, arranged and performed by Luke Pecoraro (© 2018 LSP Music)
Uphill Conversations is an Uphill Strategies, LLC production © 2017 Uphill Conversations