9: Deb Ingino – Leadership and helping people dig deeper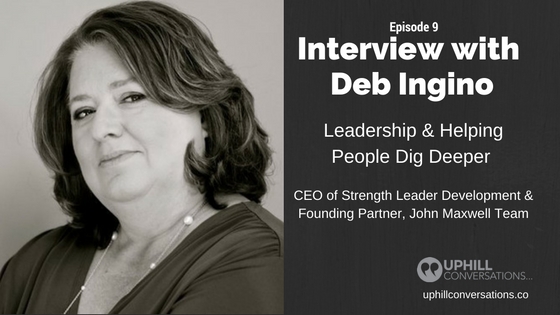 Deb Ingino is a mentor and consultant to leaders who are eager to move into a higher level of performance. She leads individuals and enterprises through a process to discover, leverage and lead with their strengths.
As The CEO of Strength Leader Development, she is a highly sought-after executive mentor, consultant, and speaker worldwide, Deb is well versed in business operations and in the importance of asking key questions most business leaders won't ask themselves. She brings deep experience in leadership development, strategy, high-performance team building, global operations, brand management, design, product development and training to her work. Her passion is for leaders and their teams to move into a higher level of performance.
EPISODE HIGHLIGHTS:
How one small decision can open the door to many new opportunities
How she discovered her love for finding people who didn't look the best on paper and develop them
The only real obstacle you have is the six inches between your ears
Cultivate people by looking well beyond what their credentials say. Look at who they are, their character, ability to be coached, and their real core strengths
Passion shows up in many different ways. From love to anger
Embrace coaching for clarity and confidence
When we believe bigger about ourselves and are patient, we can see things come to fruition
The best things happen when we: Suit Up, Show Up and Shut Up
CONNECT WITH DEB:
INTRO AND OUTRO MUSIC (Used by permission):
Just For You (© 2014 Anderson Music, LLC)
No Worries (© 2014 Anderson Music, LLC)
Uphill Conversations is a POTAD, LLC production (Partnership of Thinking and Doing)