94: Runa Magnús – The Change Makers + No More Boxes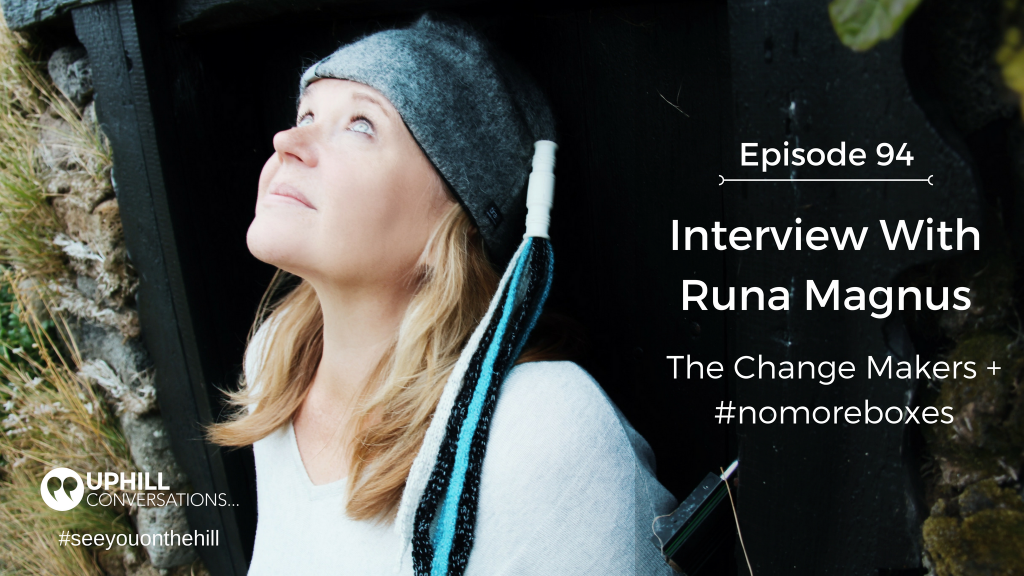 In this episode, Tim has a wonderful conversation with Runa Magnus, the creator, and CEO of THE CHANGE MAKERS and co-creator of #nomoreboxes. Listen in and enjoy!
OUR CONVERSATION:
The transition from politics to entrepreneurship
Joining the family business + getting the 'business bug'
Growing confidence through what she learned
Buying + selling the family business
Asking the question, "what do I want to do with my life?"
Coming to the cross-point of your life when you realize you are not passionate about what you are doing
 Looking at the long-term vision and dreaming in order to make a transition
Learning to work with and look at the things that are threats to your vision or X-factor
About the Change Makers group and #nomoreboxes, she created
Changemakers do things that are sustainable, inclusive and magnetic
Understanding the many boxes we place ourselves into, many changes and raising our own awareness
Organizational health and leadership
The #nomoreboxes Breakfast Clubs
Opening up space for magic to exist in
Runa's positive habits
Drivers that impact our beliefs
Runa's uphill challenge and what she experienced
REFERENCES:
Awakenings – Robert De Niro, Robin Williams, Julie Kavner
Mindset: The New Psychology of Success by Carol S. Dweck, Ph.D.
The Breakfast Club – Emilio Estevez, Judd Nelson, Molly Ringwald
ABOUT RUNA:
Rúna Magnúsdóttir (a.k.a. Rúna Magnús) is the founder and CEO of The Change Makers. An internationally-acclaimed and multi-awarded personal branding expert and best-selling author of Branding Your X Factor. Runa is also the founder of Connected Women, co-founder of BRANDit – the EU awarded Personal Branding Boutique and the co-founder of The Network for Transformational Leaders.
Rúna is a sought-after speaker who uses used her shaken but not stirred sense of humour with a good dash of passion to speak, inspire and coach professionals who want to make their mark in the global marketplace and be the change they want to see in their world. She has shared the stage with brands such as; Brené Brown, Seth Godin, Daniel Pink, Mari Smith and Chelsea Clinton.   Rúna loves to engage her audience to look outside their Boxes and brand their uniqueness.
In her upcoming book; The Story Of Boxes, The Good, The Bad & The Ugly – The Secret to Human Liberation, Peace and Happiness is the new inspirational book by Rúna and Nicholas Haines. In this easy to digest, insightful book and at times funny book the authors explore and illustrate the positive and destructive consequences of classifying the world into certain camps or Boxes – whether it's people, ideas, or even objects like underpants.
CONNECT WITH RUNA:
Website: runamagnus.com
INTRO AND OUTRO MUSIC (Used by permission):
Continuation Vibe – Written, arranged and performed by Luke Pecoraro (© 2018 LSP Music)
Uphill Conversations is an Uphill Strategies, LLC production © 2016 – 2018 Uphill Conversations