101: Let's Talk About Opportunities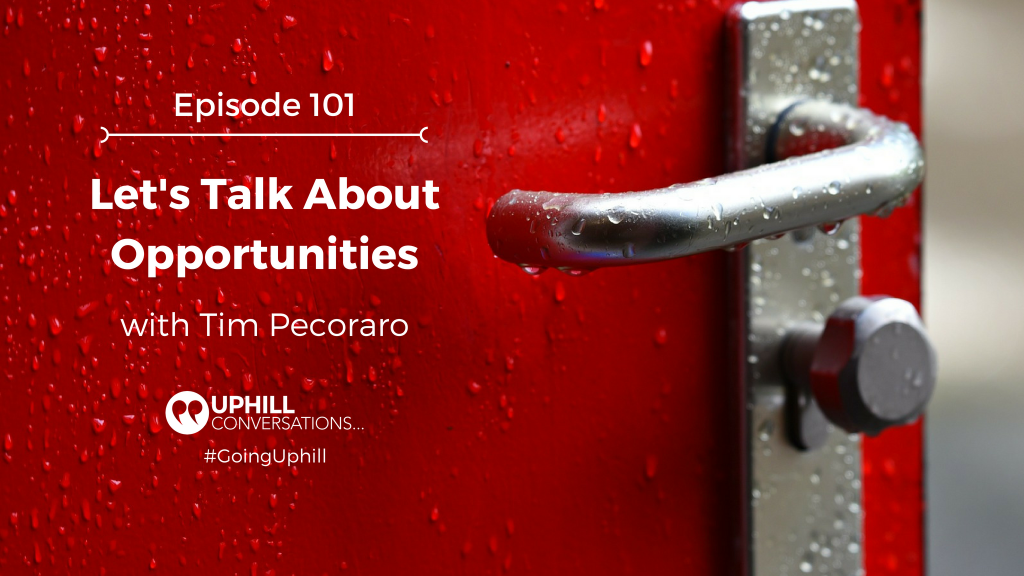 In this episode, Tim shares his thoughts on how to be better prepared for the opportunities that come your way! He gives practical tips, insight, and information that will help you welcome and step into these opportunities for your emerging future!
TAKEAWAYS:
"The secret is to be ready when your opportunity comes." – Benjamin Disraeli
Three observations as it relates to opportunities:
Most everyone sees them once they've passed by – Hindsight or watching the film of yesterday
Many don't have a picture of it – unaware ("Your big opportunity may be where you are now." – Napolean Hill)
The wrong picture – This is a paradigms problem, what's in your head and/or your current POV
HOW CAN I HELP PEOPLE DO THE FOLLOWING?:
Know there are OPPORTUNITIES out there and all around! This is all about understanding.

You can't have what you don't know exists and have access to it
You cannot teach what you do not know
You can't learn if you cannot be taught

Attracting the right kind of opportunity – This is all about your passion and alignment with it. YOUR 'WHY!'
There's always some assembly required! – Your investment into your growth + development

Make your plans (blueprints)
Putting the pieces together
Possess the willingness to re-draw or go back to the drawing board
Your tools – skills, talents, abilities, relationships, intangibles, and your ability to be self-aware, self-manage, Social-awareness, and relationship management (Emotional Intelligence)
A willingness to discard the unnecessary
Every day prior is the Learning + Training ground for the opportunity to be seen, received, harvested and cultivated.
Here's another way to look at it:
opportunity > possibility > probability > actuality > factuality > reality (manifestation or physical equivalent)
REFERENCES:
Put Your Dreams to The Test by John C. Maxwell
Start with Why by Simon Sinek
What Should I Do with My Life? by Po Bronson
Strengths Finder 2.0 by Tom Rath
PROMOTION:
Get your Gazelle Planner
Listeners of this podcast, receive a $5 discount at checkout when you enter, GoingUphill (not case sensitive), in the coupon code section at checkout.
INTRO AND OUTRO MUSIC (Used by permission):
Continuation Vibe – Written, arranged and performed by Luke Pecoraro (© 2018 LSP Music)
Uphill Conversations is an Uphill Strategies, LLC production © 2016 – 2018 Uphill Conversations
The post 101: Let's Talk About Opportunities appeared first on Uphill Conversations.