38: Kare Anderson – Synchronicity, Clarity & Specificity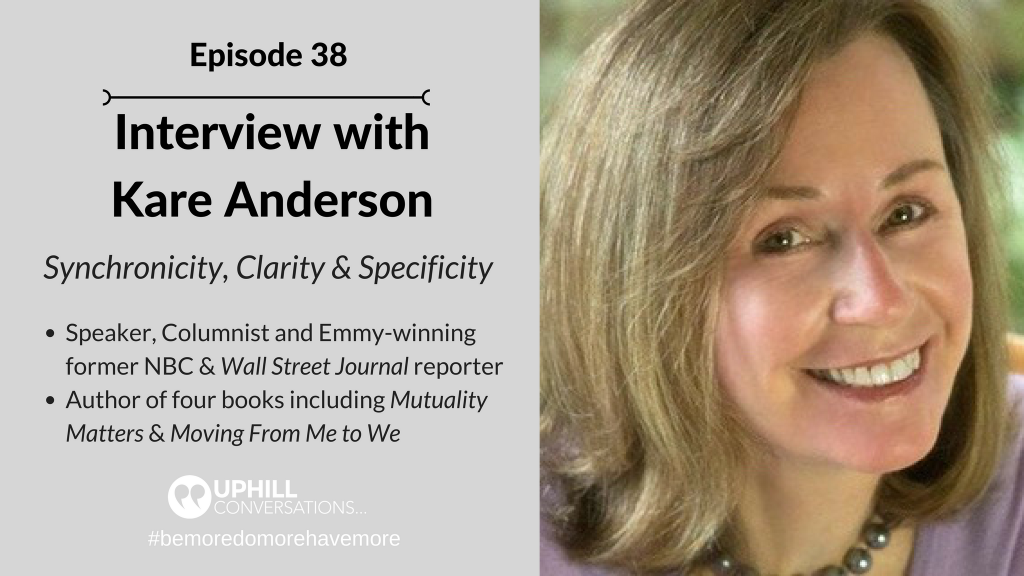 In this episode, Tim and Megan have an Uphill Conversation with Kare Anderson on synchronicity, clarity and specificity.
Kare Anderson is an Emmy-winning former NBC and Wall Street Journal reporter, now connective behavior speaker and columnist for Forbes and Huffington Post. Anderson's TED talk on The Web of Humanity: Be an Opportunity Maker has attracted over two million views. Her clients are as diverse as Salesforce, Novartis, and The Skoll Foundation. She's a founding board member of Annie's Homegrown, co-founder of nine political PACs, and author of Mutuality Matters, Moving From Me to We, Getting What You Want, and Resolving Conflict Sooner. Anderson serves on the advisory boards of The Business Innovation Factory, Gloopt, and TEDxMarin. As David Rockefeller Jr. said after hearing her speak, "Kare forever changes how you see yourself and your world."
Show Notes:
Need to get specific about your top mission in life
Synchronistic events and how they shape our lives
Why it's important to be aware of our hot buttons and blind spots
Dangers of projection and importance of asking questions (rather than making assumptions)
Use specificity when sharing stories, tell them in ways that matter to listeners
"When the light shines on you, shine it on someone else"
Gives teams rules of engagement and methods to genuinely connect
It's easy to be against something, but the real power comes when we are for something that's better and brighter
Breaking out of our ingrained habits in order to create change
A helpful helper provides something before you knew you needed it
We all change over time, we grow and evolve
Be open to learning, there is something in everybody that we can learn from
The power in making and keeping promises
Don't limit your field of vision or beliefs when finding others to partner with – be open to noticing more, expand your awareness
Kare's current purpose in life
What and how Kare works on herself and maintains momentum
Connect with Kare:
Books/Authors: 
INTRO AND OUTRO MUSIC (Used by permission):
No Worries (© 2014 Anderson Music, LLC)
Gotta Move On (© 2014 Anderson Music, LLC)
Uphill Conversations is a POTAD, LLC production (Partnership of Thinking and Doing)
© 2017 Uphill Conversations
The post 38: Kare Anderson – Synchronicity, Clarity & Specificity appeared first on Uphill Conversations.