60: Bud Torcom – Authentic Connection in a Digital World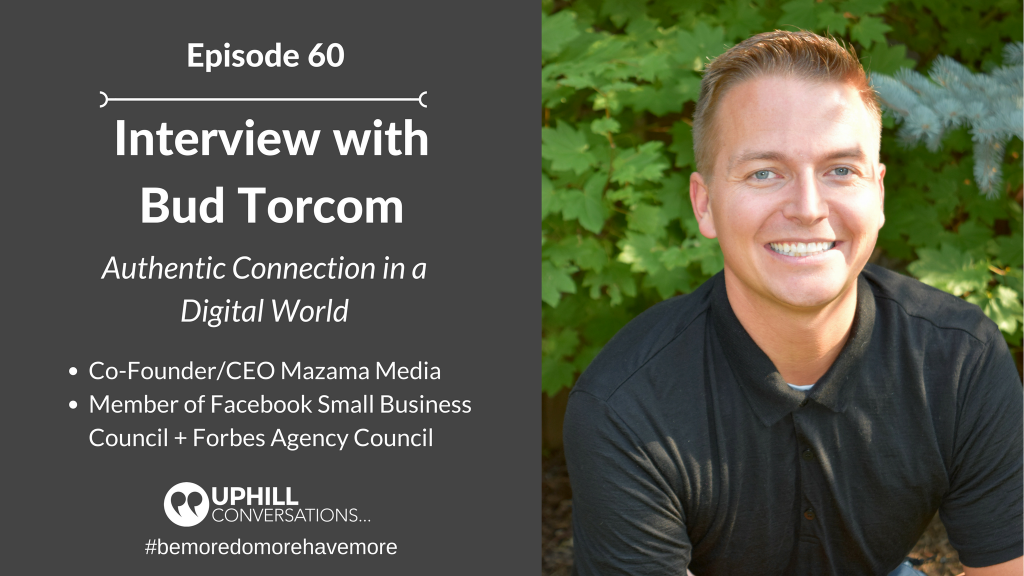 In this episode, we have an Uphill Conversation with young professional, entrepreneur and business owner Bud Torcom on authentic connection, relationships and values in an increasingly automated and digital world.
Bud Torcom is the CEO and co-founder of Mazama Media, a digital marketing agency that offers high-quality social and digital media solutions for businesses. Mazama Media focuses on the individual needs and personalities of clients to create unique and engaging social media content, and the company is part of the prestigious Facebook Small Business Council. In addition, Bud is a member of the Forbes Agency Council, which has recognized him as an industry leader among advertising and media strategy firms.
Show Notes:
Creating company policies that match your core values
At Mazama Media fun + continuous learning are central
Setting stretch goals for your organization – i.e. an anxiety free workplace
Benefits + pitfalls of a world increasingly conditioned for instant communication and gratification
Social tools like LinkedIn are incredibly powerful for connection + sharing information, but are often abused by those looking to push a product or service
Importance of leading by example + learning from mistakes
Bud believes leadership is "always looking out for the person on your left and the person on your right"
Coinciding need for intentionality in relationships alongside need to embrace our increasingly automated world
Multitasking is not truly possible "you don't have a split screen brain"
Generation Y and their use of technology and social media channels
How online dating could impact our future generations' ability to successfully network and interview
What would happen if we stopped just showing our best moments on social media – what if we "got real?" Could we help others?
Importance of investing in oneself through continuous learning
Building a relationship with your local community can be essential to small business success
Tips for developing, reinforcing and celebrating your company's core values
Connect with Bud: 
References:
INTRO AND OUTRO MUSIC (Used by permission):
Dreams Groove (© 2017 Tim Pecoraro)
Straight Drive (© 2017 Tim Pecoraro)
Uphill Conversations is an Uphill Strategies, LLC production
© 2017 Uphill Conversations
The post 60: Bud Torcom – Authentic Connection in a Digital World appeared first on Uphill Conversations.