62: Greg Centineo – Living a Life by Design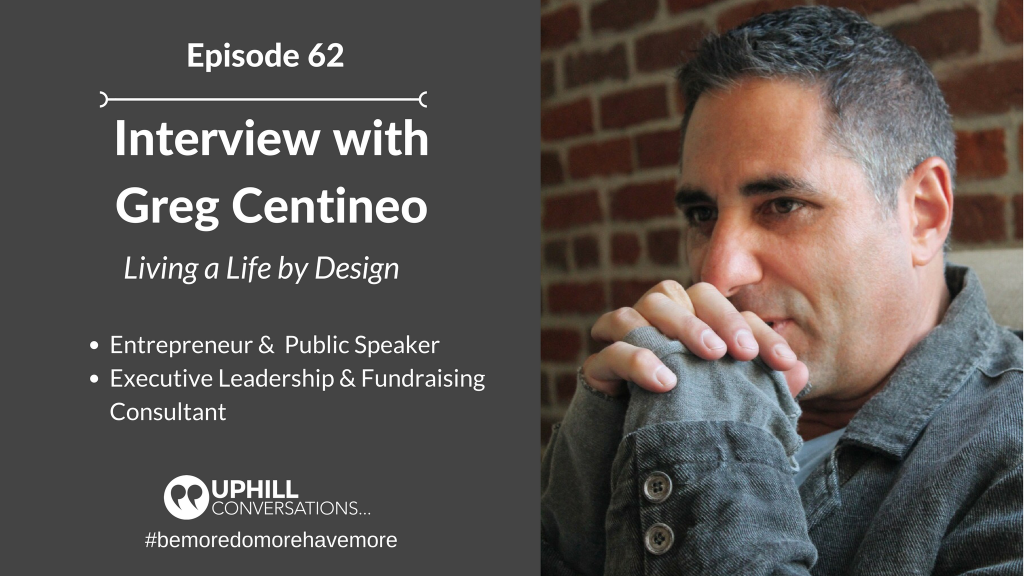 Greg Centineo joins us for an Uphill Conversation on living life by design and continuously seeking and discovering who are and who you want to be.
Greg Centineo is the man CEOs call upon to turn great ideas into reality through thoughtful team leadership and the ability to attract large numbers of people to a common goal. Greg is a frequent public speaker, including at the University of Miami, and a highly sought after consultant by large ventures – primarily advising C-level executives on leadership and fundraising that leads to company growth. Greg also leads large live streaming events and teaches his leadership secrets at GregCentineo.com.
Show Notes:
How Greg has built and designs his own life
Self-awareness + having a "no limits" mentality
Embracing meaningful coincidences
Emotions shouldn't be defined as positive or negative – when it comes to fear, ask if it's appropriate or inappropriate
How to overcome inappropriate fears to move forward
Your mindset is incredibly powerful
Righteousness versus wickedness – willingness to fail and try again
You are responsible for your own life
"If you do nothing, I guarantee you, nothing is going to happen"
Failure is the major ingredient to success
The way you view events – positively or negatively – defines what your life will ultimately look like
Inspire yourself by inspiring others to believe in themselves
Be transformational, not transactional, in how you live your life and how you engage others
Belong people into believing, then release them to grow
Even when you give your best and exceed your goals, a project can still fail
When everything seems meaningless, it can be incredibly hard to find meaning again, but first you must embrace the darkness
Greg's optimism to reach and inspire millions
Connect with Greg:
Resources:
INTRO AND OUTRO MUSIC (Used by permission):
Dreams Groove (© 2017 Tim Pecoraro)
Straight Drive (© 2017 Tim Pecoraro)
Uphill Conversations is an Uphill Strategies, LLC production
© 2017 Uphill Conversations
The post 62: Greg Centineo – Living a Life by Design appeared first on Uphill Conversations.