89: Shama Hyder – Continued Growth + The Pursuit of Excellence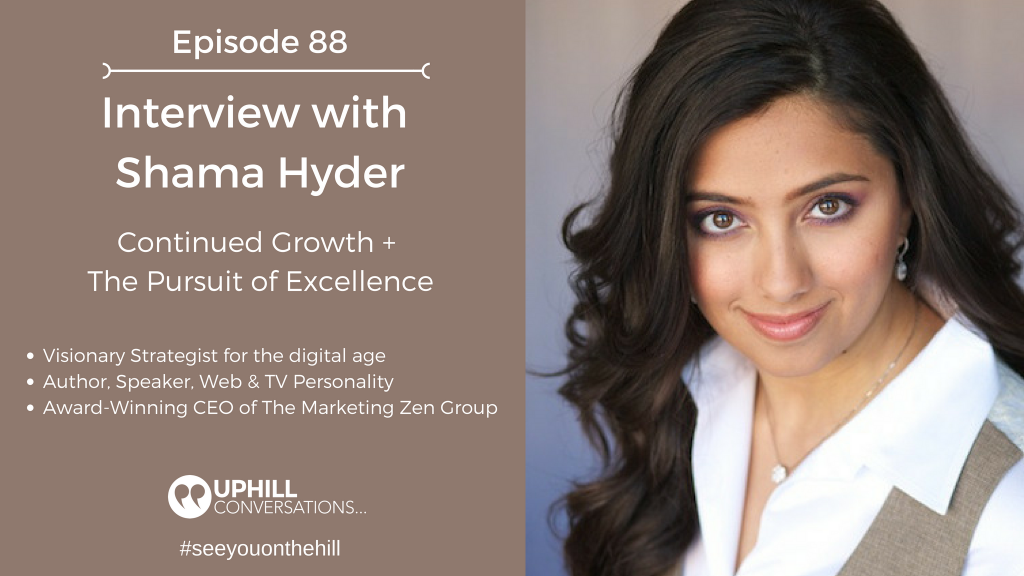 In this episode, Tim has a great conversation with best selling author, speaker, web + TV personality, Shama Hyder. Hyder opens up about her life, habits, disciplines, and her vision for the future that's all about excellence!
OUR CONVERSATION:
There is no perfection; we are all a work in progress
Attitude
How you approach a challenge and your mindset
Excellence
Setting the bar higher
Being value-based + Adding value
Learning to ask the right questions
How she handles making mistakes
Sto ancora imparando – I'm still learning
Daily positive habits that energize and help to remain focused
You cannot control output
More on excellence and less on expansion
BOOKS:
Momentum: The 5 Marketing Principles That Will Propel Your Business in the Digital Age by Shama Hyder
The Zen of Social Media Marketing: An Easier Way to Build Credibility, Generate Buzz, and Increase Revenue by Shama Hyder
CONNECT WITH SHAMA:
Blog: http://shamahyder.com/blog/
Facebook: ShamaHyderPage
Twitter: @Shama
Instagram: shamahyder
YouTube: ShamaTV
LinkedIn: ShamaHyder
RECOMMENDATIONS:
Super Connector by Scott Gerber & Ryan Paugh 
ABOUT SHAMA:
Shama Hyder is a visionary strategist for the digital age, a web and TV personality, a bestselling author, and the award-winning CEO of Zen Media – a global online marketing and digital PR company. She has aptly been dubbed the "Zen Master of Marketing" by Entrepreneur Magazine and the "Millennial Master of the Universe" by FastCompany.com. Shama has also been honored at both the White House and The United Nations as one of the top 100 young entrepreneurs in the country.
Under her leadership, Zen Media has grown an average of 400% growth annually since 2009 to include a team of 30 and serve clients ranging from publicly-held Fortune 500 companies to privately-held small businesses and nonprofit organizations across the globe.
Shama is the bestselling author of The Zen of Social Media Marketing, now in its 4th edition and Momentum: How to Propel Your Marketing and Transform Your Brand in the Digital Age, her latest book that launched in 2016. An acclaimed international keynote speaker, Shama has shared the speaking stage with the world's top leaders, including President Obama and the Dalai Lama.
As a result of her success, Shama has been the recipient of numerous awards, including the prestigious Technology Titan Emerging Company CEO award. She was named one of the "Top 25 Entrepreneurs under 25" by Business Week in 2009, one of the "Top 30 Under 30" Entrepreneurs in America in 2014 by Inc. Magazine, and to the Forbes "30 Under 30" list of movers and shakers for 2015. LinkedIn named Hyder one of its "Top Voices" in Marketing & Social Media. Her web show Shama TV was awarded the "Hermes Gold award for Educational Programming in Electronic Media" and most recently she was awarded the "Excellence in Social Media Entrepreneurship" award for 2016 by Anokhi Media.
INTRO AND OUTRO MUSIC (Used by permission):
Continuation Vibe – Written, arranged and performed by Luke Pecoraro (© 2018 LSP Music)
Uphill Conversations is an Uphill Strategies, LLC production © 2017 Uphill Conversations
The post 89: Shama Hyder – Continued Growth + The Pursuit of Excellence appeared first on Uphill Conversations.