96: Patricia Young – Awakening to Life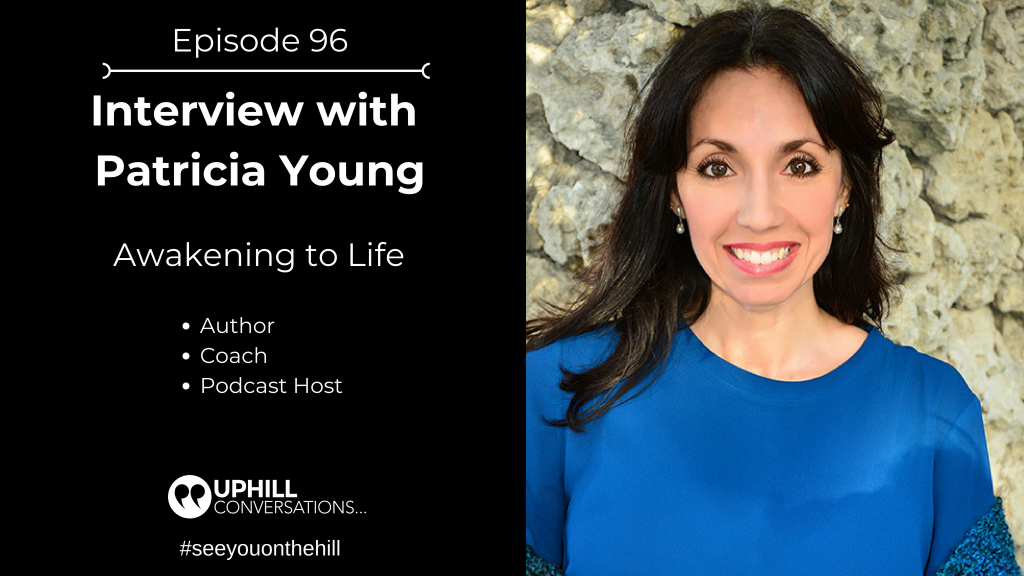 In this episode, Tim has a conversation with the coach, author, and host of the podcast  Awakening to Life, Patricia Young. Patricia is full of insight, nurturing energy, with a very strategic mind! Listen in and enjoy!
OUR CONVERSATION: 
Her life and transitions and what she discovered
Anxiety and panic attacks even when things were great!
Learning to listen to what life is telling you
Asking bigger questions
Stop living small
Two powerful questions she answered for herself early on
Having a willingness to explore and discover
Her mess is her message
Taking baby steps and getting clarity to work through anxiety
How putting limits on your dreams will produce symptoms
Being open to see what the journey will reveal to you
The power of sacred space every day to connect with yourself
Collecting evidence and sacred space
Unapologetic self-love is the key to developing confidence
How we learn to un-love ourselves when we are growing up
Stories + self-image
Beyond "Never Enough"
Kicking the habits that were holding her back
The importance of remaining open to life
Being curious and kind
About her book, Awakening to Life
Three things Patricia is optimistic about over the next 12 months
BOOK:
Awakening to Life: Your Sacred Guide to Consciously Creating a Life of Purpose, Magic, and Miracles by Patricia Young
CONNECT WITH PATRICIA:
Website: InnerProsperityAcademy.com
LinkedIn: in/patriciayoungfl
Instagram: @innerprosperityacademy
Facebook: innerprosperityacademy
Twitter: @InnerProsperity
ABOUT PATRICIA:
Patricia Young is a Certified Professional Coach and Certified Holistic Coach, host of the Awakening to Life podcast, founder of Inner Prosperity Academy, and author of the #1 Amazon Bestselling Book "Awakening to Life: Your Sacred Guide to Consciously Creating a Life of Purpose, Magic, and Miracles.".
With her keen insights, nurturing energy, and proven strategies Patricia has worked with hundreds of people in her coaching practice and online programs, supporting sensitive and growth-oriented women to lead more meaningful lives. She helps her clients connect with their inner courage and confidence, and identify their highest life vision, so they can make braver decisions and take action to bring their vision into reality—personally and professionally.
Patricia has been featured in Aspire Magazine, on OM Times Radio, and on websites such as FinerMinds by Mindvalley, Lifehack, Personal Growth, Sivana Spirit and The Wellness Universe. She has shared the virtual stage with Dr. Alex Loyd, Dana Wilde, Meadow & Denise Linn, Carol Look, Kari Samuels and Dee Wallace on multiple Tele-summits.
INTRO AND OUTRO MUSIC (Used by permission):
Continuation Vibe – Written, arranged and performed by Luke Pecoraro (© 2018 LSP Music)
Uphill Conversations is an Uphill Strategies, LLC production © 2016 – 2018 Uphill Conversations
The post 96: Patricia Young – Awakening to Life appeared first on Uphill Conversations.