98: Megan Koval – Introspection + Wonder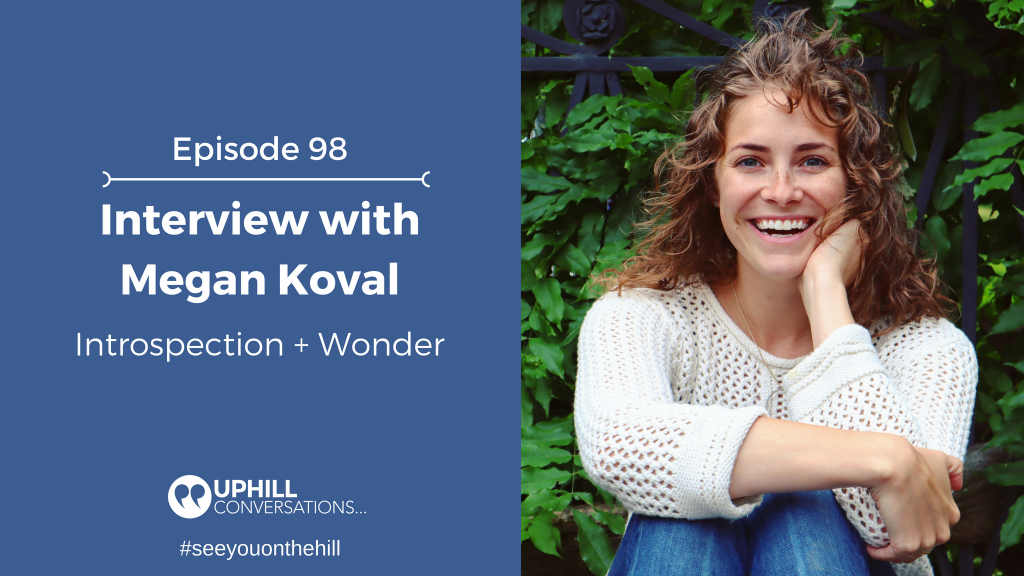 In this episode, Tim has a great conversation with Megan Koval, a pathfinder, explorer, and creator, who believes in going AWOL to really live and discover life. Megan is vibrant and full of joy and it shines through with each moment of the show. Tim and Megan dig into the coupling of introspection and wonder and the resulting effect of being fulfilled. Enjoy!
OUR CONVERSATION:
The value leaving and venturing out and 'Pathfinding'
What prompted her to launch out with her AWOL strategy and how she got there
Getting real with her own pursuits
Not the pursuit of happiness but the pursuit of fulfillment
Purpose, being and existence
Going AWOL – living your greatest potential + serving others
Megan's definition of wonder
Permission to play
Buying a plane ticket for an introspective quest with her name on it
The power of story
Defining confidence
The value that comes from pathfinding conversations + conversations
Her own uphill challenges
Three things she's optimistic about over the next 12 months
CONNECT WITH MEGAN:
Website: megankoval.com
LinkedIn: in/megankoval
Instagram: @megankoval
Facebook: @meganelsakoval
ABOUT MEGAN:
Megan Koval is a Brand Pathfinder based in New York City helping people and businesses clarify their pursuits so they can profit from their potential. After working with Fortune 500 brands like Nike and NBCUniversal for over seven years as a brand and communications strategist, she uses her arsenal of knowledge, techniques and time-honored tools to help people and businesses clarify and brand the path of their dreams. Her fascination with expeditions (around the world to within) coupled with her love for genuine storytelling was the catalyst for AWOL Strategy.
INTRO AND OUTRO MUSIC (Used by permission):
Continuation Vibe – Written, arranged and performed by Luke Pecoraro (© 2018 LSP Music)
Uphill Conversations is an Uphill Strategies, LLC production © 2016 – 2018 Uphill Conversations
The post 98: Megan Koval – Introspection + Wonder appeared first on Uphill Conversations.