99: Kathy Fatheree – Living Purposefully with Intent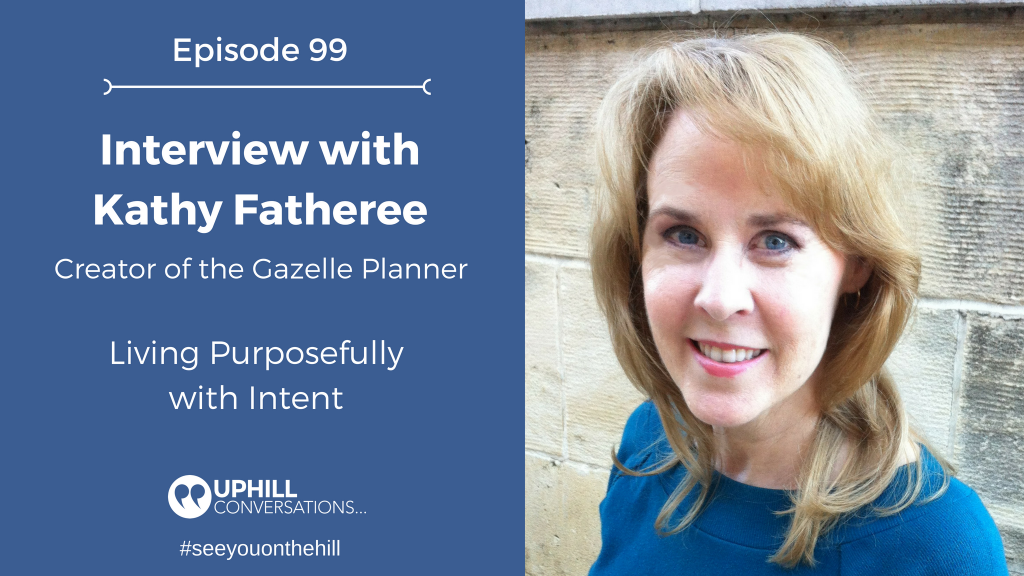 In this episode, Tim talks with Kathy Fatheree, the creator of the Gazelle Planner. Tim was on the hunt for the perfect planner to live into his day and finally found the solution. Kathy shares her background and what led her to create the Gazelle Planner.
Prior to this episode, Tim approached Kathy regarding the promotion of the planner on the show for his listeners to have a tool to use to live into their day as they move toward their emerging future. It was a resounding yes and a partnership is now in place!
OUR CONVERSATION:
About Kathy
How the desire to live purposefully and with intent led her to create the Gazelle Planner
How she discovered her love for art and creativity in the midst of her love for technical writing and process
The thought and design behind the planner and using it
The research, study, and experience behind the creation of the Gazelle Planner
Being creative with the planner and how she assists her clients with designing the right system
The benefits of using the Gazelle Planner
The roadblocks she faced while creating the planner
The meaning behind the name, Gazelle Planner
Her vision thoughts and plans for the Gazelle Planner
The planner sections and their purpose
 The Gazelle Planner + Uphill Conversations partnership
GET YOUR PLANNER:
Listeners of this podcast, receive a $5 discount at check out when you enter, GoingUphill (not case sensitive), in the coupon code section at checkout.
Get your Gazelle Planner

CONNECT WITH KATHY:
Website: GazellePlanner.com
LinkedIn: in/kathyfatheree
Instagram: @gazelledailyplanner
Facebook: gazelleplanner
ABOUT KATHY:
Kathy Fatheree is an author and technical writer with a wide range of experience from aerospace to medical to personal development. Drawing upon her life experience combined with research of planning system, she created the best-selling Gazelle Planner: a daily planner with a focus on reaching goals.
With her love of problem-solving and thinking outside the box, Kathy is helping thousands of people to become more productive and realize they can successfully reach their goals and dreams.
INTRO AND OUTRO MUSIC (Used by permission):
Continuation Vibe – Written, arranged and performed by Luke Pecoraro (© 2018 LSP Music)
Uphill Conversations is an Uphill Strategies, LLC production © 2016 – 2018 Uphill Conversation
The post 99: Kathy Fatheree – Living Purposefully with Intent appeared first on Uphill Conversations.