15: UCYP – Whose Dream Is It?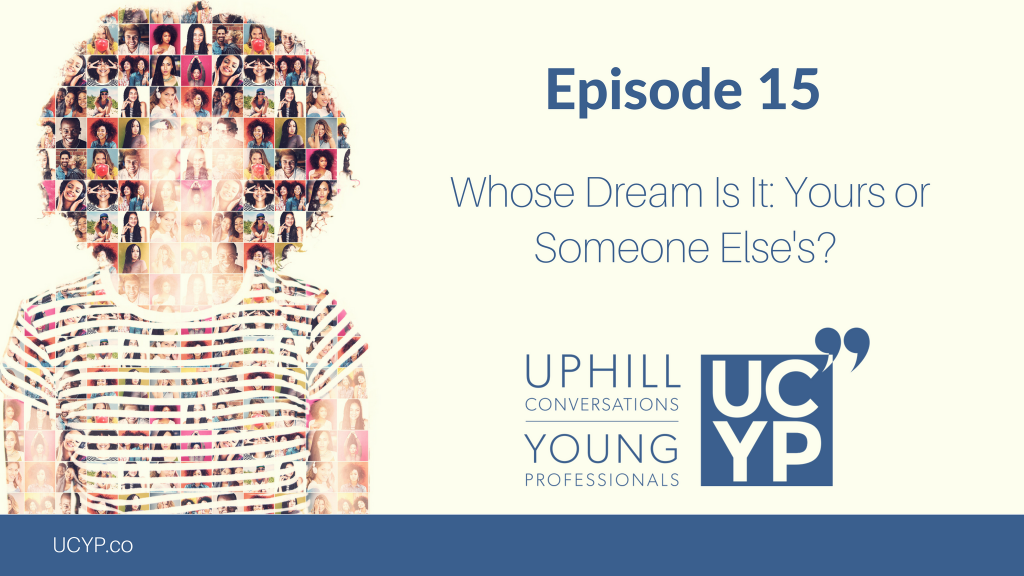 Megan and Tim have an Uphill Conversation on dreams – why people have trouble identifying their dreams and determine if the dream you're pursuing is truly your own.
Show Notes: 
4 reasons people why people have trouble identifying their dreams
Comfort can be something that stops us from pursuing our dreams
Having courage and confidence to go after your dream
When someone else owns your dream v. you owning your dream
It can be difficult to realize that you aren't where you're meant to be; to change direction and to do it without fear
"Whatever you think, be sure it is what you think; whatever you want, be sure that it is what you want; whatever you feel, be sure that it is what you feel." – T.S. Eliot
Steps to take ownership of your dreams:

Be willing to bet on yourself
Lead your life instead of accepting your life
Love what you do and do what you love
Don't compare yourself or your dream to others
Believe in your vision for the future even when others don't understand you

You need to make the right decisions and manage those decisions
Begin with the end in mind, be intentional
Allow yourself to shift
Just because you can do something, or that you're good at something, doesn't mean that it's what your ultimately meant to do
You need both talent and passion to truly achieve your potential
"I can't give you my passion, but I can show it to you."
What someone else thinks about you is none of your business
If you need to daily talk others into your dream, it might be an indication that this relationship isn't meant to be
No matter your age, you can still make the changes necessary to pursue your dream
Resources:
INTRO AND OUTRO MUSIC (Used by permission):
© 2017 UCYP Theme written and arranged by Luke Pecoraro all rights reserved.
The post 15: UCYP – Whose Dream Is It? appeared first on Uphill Conversations.