34: Nika White – Inclusion, Curiosity and Passion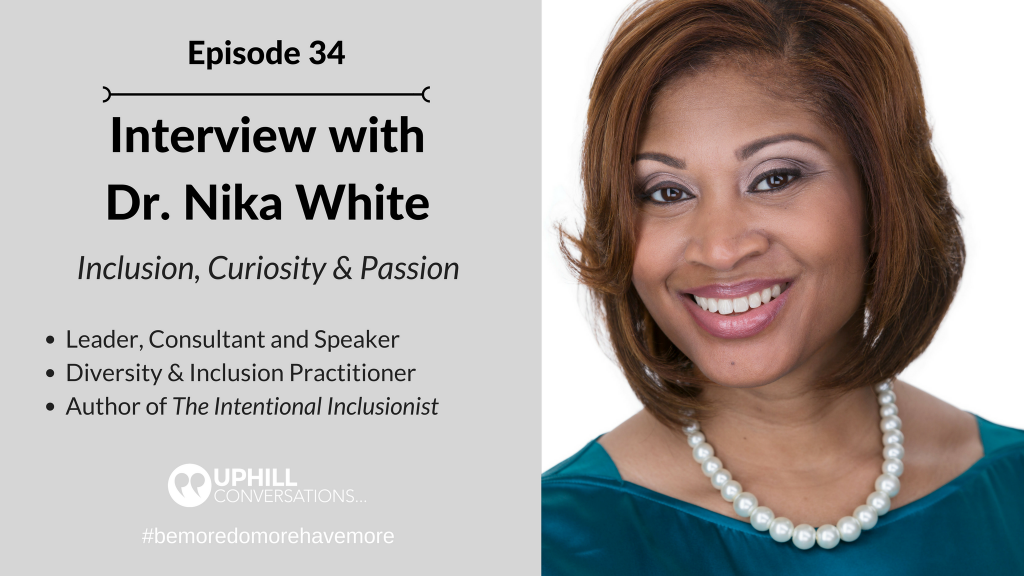 Listen to an Uphill Conversation with Dr. Nika White about the value of inclusion, curiosity, passion and authenticity in both our professional and personal lives.
Dr. Nika White's professional career spans about 20 years, ranging from serving as a diversity and inclusion practitioner, an accomplished marketing communications executive, economic development leader and community advocate. Dr. White found inspiration through the intersection of business, diversity and leadership, and has made this her niche. She is a national sought after consultant, thought leader, and speaker to countless organizations and executives on issues of team engagement, organizational leadership, strategic diversity, and intentional inclusion.
Read her full bio at www.nikawhite.com.
Show Notes: 
Nika shares about her professional journey from Marketing & Advertising to her current work in Diversity & Inclusion
Addressing and overcoming the "trendiness" / "buzz words" of Diversity & Inclusion
Reframing the conversation to "Effective Management of Human Difference"
How to create understanding, show value and bring new people into the D&I conversation
Allow curiosity to lead you to action and be bold in asking questions to seek understanding
Being persistent and not losing courage when working towards change
Surrounding yourself with quality people and a willingness to grow and bend while working towards your vision
Value that diversity brings to organizations, teams and the bottom line
Importance of personal strategic planning for Nika
Just because you can do a lot of things well, doesn't mean you should be doing a lot of things
Having a spirit of conviction where you are "all in" and the power of intention and striving for excellence
Glorification of "busy" and "curse of being capable"
Willingness to be vulnerable enough to ask for help, don't assume others can see your need
Ensuring that as you are climbing, you are also lifting others
Being an "intrapreneur" and placing priority on doing significant work
Digging in and doing deep work instead of the safety of surface-level work
How Nika keeps herself in alignment and maintains forward momentum
We must face our own biases and open up to the opinions and perspectives of others
Methods Nika uses to unplug and re-fuel
Instead of work-life balance, think work-life blend
Be the change – be the inclusion – you want to see in the world
Full-Day event in Oct with Greenville Chamber all around D&I/Effective Management of Human Difference
Connect with Nika: 
Website: nikawhite.com
LinkedIn: https://www.linkedin.com/in/nikawhite/
Twitter: https://twitter.com/NikaWhite
Facebook: https://www.facebook.com/nikacwhite
Books / Podcasts / Videos: 
Intentional Inclusionist, Dr. Nika White
Amy Jo Martin Episode 32 
Video: Boy who sees father for first time
INTRO AND OUTRO MUSIC (Used by permission):
No Worries (© 2014 Anderson Music, LLC)
Gotta Move On (© 2014 Anderson Music, LLC)
Uphill Conversations is a POTAD, LLC production (Partnership of Thinking and Doing)
© 2017 Uphill Conversations