75: Dr. Melanie Greenberg – The Stress-Proof Brain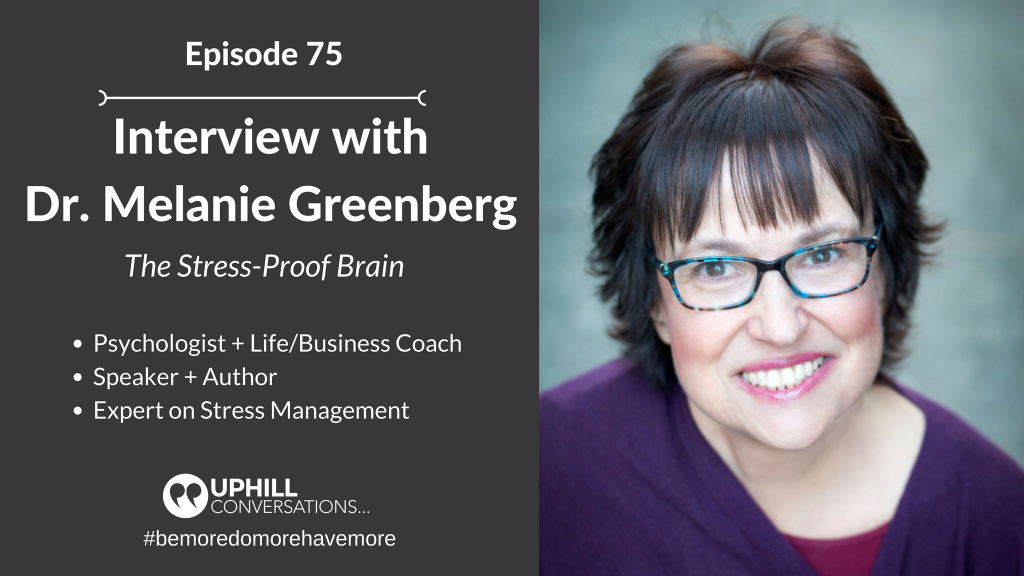 On this episode of Uphill Conversations, Megan and Tim discuss brain plasticity, mindfulness, thoughts and emotions and how they relate to stress – mentally and physiologically – with Melanie Greenberg.
Melanie Greenberg, PhD is a practicing psychologist, author, speaker, and life/business coach, with more than 20 years of experience as a clinician, professor, and researcher. A recognized expert on stress management, and health and relationship challenges, she draws on neuroscience, mindfulness, and positive psychology in her work, blending science with mindful wisdom and heart-based compassion practices. Melanie seeks to educate, support, heal, and inspire her clients helping them to realize their full potential. Full bio here: drmelaniegreenberg.com.
Show Notes:
Melanie's journey and how she came to become so interested in the stress and the mind-body connection
A fixed-mindset vs. and open mindset
When facing new demands, it requires figuring out new ways to cope
Human tendency when faced with stressors to go to "fight, flight or freeze" – to focus on all the things that could go wrong
Anxiety, fear and anger can cause you to get stuck; people cling to stability
Thoughts, feelings + actions can actually change the structure of your brain, causing you to automatically become more reactive, with less ability to calm down your stress response through logical thinking
Techniques to be more self-compassionate and bring yourself back to the present when faced with a stressor: grounding + mindfulness
Mind-body connection tactics like placing both feet on the floor and just breathing + sitting with your thoughts
We can't control our subconscious programming or thinking, the thoughts that come into our head, but rather than be ashamed, you an change your relationship to them: "you are not your thoughts"
If you have feelings of low self-worth, must understand where comes from and then fight it – focus on positive
Take time to ask the emotion what it needs, without judgement
Physiological effects of stressors on the brain
Consequences or mistakes that occur when someone doesn't face their true emotions
Perfectionism and "conditional self-esteem" + the need to look for the grey
Putting our own problems in perspective and focusing on the positive
"Instead of just running from the tiger to smell the flower"
Life is a combination of appreciating and enjoy what you have, find points of peace, and you strive for more
Melanie's Uphill challenge + optimism for next 12 months
Connect with Melanie:
Resources:
INTRO AND OUTRO MUSIC (Used by permission):
Dreams Groove (© 2017 Tim Pecoraro)
Straight Drive (© 2017 Tim Pecoraro)
Uphill Conversations is an Uphill Strategies, LLC production
© 2017 Uphill Conversations
The post 75: Dr. Melanie Greenberg – The Stress-Proof Brain appeared first on Uphill Conversations.