5: Mentorship in the Modern World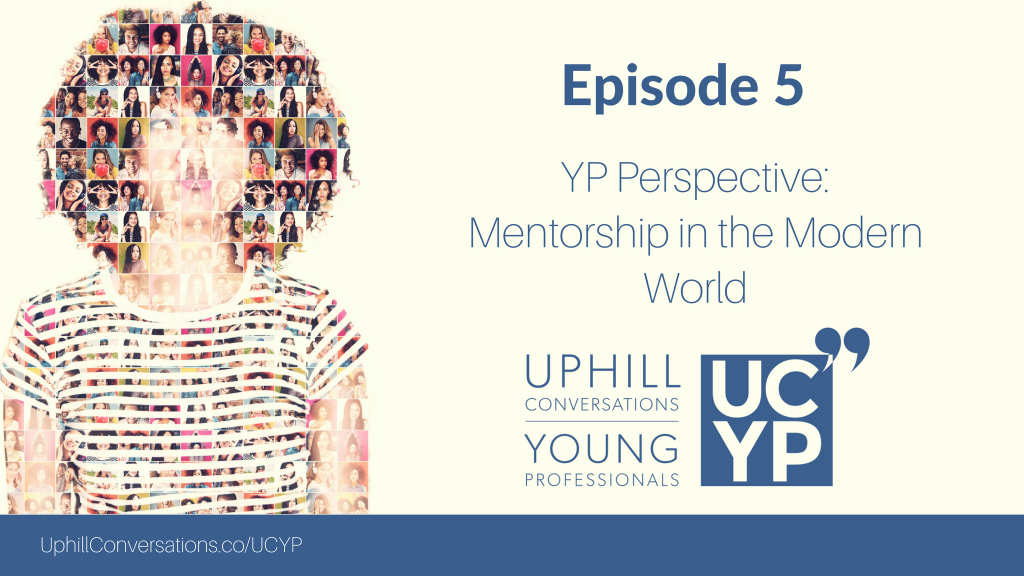 In this episode of UCYP we discuss how mentorship and mentor relationships are evolving in the modern era. We dive into the benefits, the challenges and the opportunities.
Show Notes:
The word "mentor" can sometimes be intimidating
It's important to be open, authentic and coachable
Best mentor relationships happen organically
Don't let fear keep you from asking for initial connection
Crossover between mentorship and leadership development
Benefit of having multiple mentors – different mentors serve in different ways based on expertise, experience and life achievements
Importance of setting relationship ground rules
It's ok to disagree with your mentor and make a contrary choice: know yourself, your values, trust your gut and do what's best for you and your career
If you're not hearing "no", you're not doing enough – it's ok to fail
How to open the door for a mentor to become a coach as you grow
Value of peer-to-peer mentor relationships
Think of your mentors as an "career board of directors" and evaluate diversity in terms of age, sex, experience, race, etc.
Remember that there is incredible diversity within generations
Intentional communication to close the gap between + within generations
Reverse mentorship / "mentoring up"
Coaching vs. consulting and being willing to say you don't know the answer
Coaching is all about asking powerful questions
Advice Jamie and Lindsey would offer to generations coming up:

"Life shrinks or expands in preportion to your courage"
"Take time to figure out who you are and magical things happen"
Connect with Jamie & Lindsey:
Guest Bios:
Lindsey McMillion Stemann – Principal of McMillion Consulting, is a business consultant, speaker, writer, and trainer. She has worked with thousands of professionals and organizations on how to use LinkedIn as a business tool to drive revenue. After living in the Washington DC-Metro Area, she moved to Greenville in 2011 and is proud to be closer to her Clemson Tiger Alma Mater. She is co-leading a Navy SEAL initiative in Greenville through The Honor Foundation, a San Diego-based nonprofit. She is also a Leadership Greenville Class 42 graduate and is Curriculum Co-Chair of Leadership Greenville Class 43 and the incoming Class 44.
Jamie Patterson – As the Director of Career Services and Student Experience for the Clemson MBA Program, Jamie Patterson focuses on the entire student experience including career services and professional development opportunities.  She runs the internship program for the MBA and teaches courses on Career Development and Business Communication. As a passionate career coach, Jamie takes great joy in watching the Clemson MBA students succeed, while also by helping her corporate connections find exceptional talent for their organizations. Jamie is the 2011 recipient of the Clemson University Board of Trustees Award for Staff Excellence. Jamie is an active member of the MBA Career Services and Employer Alliance, Greenville Society of Human Resource Management, South Carolina Association of Colleges and Employers, and the National Alzheimer's Association Advocate Network.  She is a mentor for the Greenville Chamber's Pacesetters Program and will complete Leadership Greenville in 2018.
Resources:
INTRO AND OUTRO MUSIC (Used by permission):
© 2017 UCYP Theme written and arranged by Luke Pecoraro all rights reserved.
The post 5: Mentorship in the Modern World appeared first on Uphill Conversations.