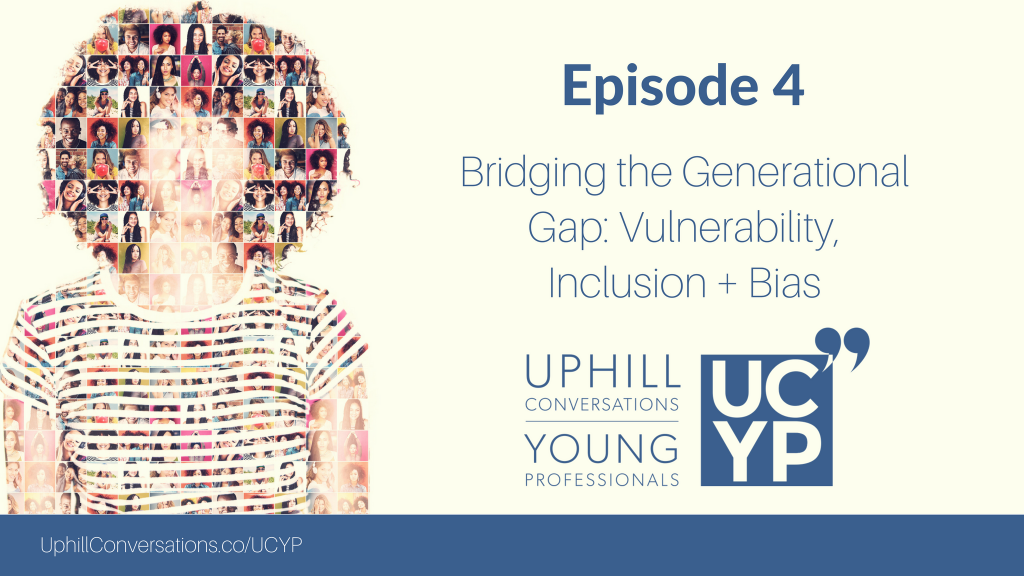 In this episode of UCYP we have an insightful conversation with two young professionals on bridging the gap across generations in the workplace.
Show Notes:
Millennials value self-expression and individuality
How YPs can create better self-awareness
Best practices for authentic connection with diverse people
Equity as central to leading across generations
Difference between equality and equity
Collaboration and intentional inclusion must be front of mind when leading and working across generations
Importance of always reaching back to generations coming behind
Collaboration is the mutual admission of weakness as well as the willingness and openness to learn from others
Celebrate our differences and use it to our advantage
Leaders must create environments where it's ok to ask for help
Unconscious Bias: uncovering and navigating our own biases and working with others' biases
Grace and patience is vital to working well with others
How we frame our questions and word choice greatly impacts our work
OK to stop, backtrack and ensure understanding
Comfort of being with likeminded people vs. engaging with those who think differently than you
Society's generalizations and stereotypes can lead to us to resist connecting across generations
Let's celebrate and not just tolerate our differences
Just because something is different, doesn't mean it's good or bad
Start by accepting and celebrating your whole self
Storytelling and sharing in the universal human experience
Guests:
Jed Dews – Jed Dews is the Associate Executive Director of Pendleton Place, a nonprofit agency dedicated to keeping children safe and supporting families in crisis through prevention, assessment, and intervention. Jed provides strategic support for day to day administration and operations of the organization's innovative child and family services as well as oversight for its quality improvement and technology initiatives. Before discovering his passion for nonprofit child welfare, Jed worked as a high school language arts teacher, a project manager for prominent e-learning companies, and a freelance consultant for nonprofit accreditation seekers and foster care reform advocates. Jed relocated to Greenville in 2012 and fell in love with the Upstate community. He serves as an appointed Commissioner for the Greenville County Human Relations Commission, a leader of the performance excellence community for the Alliance for Strong Families and Communities, the Vice-Chair of Pulse Young Professionals, and a member of the Council on Accreditation's working committee for data and technology standards. Jed provided strategic leadership of public-private partnerships as part of the recent Keeping Kids in Families campaign for federal child welfare finance reform. He holds undergraduate and graduate degrees in education and organizational leadership with graduate certifications in child advocacy, project management, and IT administration.
Jessica Sharp – Jessica Sharp is the Interim Diversity Manager for Greenville Health System. In this role she works to implement a strategic plan that enhances the quality of services to Greenville Health System patients, improves the work life for system employees and enhances the learning environment within USC School of Medicine Greenville. Before working at GHS, she served as the Teen Achievers and Youth in Government State Program Director for the YMCA of Greenville.Jessica is dedicated to advancing the rights of our community's women and youth. After earning a marketing degree from the University of South Carolina, she pursued her passion through Teach for America—an organization that places recent graduates in classrooms in underserved communities.
Connect with Jed & Jessica: 
Authors / Resources: 
INTRO AND OUTRO MUSIC (Used by permission):
© 2017 UCYP Theme written and arranged by Luke Pecoraro all rights reserved.
The post 4: Bridging the Generational Gap – Vulnerability, Inclusion + Bias appeared first on Uphill Conversations.